Toronto just named a new Photo Laureate. Here's a look at who she is and what she's shot
Toronto Star | April 2, 2023
Categories: news
Nadya Kwandibens became a photographer because she wanted to see more accurate portrayals of Indigenous people.
By Jamin Mike Staff Reporter
Sun., April 2, 2023
timer 4 min. read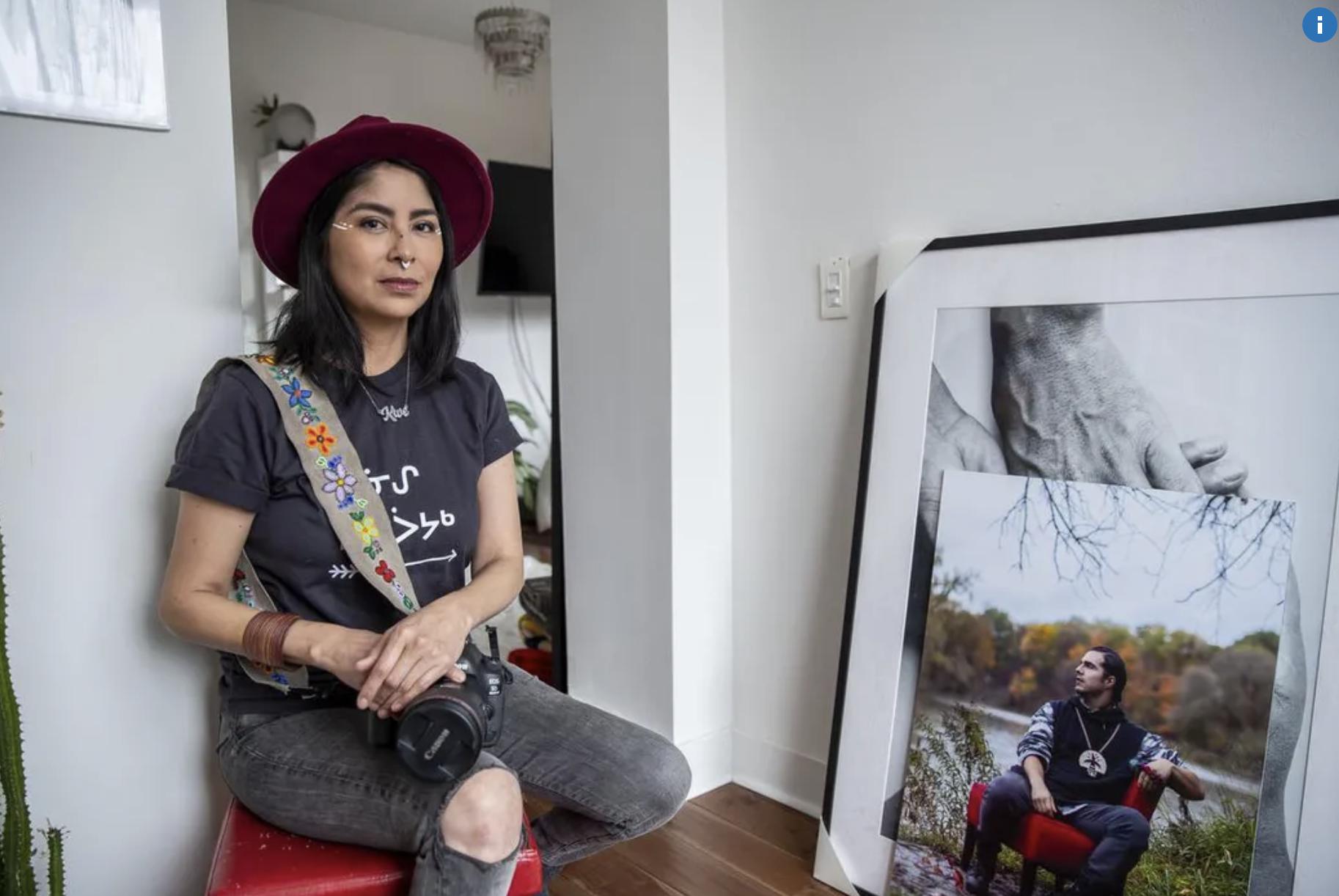 For Nadya Kwandibens, a member of Animakee Wa Zhing #37 First Nation, being dubbed the city's Photo Laureate came as a complete surprise. "I didn't even know my name had been submitted," she said. But on March 29, the award-winning portrait and events photographer became just the third person — and first Indigenous woman — to receive that honour. Here's what she had to say about her new exposure.
Can you speak a little about yourself and where you're from?
I am Anshinaabe from the northwestern Ontario Treaty #3 area, an hour south of Kenora and close to the Ontario and Manitoba border. I grew up in foster care throughout the area, but that's where I call home. I moved (back) to Toronto just before the pandemic, having previously lived here for a good six years. It's good to be back.
What inspired you to pick up photography?
I studied film production in Thunder Bay. I had moved there after high school, and photography, of course, was a prerequisite. I kept it as a hobby for a number of years.
It wasn't until I moved to Arizona that I started getting passionate about photography and doing portrait work. Then I moved home in March of 2006. I decided that photography was something I wanted to do with my life.
I started because I wanted to see more accurate portrayals of Indigenous people. Historically, representation had always been whatever you saw in the news. It was always under this portrayal of Indigenous peoples living in struggle and strife. Or (that) we're protesters or angry. I always found that problematic because that's not how I envision ourselves. As an Indigenous woman, to turn the camera on my own community is important.
Representation is becoming more and more honest (and) authentic. That's why I do what I do — to showcase the vibrancy and the beauty of all the different (Indigenous) nations. I consider myself lucky, but I worked really hard over the years.
SKIP ADVERTISEMENT
ADVERTISEMENT
As an Anishinaabe woman in your industry, what have been the joys and the obstacles?
Foremost, it's a joy being with our people. Photography and portrait work is just a simple act of visiting the people ... and learning about their lives.
(As for) the obstacles, it's just being a woman, an Indigenous woman. I've had photographers come up to me (and) interrupt my shoots to give pointers on how to do different lighting systems. That can be annoying. Little do these photographers know that I look quite young, but I'm not. I'm a little older ... and a (brand) ambassador for Canon Canada.
What is the Photo Laureate, and what are you bringing to this role?
I'm an ambassador for the visual arts and culture in the city, so I've been getting a lot of requests from different arts organizations to speak, mentor and teach. I'm also thinking about a legacy project that I will develop for the city, so I'm looking forward to getting the creative wheels turning.
(I'm) bringing some of my perspectives and experience to this position and connecting with different artists. I'm really looking forward to ... all the different intersections that can happen and dialogues to be had.
What vision do you have for the next three years as the Photo Laureate?
I'm most looking forward to just meeting different artists and learning about their different practices, learning about what's important to them.
When you look at Toronto, what do you see?
The diversity. I just love the different neighbourhoods. I currently live in the Junction area. I often will go out, find a cafe, sit there with a book and people watch. I see how different communities can come together in different neighbourhoods.