Tivi Etok Becomes Member of Ordre des Arts et des Lettres du Québec
Inuit Art Foundation | June 06, 2021
Categories: news
Jun 06, 2022
by IAQ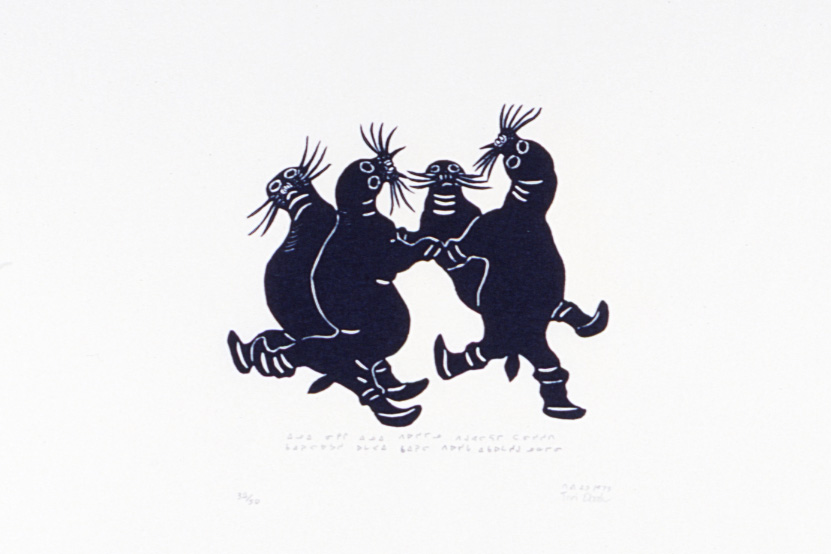 This May, the Conseil des arts et des lettres du Québec (CALQ) announced that Inuit artist Tivi Etok, alongside 11 other luminaries, would be inducted into the Ordre des arts et des lettres du Québec in a ceremony today, June 6th.
An honourary distinction instituted in 2015 to mark CALQ's 20th anniversary, the Ordre is awarded annually to artists, writers, teachers, managers and patrons for outstanding contribution to the development and reputation of excellence of Québecarts and literature at home and abroad. At 125 members strong, it includes such names as singer Celine Dion, author Kim Thúy and multidisciplinary artist Leonard Cohen.
Based in Kangiqsualujjuaq, Nunavik, QC, Etok is a printmaker and graphic artist whose work is defined by the fight for survival, portrayed either out on the land while hunting or against spirits and the supernatural.
He is best known as the first (and second) Inuit artist ever to have a solo print release. Whispering in my ears and mingling with my dreams (1975) travelled nationally and internationally and was quickly followed a year later with a second solo release.
Etok's work is also notable for the significant amount of text he frequently includes at the bottom of prints, included both to narrate the action of the illustration and as an extension of Etok's vocal desire to keep old stories and ways of life alive for future generations, which was chronicled in the trilingual biography of his life and work, The World of Tivi Etok, in 2008.
This year's honourees were chosen from a pool of nominees by a five-member jury made up of Myriam Achard, Claude Deschênes, Nadia Myre, Jack Robitaille and Louise Warren.
Etok is the third Inuk artist to be inducted into the Ordre; singer-songwriter Elisapie Isaacbecame a Compagne in 2021 and sculptor Mattiusi Iyaituk was inducted in 2018.
"I would like to express my endless gratitude to these men and women for their work, which I know will continue to elicit wonder in us for a very long time," said Anne-Marie Jean, CALQ's president and executive director.
Etok and the rest of this year's honourees will join the ranks of the Ordre as Compagnes and Compagnons in an insignia presentation ceremony at the Grands Ballets Studio-Théâtre in Montreal, QC, this evening.