The Magic of Improvisation in Tanya Tagaq's "Ever Deadly"
Inuit Art Foundation | September 9, 2022
Categories: news
Sep 09, 2022
by Britt Gallpen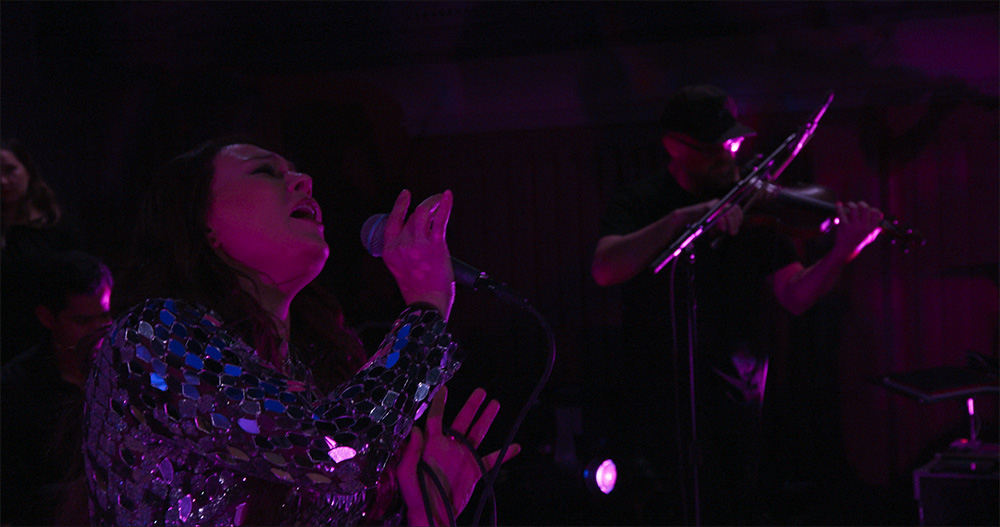 Ever Deadly (2022), a feature-length documentary showcasing the life and work of acclaimed throat singer Tanya Tagaq, CM, premieres September 9 at the 47th Toronto International Film Festival. The film will then travel to the Calgary International Film Festival in late September, followed by the Vancouver International Film Festival in October.
Produced by the National Film Board of Canada (NFB), the documentary is written and directed by Tagaq in collaboration with filmmaker Chelsea McMullan (My Prairie Home). More than a concert film, Ever Deadly combines live concert footage with animation and performances by fellow Inuit artists Shuvinai Ashoona, RCA, Glenn Gear and Laakkuluk Williamson Bathory. At the core of the production is Tagaq's own words and personal stories as she invites viewers to reflect on this living history and desire for self-representation.
IAQ Editorial Director Britt Gallpen speaks to Tagaq and McMullan about their collaboration, the importance of language and their hope that someone walks out of the theatre during a screening.
Britt Gallpen: This film is, I suppose, a music documentary, but it's also a visceral and intimate portrait. How would you both describe it?
Tanya Tagaq: Fuckin' deadly [laughs].
Chelsea McMullan: I have always described the film as an experience, a feeling. If people are coming in thinking that it's going to be more of a formulaic bio-music-documentary, it's not that.
BG: It certainly feels very immersive, like you're just dropped right into this whole world, which is a great experience as a viewer.
CM: That's great to hear, because it's definitely something we were trying to achieve with it.
TT: We're nervous about it dropping. We had so much fun making it, hey, Chelsea? Especially being up in Nunavut.
BG: Will there be an opportunity to show this film in the North?
CM: Yeah, definitely. That's been made clear to the NFB through Tanya that it's a priority. So they're working on a strategy of how to get it into as many communities as possible.
BG: Tanya, you've said in other interviews that you've been approached several times about being the subject of a documentary, all of which you turned down before working with Chelsea. This film feels very much like experiencing a collaborative project between two artists. How did this all come to be and what was the process of working with one another?
TT: Well, Chelsea's chill. You want to work with somebody that you're going to hang out with for a long time and somebody who's not going to be freaking out all the time. So that was a big thing. I knew of Chelsea through my friend Rae [Spoon]. Chelsea did [the documentary] My Prairie Home with Rae. I watched that on the airplane on the way back from Europe once and I just really enjoyed that portrait of Rae and I enjoyed how that was all done, right from the beginning. So I liked [Chelsea's] work and I like them. We hung out and it was fun. And you can take a bit of ribbing [Chelsea]. You can't really hang out with me and my family without being teased a little bit! And Chelsea is so talented so I just thought, why not? The first step was to record this concert footage with this crazy camera and crazy sound, how many mics did we have?
CM: I think it's like 70 tracks.
TT: So that was that first step. After that, I knew that I wanted the land but I had no idea that any of my family was going to agree to be in [the film] at all. My mother was able to be in it and talked about the relocation and gave a little bit of our family history. Then we got really excited about the idea of animation. And when Shuvinai Ashoona, RCA, said yes, I almost fainted. I was so freakin' excited. I've been a fan for many, many years.
BG: Other artists are prominently featured in this film–you perform katajjaq with Laakkuluk Williamson Bathory, there is animation by Shuvinai Ashoona, RCA, Glenn Gear and Santee Smith performs as part of the live concert. Could you speak to why it's so important to you to uplift and highlight other artists in your work?
TT: Well, why have just one ingredient in your stew?
BG: And for you Chelsea, what made this project so enticing for you?
CM: I was a big fan of Tanya's music. I had seen her live and wondered how she felt about cinema. I just had a feeling from her music that it could be really amazing and the idea of incorporating improvisation into the whole process, we were both excited about that. Obviously, I was so nervous meeting Tanya for the first time. But I consider Tanya a master artist. So for me, having the opportunity to collaborate with her is a huge highlight of my life and career.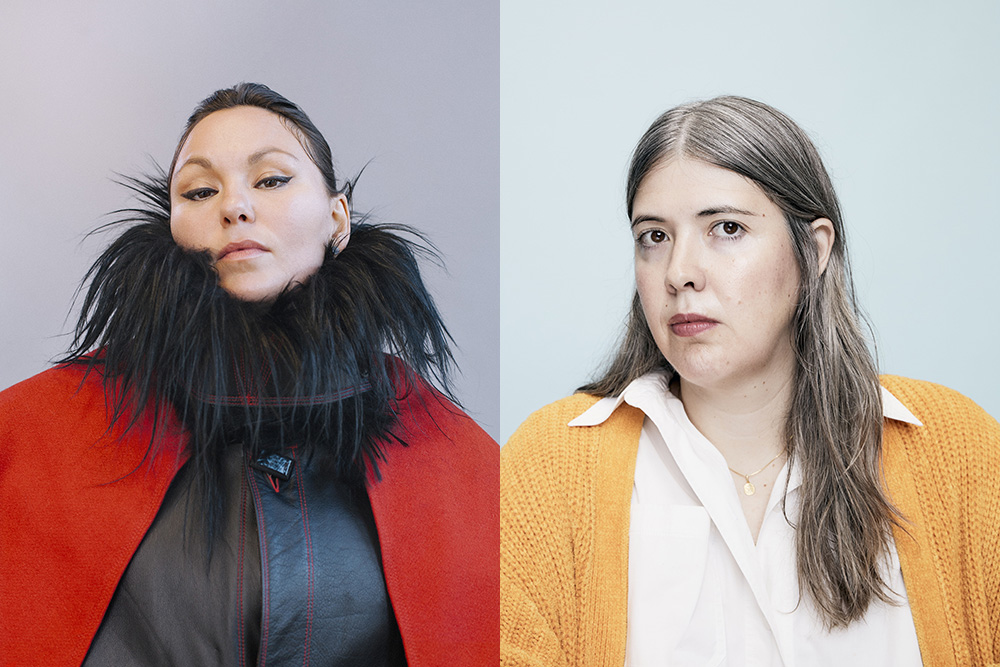 BG: Self-representation and self-determination underpin so much of this film, especially given the historical depictions of Inuit on screen and the complexities around that. This year, for example, is the 100th anniversary of the pseudo-documentary Nanook of the North. What does it mean to be in control of your image in this way?
TT: It was very fluid, which is how I always work. I choose not to think about the final outcome at all. Otherwise, you start worrying, are people gonna like it? Is this what people want? It was difficult, trying to get the essence of this tingling improvisation onto film. In the concerts, it's so magical, what happens in that moment. When you haven't been to a whole show, you can't see the arc of what happens. Every improvisation is different, because it's dependent on the venue, the sound, the audience, what they're giving back to the performances. To have that with filmmaking was really fun.
There's a lot of footage that isn't being used. I was really reluctant to get too personal on my own trauma, I didn't want to get that intimate. Chelsea was really respectful of those boundaries. And to be able to talk about myself individually and where that boundary is, and for Inuit and where that boundary is and, finally, as Indigenous people and where that boundary is. We've been very, very careful to be as respectful as possible to all of the people involved. I was a little concerned about the pan-Indigeneity of talking about how Indigenous people are treated in the country, because the everyman can mix us up a lot but I think any group who attended residential school naturally suffers the same repercussions. But after that it's learning the differences between Indigenous peoples. We are not the same as people that live in the South at all. We're completely different, genetically and otherwise. What we do share is that we were here for a long time and lived comfortably on this beautiful land before people came and made climate change and fucked it all up.
BG: There's this interplay in the film of moving between a collective experience and something very personal. Tanya, you say at one point, "I want my bones to rest here. I just want to be here," and a voice off camera asks, "Can you explain where we are?" And Tanya answers, "I don't want people to come." Also, hearing your mother, for example, speaking about relocation. I think that is a history a lot of people are not very familiar with.
TT: We tell people, but they just think it's nothing. Typically, the issue that Inuit have in communicating with qallunaat is that hard things are discussed calmly. So when my mother says we almost starved, that's not an embellishment. I really love the way Chelsea took my mother's words and made that punching impact with the images. Chelsea, I'm gonna be grateful to you for the rest of my life. I saw it and I went, it's expressed. Thank you Chelsea for putting that together that way. It really means a lot to me and my family, and it's crucially important for Canadians to understand the impact of what [transpired and is still happening] today. I'm not absolving anybody from responsibility because you have all the resources in front of you to learn, but of course, the government wants to hide what happened because it's shameful. A lot of Canadians really want to keep those blinders on really badly.
Look at what has just happened in James Smith Cree Nation, the tragedy that unfolded there and how racist the comments are online. [That community is] being attacked online for what happened. It's indicative of the number of Canadians who hate us. And we have to live like that, with this hatred.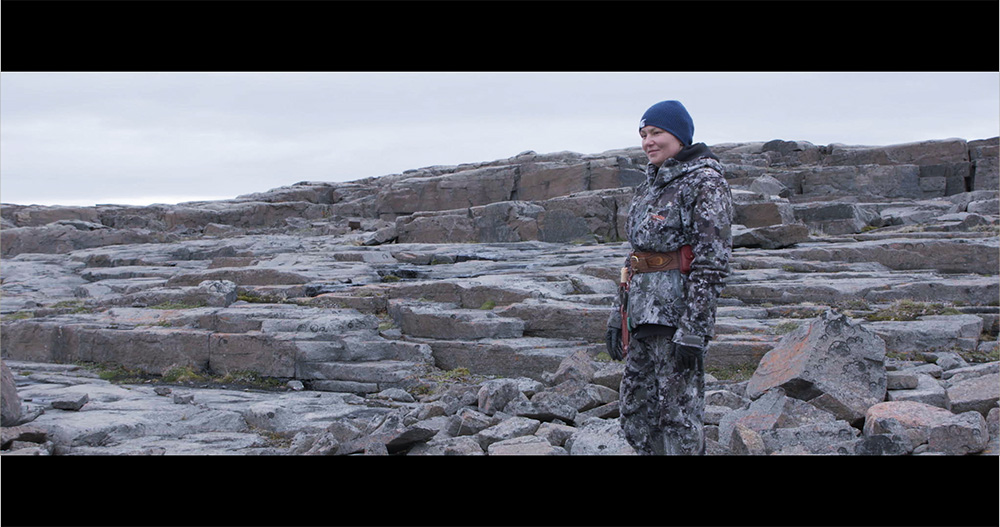 BG: There's the interview footage of you, Tanya, where you are talking about the value of an Indigenous life, and who cares and what attention is given to these issues. It's perfectly summed up throughout this beautiful film and there are these moments that really do feel just like a punch in the gut. And they should. I think Chelsea, it speaks to your skill as a filmmaker to be able to pull this archival footage together and really display in a visual way the bureaucracy that has underpinned so many of these decisions and the real human toll. How did you approach this very heavy material?
CM: I mean, as thoughtfully as possible. Tanya said, I think at our first meeting, that the scene with her mom was vital and was going to be a huge part of the film. The interview itself was really beautiful. It was also really important to Tanya that it was in Inuktitut. I just knew how important that scene was to get right. So I worked really carefully with our editor Avrïl [Jacobson] to find the right archival to fit the film.
BG: Language is its own character in the film, there's the inclusion of Inuktitut (interview between your mother and Laakkuluk) as well as your translation of words towards the end of the film. There's also allusion to the loss, or lack, of language when you say, "She never speaks to me in Inuktitut anymore. Residential schools have beaten the Inuktitut out of this town in the name of progress and the name of decency. It made me wonder what I was not being taught." There's also your own prose throughout the film.
TT: I moved from [Qausuittuq] to [Iqaluktuuttiaq (Cambridge Bay), NU], when I was six. No one spoke Inuktitut in Cambridge. There's a dialect difference, but still it was frowned upon. When I spoke it, people either wouldn't listen to me or said it was the wrong dialect, or didn't know what I was saying. So we just switched to English, and my mother just stopped speaking in the house. So we all lost it. But it's still there. I'll dream in Inuktitut sometimes. Some people are very lucky to just have it around and that's excellent. Not everybody has that. And you should be very supportive of anybody trying to learn in any way. And not make fun of people or say they're doing it wrong.
The way I've come to see it is we're a hard people that have survived on a hard land for thousands and thousands of years. You have to be tough and then there's a lot of trauma in the communities but also the most beauty in the world—and freedom. I was just home, there is a freedom there and the harshness that comes from surviving the harsh climate. So it's this juxtaposition of taking that hardness from those elements and finding a way to use it in a positive way. To be soft when it comes to teaching Inuktitut.
BG: What do you hope viewers take from this film? Is there anything else you'd like to share with our readers?
TT: I hope that there's some education on our living history. I hope that there's some enjoyment of the concert. I hope people like the music and that it opens up something in their mind. I hope that people enjoy it. Because now, of course, it's finished and I'm thinking about the audience going oh, shit what if nobody likes it.
I'd also like to thank the other performers from the concert: Jesse Zubot, Jean Martin, Jeffrey Samuel Zeigler, Ashkan Kooshanejad, Jean Martin, Santee Smith, Christine Duncan and the Element Choir. I'd like to thank them as well and everybody that worked on the film.
CM: I think different people are going to get a different experience from it, but I think that's kind of like Tanya's music.
TT: If it's gonna be anything like my concerts, it's not successful unless someone walks out.
CM: It will be the true measure of success for the film, we'll be so happy if someone storms out!
This conversation has been edited for clarity and condensed.