The History Behind Nunavut (Our Land)
Inuit Art Foundation | July 08, 2022
Categories: news
Jul 08, 2022
by Jessica MacDonald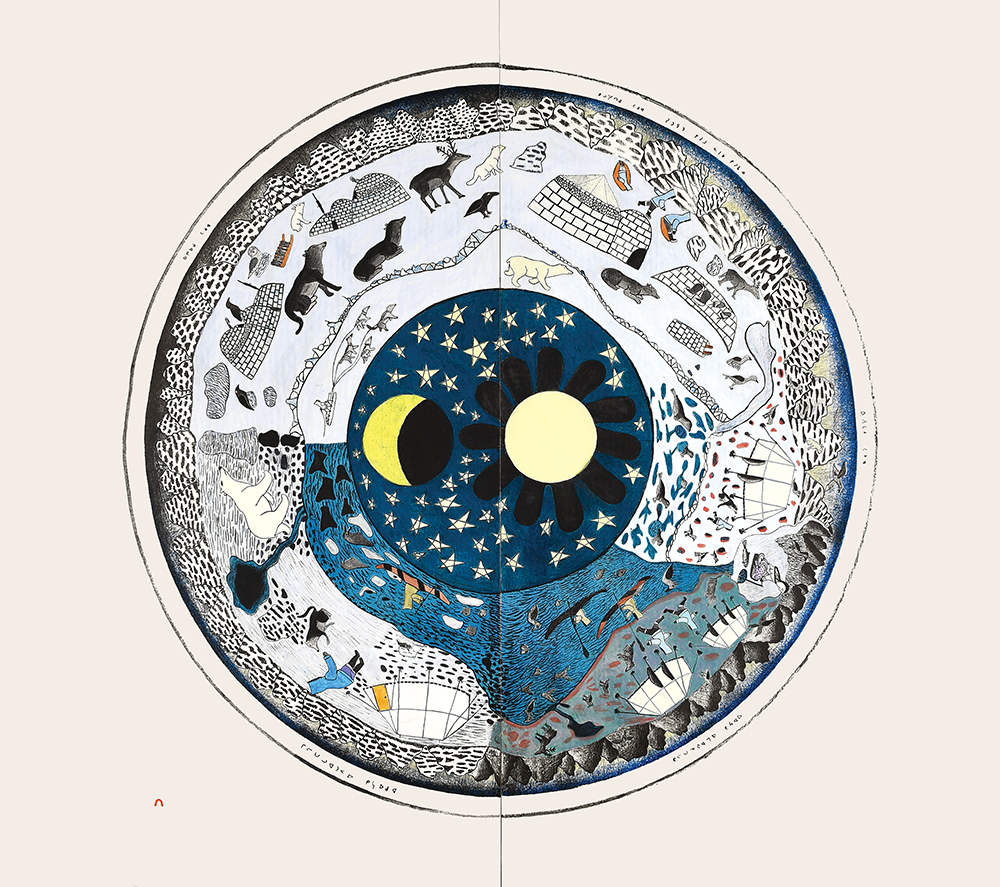 When I first picked Nunavut (Our Land) to write about for Nunavut Day, I didn't realize what it was. Oh, I knew it was a stunning image by Kenojuak Ashevak (1927–2013), CC, ONu, RCA, who some might call the queen of Inuit art. I knew it was famous—I had seen it among the works in the British Museum's 2021 Arctic: Culture and Climate exhibition, and I knew it was one of the pieces selected by Inuk curator Jocelyn Piirainen when she curated a selection of works from the Inuit Tapiriit Kanatami (ITK) collection, with loans from the public collection of the Indigenous Art Centre, for ITK's Ottawa offices in 2020; I had even seen it covered in the pages of IAQ before—but I didn't know why.
Built on mammoth proportions at nearly 12 feet wide, cutter and printmaker Pitseolak Niviaqsi put this piece together one half at a time, using two aluminum plates, to form the single image, which Ashevak then hand coloured herself in an edition of three.
The hypnotic circle always stuck out in my mind, operating on a series of concentric rings: at the centre is a moon, sun and stars, then a ring of water and ice, then tundra, then hills, a border of syllabic text and finally an actual black line. It's six seasons of arctic life revolving clockwise one after another, from ice to water, iglus to tents, kayaks to dog sleds and Inuit and animals moving clockwise with them, partaking in traditional activities that would be done in certain seasons.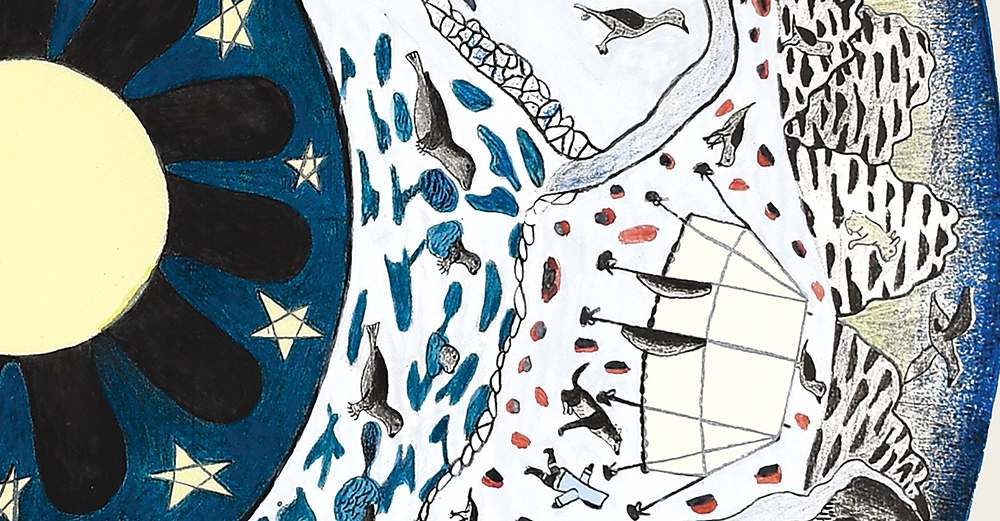 Together with the strikingly minimalistic colour palette of blue, black and white, with little pops of orange and yellow, I definitely remembered it. Given that it was actually titled Nunavut—which means "our land" in Inuktitut—it seemed like an obvious choice to write about on Nunavut Day.
But what truly makes this piece so fitting is its history: it was commissioned by the federal government to commemorate the signing of the Tungavik Federation of Nunavut Settlement Agreement, now better known as the Nunavut Land Claims Agreement, which took place in Iqaluit, NU, on May 25, 1993.
Interestingly, Ashevak made more than one print to commemorate the creation of Nunavut. This work is often confused with another of Ashevak's, called Nunavut Qajanatuk (Our Beautiful Land) (1990). Nunavut Qajanatuk is also a three-edition lithograph with hand colouring, although that print was commissioned by the Department of Indian Affairs and Northern Development (now Indigenous and Northern Affairs Canada) for the April 1990 signing of the Land Claim in Principle. It was also completed by a different cutter and printer. I had to go all the way back to the original 1990 print catalogue to unravel the difference between the two.
There's also Ashevak's print Silavut, Nunavut (Our Environment, Our Land) (1999), another diptych printed by Pitseolak Niviaqsi, this time created in an edition of 99 to commemorate the year when Nunavut was formally separated from Northwest Territories.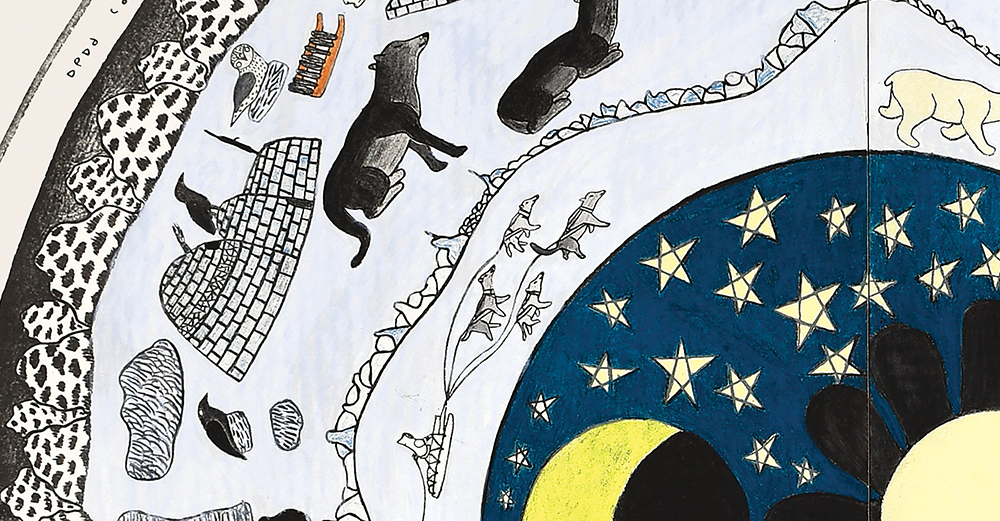 However, it is Nunavut (Our Land) which is featured on the cover of the final agreement and is on display in the Canadian History Hall at the Canadian Museum of History in Gatineau, QC. This work depicts 365 days of the year in Nunavut and dozens of tiny vignettes showing traditional activities on the land; it even references Ashevak herself in the little owl at the top left of the circle and the border of hills. (Ashevak famously loved owls, and the name of her community, Kinngait, means "where the hills are," in Inuktitut.)
Although we now celebrate Nunavut Day on July 9—the date Parliament passed the Nunavut Land Claims Agreement Act and the Nunavut Act, formally recognizing Nunavut as a distinct territory from Northwest Territories—Ashevak's Nunavut (Our Land) remains the perfect piece to celebrate with all year long.