Shuvinai Ashoona Awarded Special Mention at 59th Venice Biennale
Inuit Art Foundation | April 27, 2022
Categories: news
Apr 27, 2022
by IAQ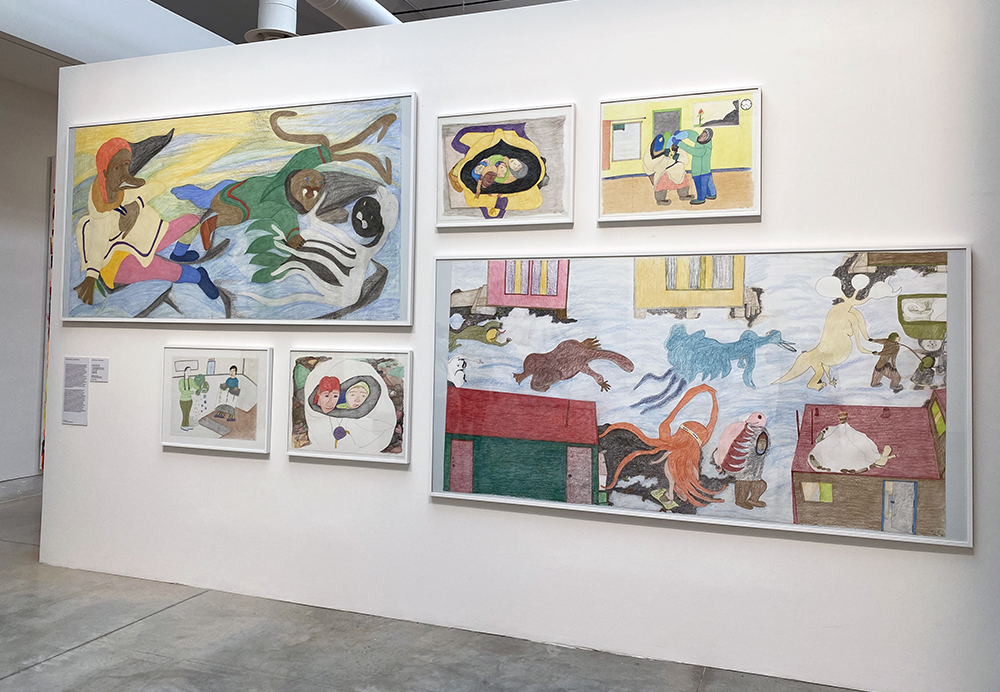 On Saturday, April 23, Shuvinai Ashoona, RCA, was awarded a Special Mention during the opening ceremony of the 59th International Art Exhibition of La Biennale di Venezia. This is Ashoona's debut in the Venice Biennale, with her work being included in the central exhibition The Milk of Dreams curated by Cecelia Alemani, on view until November 27.
The Venice Biennale is the longest-running and most prestigious contemporary art event in the world, awarding prizes to artists participating in the International Exhibition since 1895. "Shuvinai Ashoona reveals in her drawings and paintings a profundity of Indigenous Inuk cosmogonies," said the five-person jury led by Adrienne Edwards of the Whitney Museum. "Acknowledging the violences of the colonial enterprise, Ashoona, in her work proposes possibilities of escaping the cul-de-sac by listening in, listening back and listening forward to Indigenous knowledge."
The Milk of Dreams includes 213 artists from 58 countries, with 180 of those being first-time participants. Ashoona has six works on view in the Central Pavilion, consisting of large-scale pen and pencil drawings created between 2008–21. These works, which feature fantastical human-animal hybrids coexisting with the everyday, fit with the main themes of the exhibition outlined by Alemani: representations of bodies and their metamorphoses, the relationship between individuals and technologies and the connection between bodies and the Earth.
Ashoona first began drawing in the early 1990s, and has been included in many solo exhibitions across Canada and internationally, including the nationally touring Mapping Worlds and more recently, Shuvinai Ashoona: Drawings at the Institute of Contemporary Art in Miami, Florida. In 2016, Ashoona was appointed to the Royal Academy of the Arts, and later became the first Inuk to be awarded the Gershon Iskowitz Prize in 2018 for her outstanding contributions to the visual arts in Canada.
Ashoona was one of many women to be recognized during the Official Awards ceremony of the 59th Venice Biennale, with the other Special Mention Award being given to American artist Lynn Hershman Leesonboth, and both of the top Golden Lion prizes being taken home by Black women: British artist Sonia Boyce for Best National Participation, and American artist Simone Leigh, for Best Artist in the Central Exhibition.
This is the third time Inuit artists have been featured in the international art fair, with Kananginak Pootoogook becoming the first Inuk to be presented at the Venice Biennale in 2017, and artist collective ISUMA's takeover of the Canadian Pavilion in 2019.