Kenojuak Ashevak Memorial Award
Inuit Art Foundation | November 02, 2022
Categories: news
Now accepting nominations for the 2023 Kenojuak Ashevak Memorial Award (KAMA)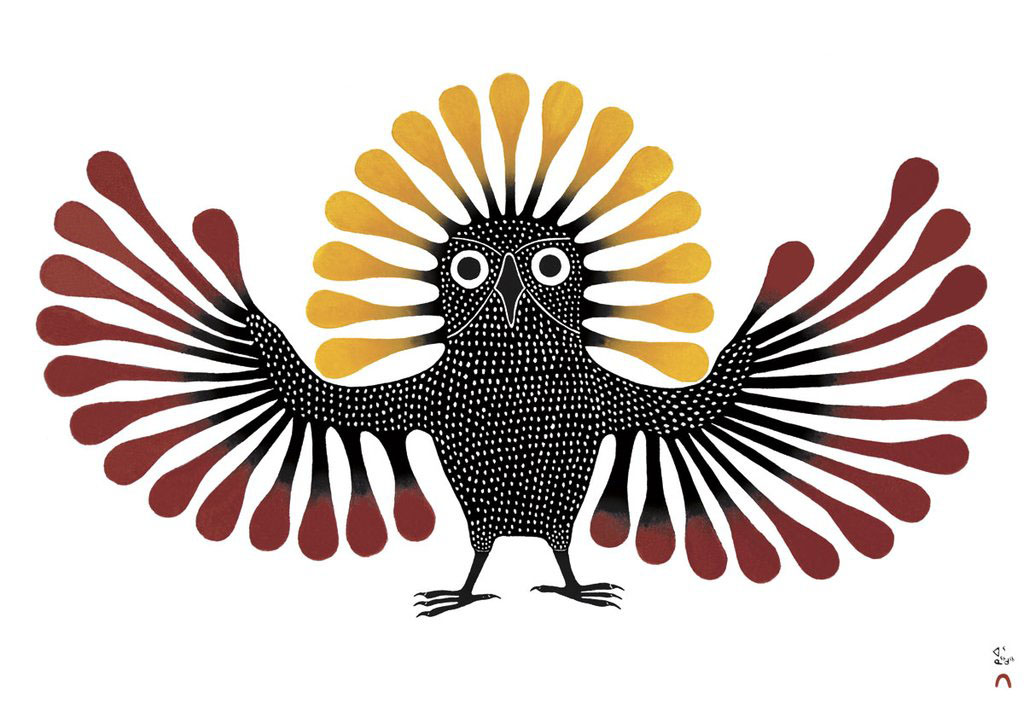 About the Award
The Kenojuak Ashevak Memorial Award (KAMA) is a biennial prize that supports the practice of an Inuk artist by facilitating opportunities for artistic development and career growth. Established in 2014 by generous members of the Inuit art community, this award honours the life and work of the late Kenojuak Ashevak, and her unparalleled contributions to the cultural life and arts of Inuit Nunangat and beyond.
An exceptional artist, pioneer, role model and leader in her field, Ashevak spoke often about the importance of encouraging future generations of Inuit artists. To honour this desire, KAMA provides funding to artists to expand their careers and reach new audiences.
Prizes
Thanks to a partnership with Winnipeg Art Gallery-Qaumajuq, announced in 2021, the winner now receives opportunities for research, creation and exhibition at their institution. Beginning in 2023, thanks to the generous support of RBC Emerging Artists, the award now includes additional opportunities for ten artists to expand their practice.


A longlist of ten artists will receive:
NEW: A cash prize of $2,500 each; and
NEW: A feature in a dedicated catalogue, to be distributed with the Inuit Art Quarterly.
A shortlist of five artists will receive:
NEW: A cash prize of $5,000 each; and
NEW: A group exhibition at WAG-Qaumajuq 2023.
The winner will receive:
INCREASED: A cash prize of $20,000
A fully funded creative residency at WAG-Qaumajuq in 2024; and
A solo exhibition with accompanying catalogue and acquisition in partnership with WAG-Qaumajuq in fall 2025.
Past Winners
2021
Winner: Tarralik Duffy
Shortlist: Eldred Allen, Kablusiak, Couzyn van Heuvelen
2018
Winner: Laakkkuluk Williamson Bathory
KAMA 2023
Now accepting nominations for the 2023 Kenojuak Ashevak Memorial Award (KAMA)

Deadline: Thursday, December 1, 2022 @ Midnight EST
How to Apply
Nominations will be accepted by fax, email, mail and via oral submission in English and Inuktut. All necessary translations will be provided by the IAF. See the nomination form for additional details.

Please note that only one nomination per artist will be accepted.


The IAF strongly encourages nominations from professional acquaintances including curators, gallerists, writers, critics, fellow artists and others in relevant fields, in support of an Inuit artist's practice. Individual artists are invited to self-nominate if they wish to do so. All KAMA applications will be assessed by an external committee of Inuit arts professionals.
Eligibility
This award is open to Inuit artists in Canada who are actively working. Nominations can be made by the artist or another arts professional. See the nomination form for full eligibility details.


Assessment
An external, all-Inuit Peer Assessment Committee (PAC) whose members who represent diverse fields and practices within the broader Inuit arts community will assess KAMA applications. The PAC will ensure that there are no members who have conflict of interest in reviewing applications. It is important in preparing nominations to clearly demonstrate the strength of the artist's work as well as the potential impact the award would have on their career.

Interested in becoming a Peer Assessor for IAF programs? Apply today!
Questions? For more information and assistance please contact:
For inquiries in English:
Kyle Aleekuk
Program Officer
647.498.7717 ext. 115
kaleekuk[at]inuitartfoundation[dot]org
For inquiries in Inuktut:
Blandina Makkik
Igloo Tag Co-ordinator
647.498.7717 ext. 109
bmakkik[at]inuitartfoundation[dot]org