IAQ Takes Home Gold at National Magazine Awards
Inuit Art Foundation | June 07, 2022
Categories: news

Jun 07, 2022
by IAQ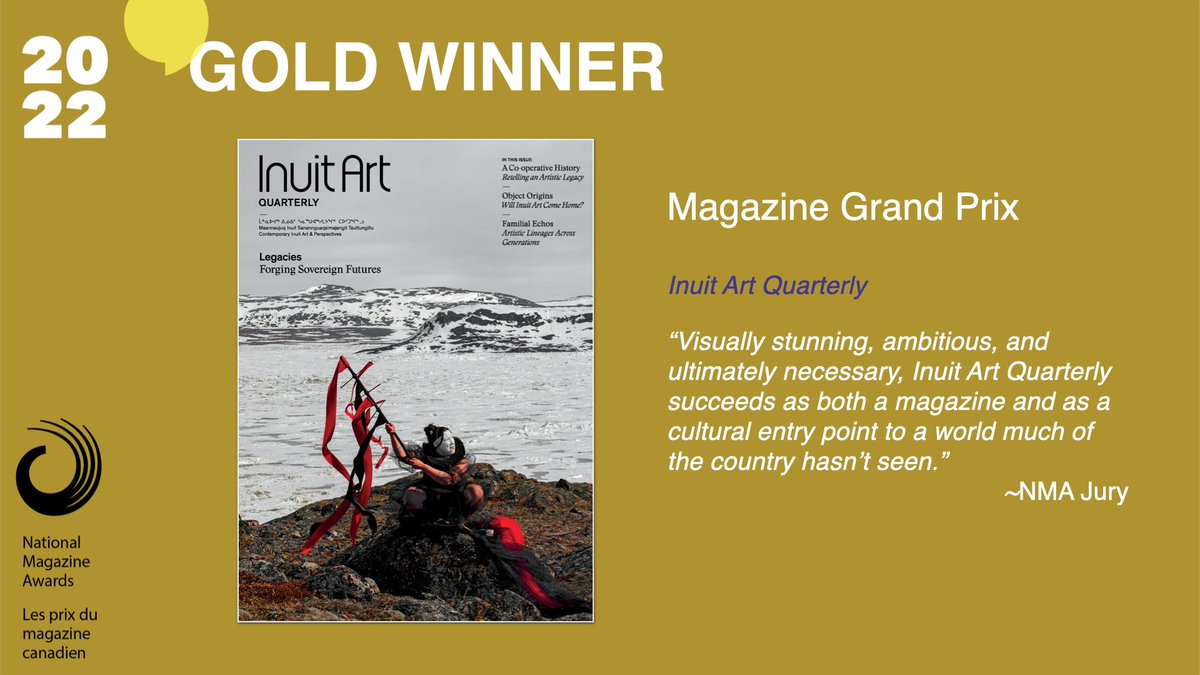 The 45th National Magazine Awards were held virtually on Friday, June 3. Inuit Art Foundation staff and board members watched over Zoom with bated breath and we are excited to share the results! We are honoured to have been selected as the Best Arts and Literary Magazine and Magazine Grand Prix winner at this year's National Magazine Awards!
After winning Gold for Best Magazine: Art, Literary & Culture, the Inuit Art Quarterly became eligible for the Magazine Grand Prix alongside Maclean's (Best Magazine: News, Business, General Interest), Air Canada enRoute (Best Magazine: Service & Lifestyle) and Broadview (Best Magazine: Special Interest). The NMAs' most coveted editorial award given to the best overall magazine in Canada, the IAQ was presented with the top prize by Melony Ward, President, Board of Directors, National Media Awards Foundation and Publisher, Canada's National History Society.
"The Magazines Grand Prix honours a magazine that displays excellence across the board," said Ward. "The recipient is inspiring, worthy of aspiration and demonstrates the best that Canadian magazines have to offer." Relaying the NMA jury's comments, Ward concluded, "visually stunning, ambitious, and ultimately necessary, Inuit Art Quarterly succeeds as both a magazine and as a cultural entry point to a world much of the country hasn't seen."
This marks the fourth time the IAQ has been recognized for excellence in the category of Best Magazine: Arts, Literary & Culture at the NMAs and the magazine's first Gold. In 2021 the IAQ was nominated for seven awards and received Gold for Best Editorial Package for the Threads issue, and in 2020 author Blandina Attaarjuaq Makkik won for her piece "Remembering Our Ways: Film and Culture in Iglulik."
Thank you to our dedicated community of readers and donors for your love of Inuit art and for your support and encouragement as well as our funders Crown-Indigenous Relations and Northern Affairs, the Canada Council for Arts, the Ontario Arts Council, Ontario Creates and our partners at the Inuit Futures in Arts Leadership: The Pilimmaksarniq/Pijariuqsarniq Projectwho make the IAQ possible.
On behalf of the IAQ team, the Inuit Art Foundation staff and board of directors, we would like to extend our sincere thanks and congratulations to all the writers and artists who contributed to our 2021 editorial calendar for the issues Storytelling (Spring), Interiors (Summer), Legacies(Fall) and Break Up (Winter) for sharing your enthusiasm, passion and creativity in our pages. You inspire us everyday.
Qujanamiik, nakurmiik, nakurmeq, quana, merci, thank you!