How Chance Encounters Inspire Billy Gauthier's Carvings
Inuit Art Foundation | February 27, 2023
Categories: news

Feb 27, 2023
by IAQ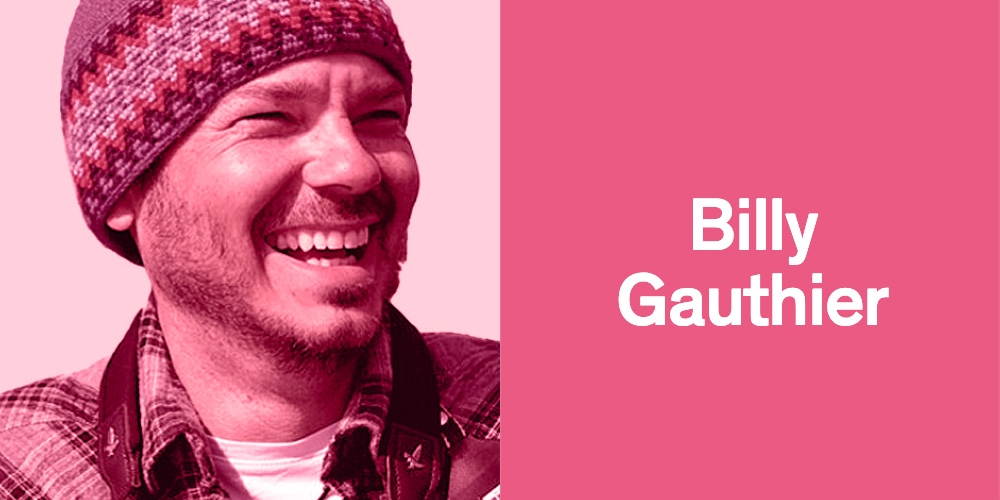 For artist Billy Gauthier, carving has been a lifelong pursuit. Born in Happy Valley Goose Bay, Labrador, Gauthier has been honing his practice for more than 26 years, working in a diverse range of traditional materials including stone, bone, antler, ivory, sinew and baleen. Detailed observations of nature and a knack for crafting fluid sweeping forms have come to characterize his striking work. On the occasion of being longlisted for the 2023 Kenojuak Ashevak Memorial Award, we speak to Gauthier about what informs his practice—inside and outside of the studio.
Inuit Art Quarterly: How did you get your start as an artist?
Billy Gauthier: Since I could hold a pencil, I was always into drawing. When I was about 13, my mother asked me if I was interested in trying some stone carving. For some reason, I looked at stone as being this impossible material. But when I was 16, she asked me if I was interested in meeting up with my cousin, John Terriak. I went over to his studio and watched him carve for a couple hours, and I realized, "Okay, this is something that I can actually do." He gave me my first pieces of stone and a couple of files, and I made my first piece and gave that to my mother for Mother's Day in 1996.
IAQ: When did you start moving into the work that you're doing now?
BG: It's been a fairly long evolution. I'm constantly trying to change my style and learn new ways to manipulate the materials. I've always been evolving and changing. I'm curious what's around the corner. Whenever I go hunting and fishing, I'm usually the annoying person to take out because I never want to leave. And that's the way I look at my artwork, too. What else can I create? How far can I push the materials?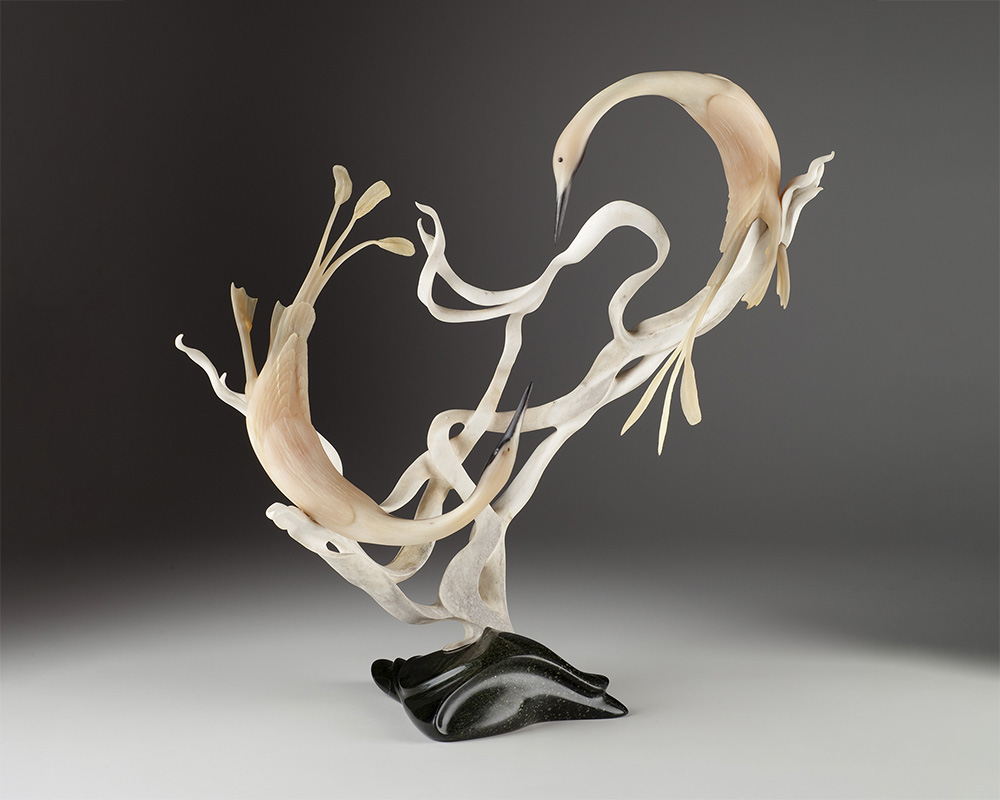 IAQ: You created a tribute to Kenojuak Ashevak, CC, ONu, RCA with your work Swimming Loons: My Tribute to Kenojuak Ashevak (2010). Where did that piece come from and what does she mean to you?
BG: She really helped pave the way for any artist, I believe. I remember as a kid, looking at pictures of the different bird figures she used to make. I was always fascinated by those elongated feathers, and I thought that one of these days, I would really like to turn that into some sort of a sculpture. So that's what I did with Swimming Loons. Unfortunately, I never had a chance to meet her before she passed. But at one point, she got to see that sculpture, and she asked the collectors who purchased the piece to tell me that she really enjoyed it.
IAQ: Do you have other heroes or people who inspired your work along the way?
BG: Absolutely anything and everything is an inspiration. I consider Michelangelo and DaVinci and Van Gogh inspirations. And then of course, there's lots of great Canadian artists that I find very inspirational, especially Michael Massie CM, RCA, who's from here in Labrador. I'm fascinated with artists from all different areas of the world, and timelines even.
IAQ: Did you have any challenges along the way to becoming an artist?
BG: I'd love to be able to say it was easy for me, but the truth is, there were definitely times where I had a really hard time paying my bills, or where I was involved in exhibitions and nothing sold. So I became depressed at the end of that, and I questioned whether art should really be my career for the future.

IAQ: You're also known for providing mentorship opportunities for younger and emerging artists. How does that play a role in your practice?
BG: It's something I would like to do much more. I love to give any information that I can about carving. I'm hoping that what I'm doing right now—working with other people—is going to benefit Inuit art and make it look more beautiful in the future. I can't imagine hoarding my ideas and keeping the ways I work to myself.
When I was learning to carve, I watched my cousin for a couple of hours, but there was a lot of pulling hair out at first and breaking a lot of pieces. I certainly would have done a little bit better, or gotten to this point a little bit faster. So I like to help others out whenever I can.
IAQ: Do you listen to music or podcasts in the studio?
BG: Depending on what part of the sculpture I'm working on, I'll listen to different types of music. If I'm working on something that has more free fluid lines, where I don't really have to be too technical, I'll listen to something that's a bit faster and more upbeat. I noticed that my hands move a little faster as I'm carving with the rhythm. But then there's other times where—if it's small, like half a millimetre—movement can be enough to destroy the shape of an eye. At that point, I can't listen to anything upbeat, I have to listen to something really slow and relaxing. That's when I'll often stick on some classical music or something, and that really calms me down.
IAQ: Outside of art-making, what do you like to do?
BG: I love hunting, fishing, hiking, kayaking. The outdoors is where I feel the most free. When I was a kid, I grew up without very much money, and the home I lived in wasn't necessarily a good home at the time. And anytime I ever went off into the woods, I felt free. Whenever I get out on the land, I think to myself, "This is the real world."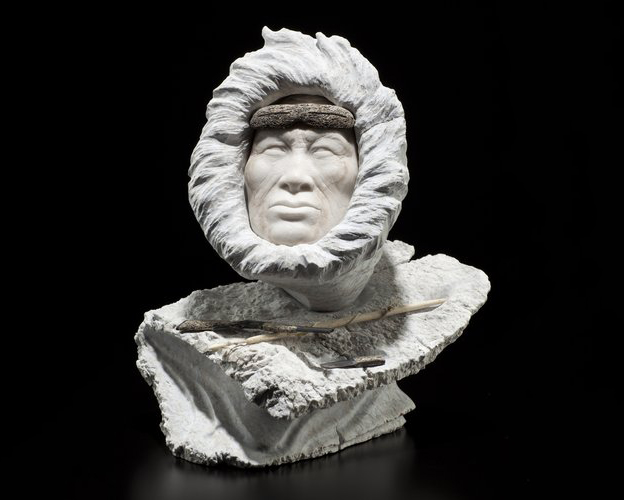 IAQ: Are you thinking about art when you're out there?
BG: I get out and I do what I'm gonna do, but every once in a while something will happen. Actually, a little over a year ago, my friend Kara Montague and I helped rescue a snowy owl out of the water. He was sitting on the front of my kayak for 45 minutes before he dried out and he could fly. That's a piece I haven't actually carved yet, but I know without a doubt it's going to be a carving.
Another time, in my kayak, I was watching seals and one jumped right up out of the water and scared the crap out of me. I hadn't expected to see the seal right next to me, and it was freezing cold water as well, so I didn't want to get thrown in there. My heart was pounding. It's funny, but maybe a minute or two after this happened, I started thinking, "Okay, that's got to be a carving."
IAQ: Is there anything else people should know about your work?
BG: I think a lot of people might not really understand the connection that artists—at least that I—have to the materials I use. I feel like I almost owe them as much as I possibly can give: as much energy, as much work, as much time. I want the materials to be more well-appreciated. I feel like I owe them half of everything, because they are literally half of my sculpture. Half is the material itself, and the other half is the work that I put into it.
One thing I really would like to say is how much I appreciate those materials. They're amazing. And most of them are from nature, which is so important to me. I feel really deeply connected to them.
Read interviews with the other longlisted artists.
This interview was conducted by phone in December 2022. It has been edited and condensed for clarity.
The Kenojuak Ashevak Memorial Award is made possible through the support of individual donors and RBC Emerging Artists.