Gayle Uyagaqi Kabloona Print Chosen for Canada Post Stamp Series
Inuit Art Foundation | October 06, 2022
Categories: news
Oct 06, 2022
by IAQ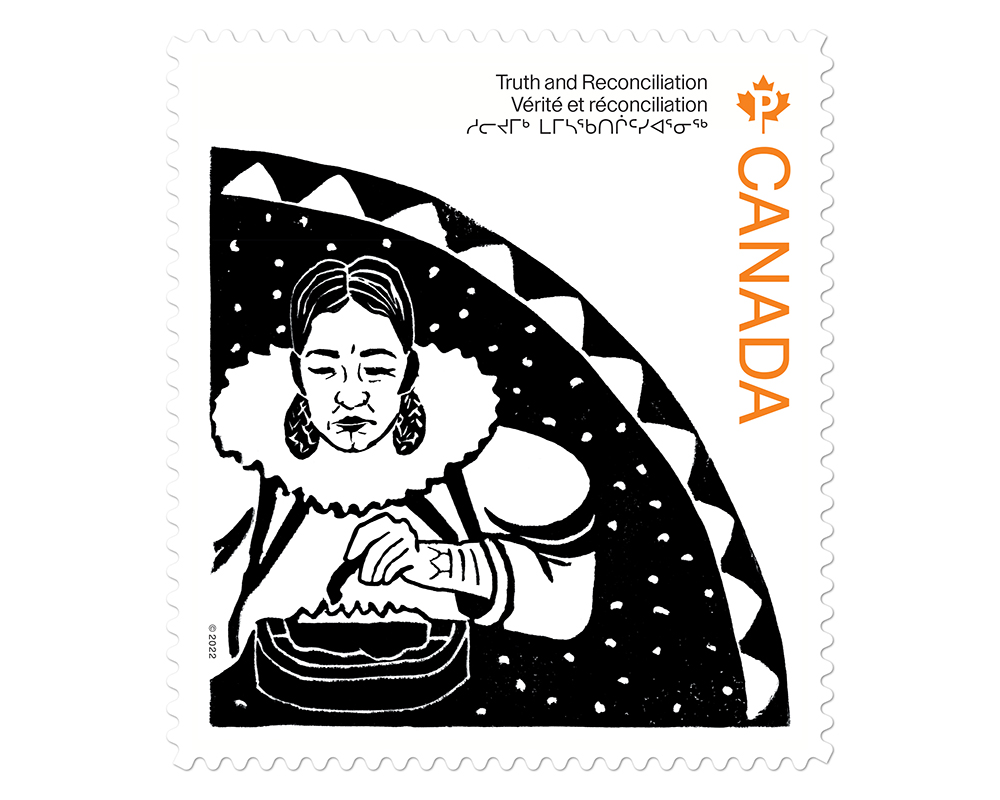 Inuk artist Gayle Uyagaqi Kabloona's work has been chosen as one of four Canada Post stamps creating space for First Nations, Inuit and Métis artists to share their visions of the future of truth and reconciliation. Alongside works by Jackie Traverse, Kim Gullion Stewart and Blair Thomson, Kabloona's design is now part of an edition of four stamps released this September, the first in an annual series of stamps recognizing the National Day for Truth and Reconciliation on September 30.
Born in Qamani'tuaq (Baker Lake), NU, and now residing in Ottawa, ON, Kabloona works in many disciplines including ceramics, printmaking, graphic art, wallhangings and knitwear. Among her recent career highlights is a 2022 residency at the Art Gallery of Guelph which culminated in ᑲᔪHᐃᐅᑎHᐃᒪᔭᑦᑲ | Kajuhiutihimajatka: What I'm Carrying On, a show featuring new work of Kabloona's alongside works by her grandmother Victoria Mamnguqsualuk and great-grandmother Jessie Oonark. In August of this year she created a set of wallpapers for the Google Pixel in recognition of World Indigenous Peoples' Day.

In the video released by Canada Post alongside the stamp series, Kabloona says, "I created a woman lighting a qulliq, the traditional Inuit stone lamp used for heat and light to signify caretaking. This woman is carrying on in her culture as she has always done, taking care of herself and others and healing."
Recovery and healing are important artistic themes in Kabloona's work, who has also taught art therapy at an addictions healing centre for Inuit. In the video, she says, "I think that there's the Indigenous side [to truth and reconciliation], that we need to concentrate on our own healing and helping each other recover from the impacts of residential schools and colonization; and I think that there's the settler side ... which involves a lot of learning and coming to terms with how this country came to be."
Each artist's design is in the shape of a quarter-circle, so that when placed together the four stamps unite to form a circle, reminiscent of the medicine wheel often used in First Nations imagery to represent a holistic approach to healing.
"I have a very deep and personal relationship with people who've been to residential school," says Kabloona in the video. "Everyone older than me in my family went to residential school, and I'm the first generation to not go." She shares that she has had to make a personal choice to avoid focusing on trauma in her work. Her artworks instead celebrate the "strength and continuity of Inuit culture," sometimes incorporating traditional knowledge as passed down through stories.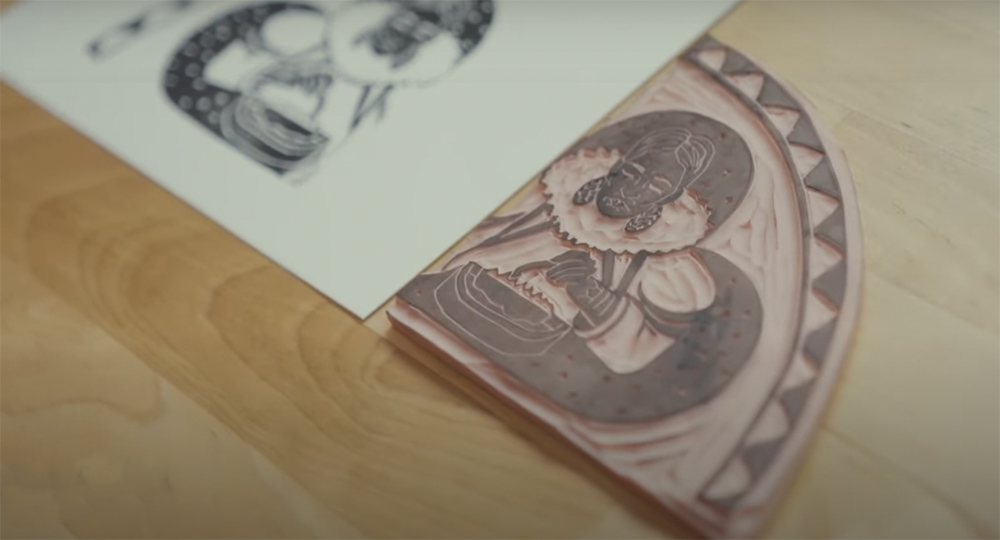 IAQ spoke to Kabloona about her design being chosen to represent Inuit culture as part of the series' inaugural edition.

How did you feel when your design was chosen?
It had been six months, so it was a big relief to finally hear one way or the other. The graphic designer had a great concept and I had confidence in the collaborative piece. I had faith in the artwork, but the thought of putting myself in the public eye was scary. I'm still grappling with putting myself out there as an artist and person.
On top of that, doing art for such an important and sensitive topic was intimidating. I wanted to accurately depict my views, not upset anyone (who is Inuit), not gloss over the negative experiences of the past and present and simultaneously convey hope and strength. It was a huge task.
Did you know from the beginning what you wanted in your design, or did you have different ideas?
Each of the artists submitted four designs to be used in different concepts. So I was able to work through different aspects of my thoughts on truth and reconciliation in different images. I was secretly rooting for my solo design that is more of my unapologetic thoughts, but I think the safer, hopeful and strong image was chosen to appeal to more people.
Can you talk about any of the elements of the design and what they represent to you?
I wanted to make the design simple and powerful, not too much detail so it would translate well in a small format. It happens that my style and a lot of Inuit art is bold and graphic, so it worked out really well.
The black and white triangles in the circular arch are the flames of the qulliq. The woman is tending the flame in front while being encircled and protected by their warmth.
The stars are simultaneously stars and dots taken from Inuit tattooing traditions (dots symbolize family and life). The stars are beautiful in and of themselves, symbolize the support of family, and visually create light in the darkness behind her.
The design of the qulliq is one that I have at home. The woman's amauti design is from my home region of Baker Lake. Her hair is a tied, braided style taken from old photos of Inuit women. Some friends are bringing the traditional style back and I love it! Her tattoos are similar to the ones drawn by my ningiuq when I asked her about our region's style of tattooing when I was planning on getting tattoos of my own.
You mentioned that it felt daunting for your art to be chosen as a representation of Inuit culture. How did you work through that feeling?
Being chosen as a representation of Inuit culture was extremely daunting! I had to set aside my fears and doubts at the beginning and remind myself I can only do my best. Additionally, I can only control the artwork phase and not its reception. I try not to dwell on things I can't control; once work is out the door I don't "possess" it anymore, it's other people's.
My advice to other artists is to know yourself, know how to take care of yourself and talk to people about how you feel. I've found support in other artists, other small business owners, people of colour and of course family and friends. My aippaq is very supportive as well and reminds me to take things one step at a time and that it's okay to stress when things get stressful.