Exploring Northern Indigeneity with the TETHER Curatorial Team
Inuit Art Foundation | October 17, 2022
Categories: news
Oct 17, 2022
by IAQ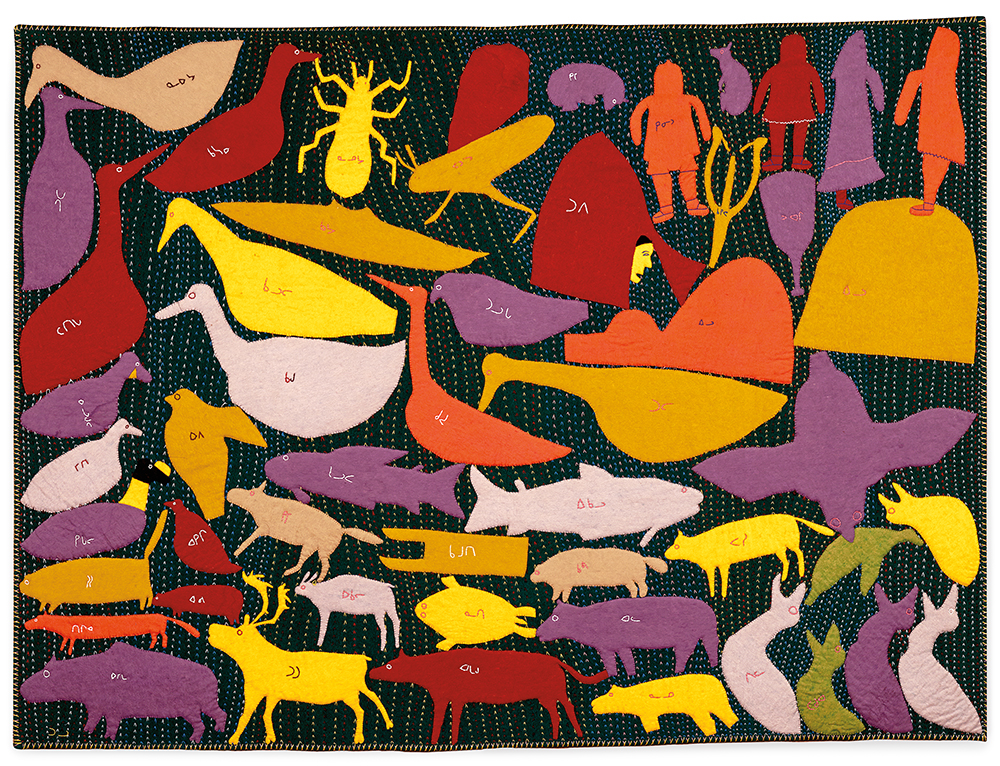 A featured visual art exhibition at the 2022 Arctic Arts Summit, TETHER brought together more than 50 artworks by Northern Indigenous artists whose works display the complex and inseparable bonds across diverse lands, waters, nations and peoples. The following conversation brings together co-curators Darcie "Ouiyaghasiak'' Bernhardt, Leanne Inuarak-Dall, Teresa Vander Meer-Chassé and Heather Von Steinhagen with Inuit Art Quarterly Associate Editor Napatsi Folger to reflect on the unique experience of curating collaboratively from a distance and other insights.

NAPATSI: How were you approached to be curators for this exhibition?

LEANNE: We were brought together through the Inuit Futures in Arts Leadership: The Pilimmaksarniq / Pijariuqsarniq Project, which is led by Dr. Heather Igloliorte. So Heather and Dr. Julie Nagam from the GLAM (Galleries, Libraries, Archives and Museums) Collective were our mentors, along with Mary Bradshaw, Director of Visual Arts at the Yukon Arts Centre.

NAPATSI: What was it like co-curating when you were all so far apart and having to do it all online?

DARCIE: I think at this point everybody's used to Zoom calls and working online. It was difficult to review collections virtually through little tiny thumbnails [on PDFs]. So that was a challenge, but also very exciting because we had such a vast selection [of works to choose from].

TERESA: Heather and I both had relationships with the Yukon Arts Centre and the Yukon Permanent Art Collection prior to this, so we both knew that collection somewhat and we'd seen some of the work in person. I hadn't seen works like Jackie Olson's Gwich'in Dress though. And then for Leanne and Darcie, I think everything was pretty much new.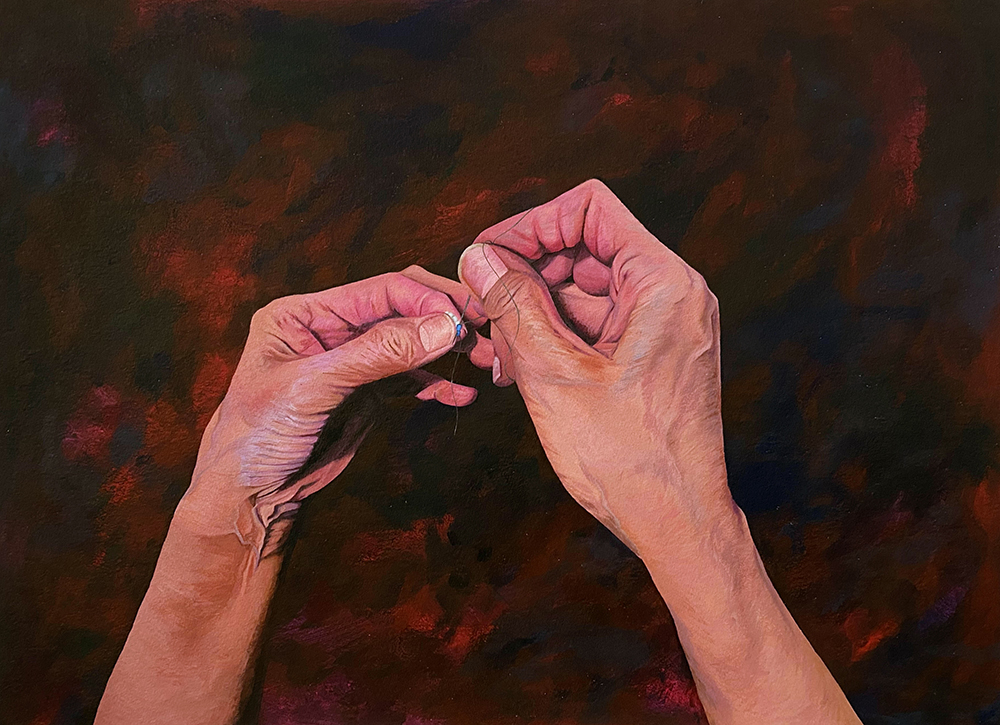 LEANNE: I've spent a lot of time in the Inuit Art Foundation archives, so it was very similar to that kind of work. The institutions [we worked with for this exhibition] would either send us hundred-page PDFs that we would have to go through, or we were able to make requests, like, "Hey, we're interested in this region or this medium," and they gave us selections based on those requests.

NAPATSI: So the first time you saw the art in person was when you arrived here to set it up?

LEANNE: I almost cried when I saw it in person. Everything seemed larger than life and almost unreal. We had the measurements, but you don't really get a sense of the scale or the detail until you see it in person. So it was really amazing for me.

TERESA: Heather and I had the opportunity to uncrate all of the work before Leanne and Darcie arrived. It was pretty remarkable to see the work in person and get a chance to hold it. My favourite part of install is being able to hold the work. Obviously in white gloves.

HEATHER: I would add that there's a certain type of energy that exists within these artworks that is rarely unleashed because it's often kept in collection [vaults] or behind walls. So that was really cool, as well as bringing it to the North, because most of these pieces are from the South.
LEANNE: We did a lot of planning. We started meeting weekly as soon as we signed on to the project in fall 2021. For a lot of the pieces, they did stay in the gallery where we had originally planned. But we also did make changes on-site. In person we were able to make certain connections and see the relationships between some of the works that maybe weren't as apparent just looking at them online.

HEATHER: The exhibition really came from the guiding question of "What does it mean to be Indigenous people from the North?" Throughout the process, we identified a few themes that stood out, like intergenerational knowledge transfer, land-based subsistence practices, travel culture and technology. And so the exhibition carries those themes. We had a plan to bring in those connections but, as Leanne said, once we were in the space, we noticed different stories being told. And I think that's what the end result was.

TERESA: We were working up until the very last minute [before the opening]. There was work that hadn't arrived, which caused a bit of grief. But everything arrived and went up just in time. There's the stress of install, but also the excitement. Every time we got a piece in, there was just a big celebration.

LEANNE: Going off of what Teresa was saying, I think what was really interesting in working with the four of us was our decision-making process. I think we strived to have a consensus throughout. We would always try to wait until everybody was around to make any big decisions. And even when we were making our selections, we developed a voting process. If we were split, then we would talk things out until we all were all [on the same page]. That was really special.
NAPATSI: This was such an incredible show, I feel like having four Indigenous artists from different cultures co-curating had a lot to do with that. Did this process give you any insight into your own future art?

HEATHER: For me, specifically, Indigenous [artistic] practices can feel quite pigeonholed. Having northern work from everywhere in one spot really expanded my view of what art is and how it can be sacred and how tools are sacred. It gave me permission to go all in and be weird because people love it.

DARCIE: It was really interesting to see work from all these different places in so-called northern Canada and learn more about their histories, for example, learning about babiche bags. These little tiny objects—these tools—hold so much knowledge, so much memory. I think that's the part where I'm feeling inspired. Echoing what Heather said, how can we transfer this knowledge to our own work?

TERESA: I have one that came up on a tour, which is my desire to have people touch my work. With the work coming from collections, there were some pieces that were required to be behind glass. I want people to touch my work. There's something about the tactility, I want people to be able to touch it and grab it.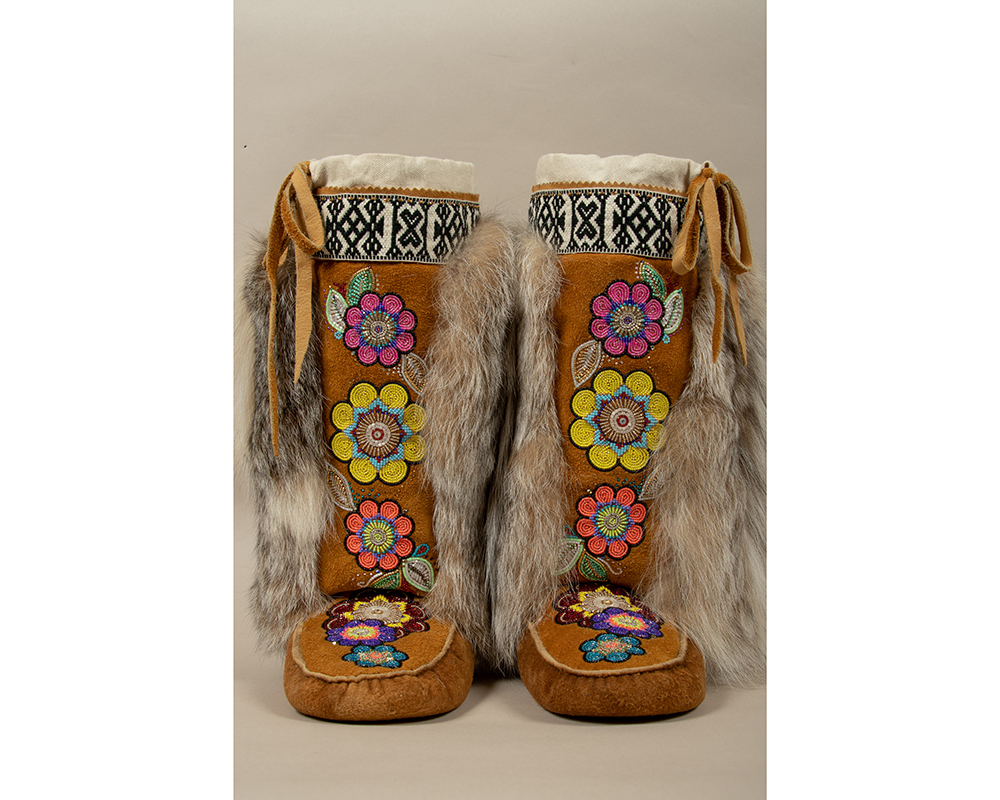 HEATHER: I think what we discovered through the exhibition's namesake was not only is the artwork tethered together in terms of [thematic] connection, but even our interpretations and being related to artists distantly. I thought that was a super beautiful thing that came out of it. And it was very natural—our decision-making and how unapologetically Indigenous we decided to be. We tried to own that position.

LEANNE: It was very special for me to learn about Yukon First Nations art and to have the opportunity to see the uniqueness and the connections across the regions. That's something I hadn't seen before, and then also being able to display them side-by-side. I'm just glad that so many people across the world are able to see it, but I think most especially the local people here. I really had a fun time at the local public opening.

NAPATSI: What was the feedback from the local Whitehorse community?

LEANNE: What I really loved about it was the people. There were Elders and kids running around. Seeing people sitting down and just having a conversation and spending time in the gallery was really rewarding.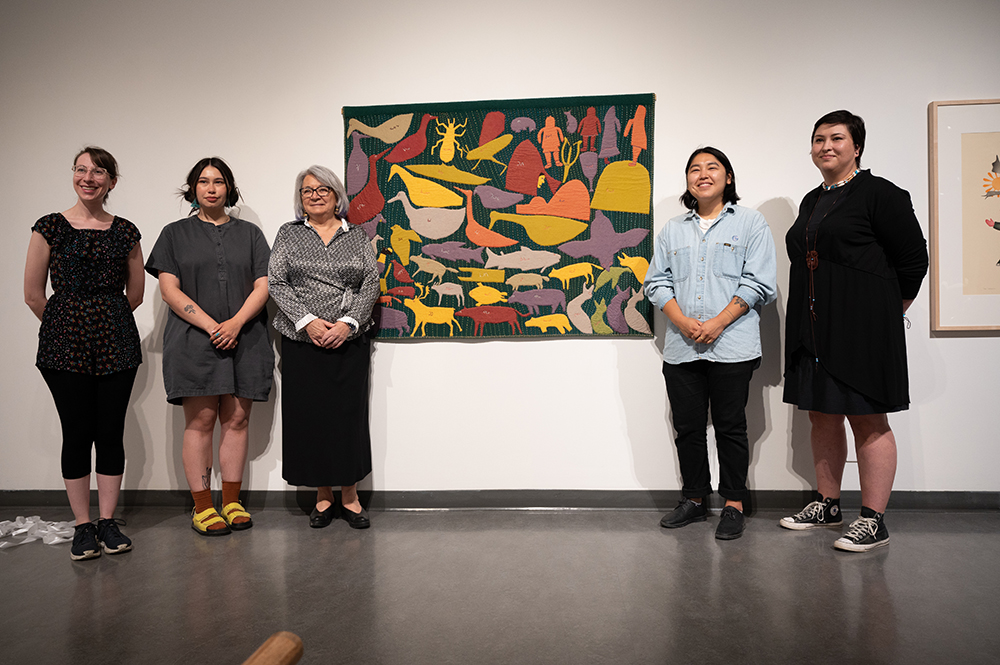 Darcie "Ouiyaghasiak" Bernhardt is an Inuvialuk/Gwichin artist from Tuktuyaaqtuuq, NT, and alumna of NSCAD University (BFA, 2019). Their practice has primarily focused on the narrative of domestic life in the North stemming from memories of home. Their first solo painting show, titled Akisuktuaq, was shown at Feheley Fine Arts in June 2021.

Leanne Inuarak-Dall is an emerging Inuk and settler multidisciplinary artist, writer and curator based on the unceded Coast Salish Territories (Vancouver, BC). She is an Inuit Futures ilinniaqtuk (student) currently completing her studies in Fine Arts at Langara College and works as a Contributing Editor at the Inuit Art Quarterly.

Teresa Vander Meer-Chassé, affectionately known as Ddhälh kit Nelnah, is a proud Niisüü member of White River First Nation (Beaver Creek, Yukon and Alaska). She is an Upper Tanana and mixed-heritage visual artist, emerging curator and Master of Fine Arts student at Concordia University in Studio Arts. Teresa currently sits on the board of the Indigenous Curatorial Collective/Collectif des commissaires autochtones.

Heather Von Steinhagen is an "artist of sorts" with Cowessess First Nation (mother) and German roots (father, second-generation. Canadian). Heather's passion for supporting creative innovation and community building drives her career and art practice. She is the former Executive Director of the Yukon Arts Society (2020) and is the current Craft Content Developer at the Canadian Crafts Federation.

–

TETHER featured nine commissions and a curatorial audio project with three language speakers and brought together works from the Yukon Permanent Art Collection, Indigenous Art Collection, Crown-Indigenous Relations and Northern Affairs Canada, Prince of Wales Northern Heritage Centre, Canada Council Art Bank, Global Affairs Canada and the WAG-Qaumajuq.

Read more about TETHER at ArcticArtsSummit.ca/tether

This Interview originally appeared in the Fall 2022 issue of the Inuit Art Quarterly.