David Ruben Piqtoukun Through 5 Works of Art
Inuit Art Foundation | January 20, 2023
Categories: news
David Ruben Piqtoukun Through 5 Works of Art
Jan 20, 2023
by Jessica MacDonald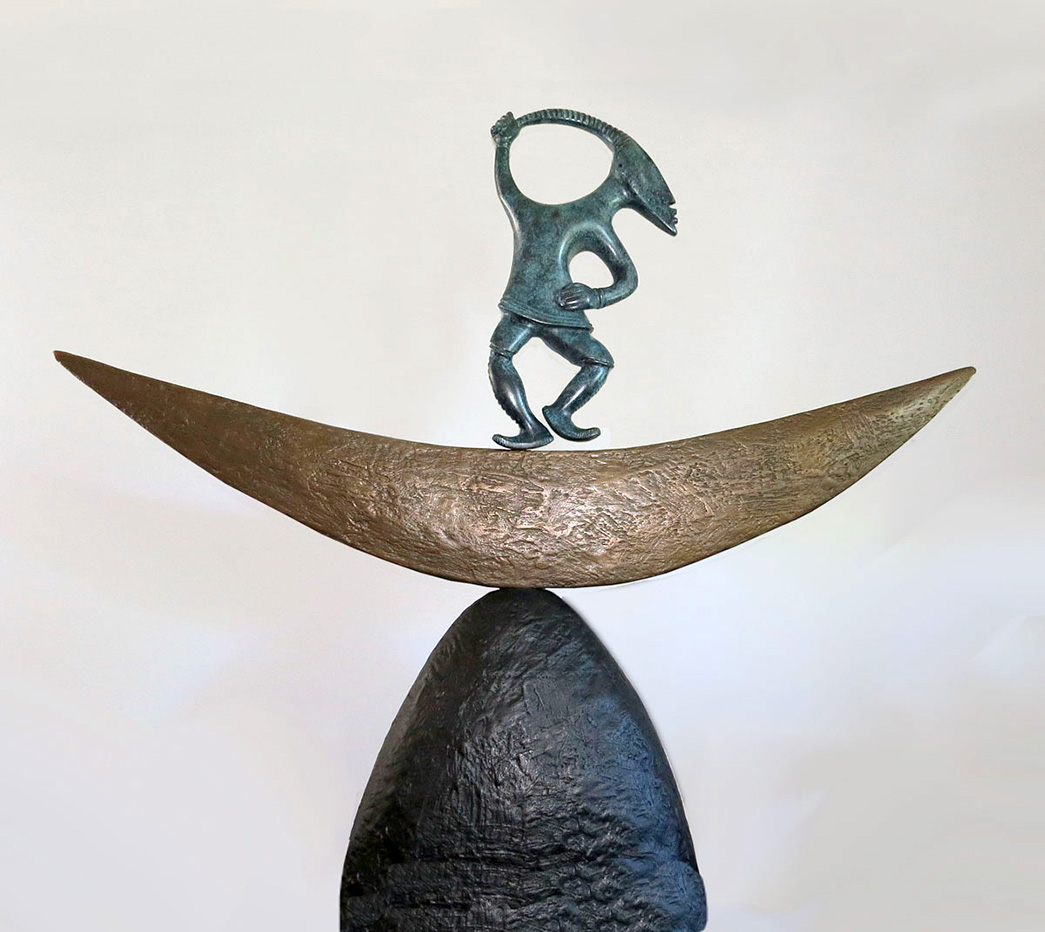 Celebrated sculptor David Ruben Piqtoukun has spent 50 years making art, a feat that saw him win a Governor General's Award in Visual and Media Art Artistic Achievement last year.
Primarily working in stone, Piqtoukun's oeuvre frequently explores Inuit mythology and oral history, as well as his own personal history. Now, as he prepares for the opening of his major solo show, Radical Remembrance, at the Art Gallery of Ontario in Toronto, he reflects back on his career through the stories of five pieces of art created over the past 50 years.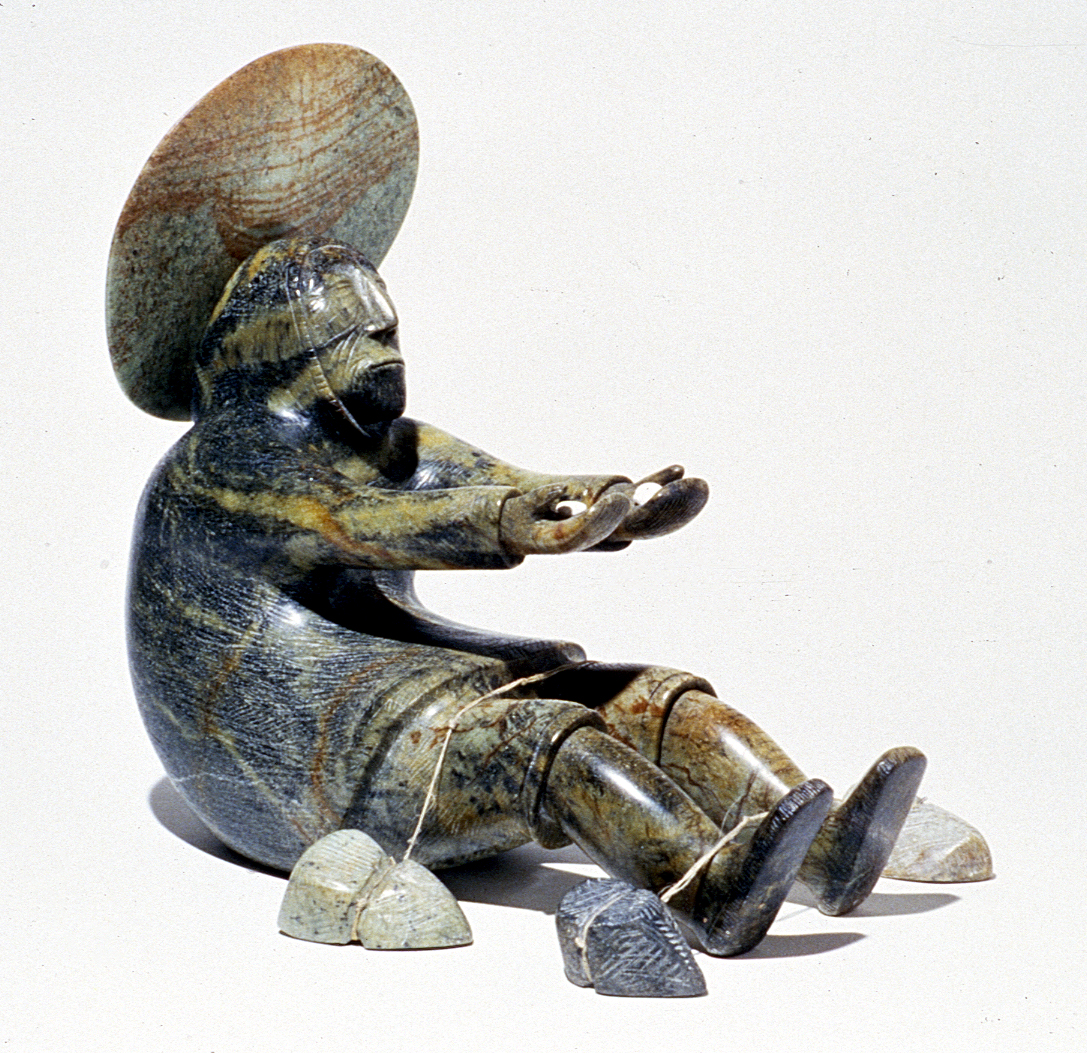 Shaman Returns from the Moon
One of the recurring motifs of Piqtoukun's practice is Moon and space exploration, an interest that stems from his concern over climate change and the environment, and from there finding a new place to live. "The environment is deteriorating, all the animals are disappearing…It's toxic, the air we breathe, with climate change," he says. "That's the initial concern—the shaman tells his people the planet is not safe to live on."
Shaman Returns from the Moon (1994) is one of many of Piqtoukun's pieces that depict this subsequent search for a new place to live by an Inuit spiritual leader. "The shaman's idea was to relocate his people to the moon," he says. "It's going to be a long walk to the moon"—Piqtoukun chuckles—"but they're determined to find a new environment to live in."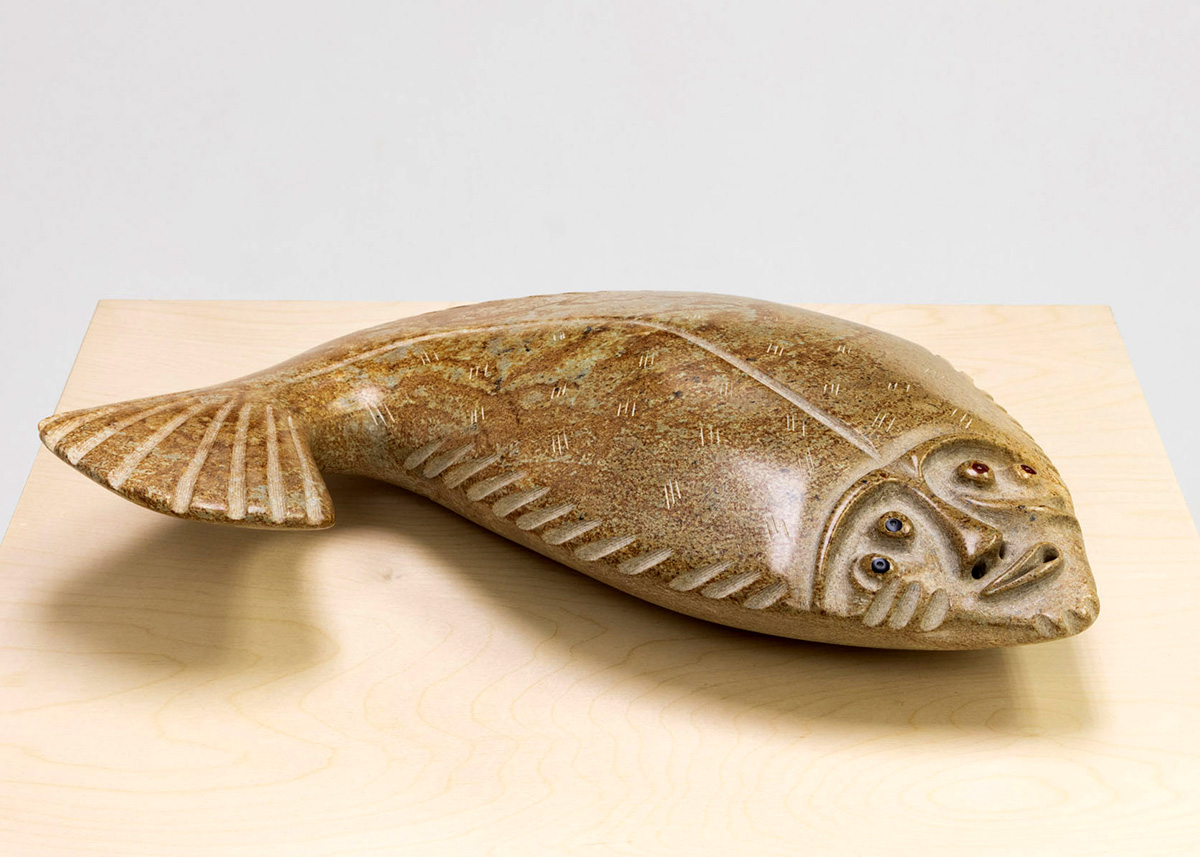 Bottom Fish Man
"This piece is about Paulatuk, up in the Northwest Territories," says Piqtoukun, explaining that Bottom Fish Man (2019) portrays a memory from his own past. "Something happened to the migration routes, there were no animals, no birds of flight, no caribou. It was starvation time…this Bottom Fish Man is a reminder of that famine."
Piqtoukun explains that this kind of fish was the only type remaining that people could eat. "It was like a flounder," he says, "but people didn't like it because it was very horny. It's impossible to take it off the net when caught." Despite these difficulties, people had to learn how to cook with it. His version of the bottom fish has many eyes, "always looking to see things above the water," and features a bottom polished with extremely fine 2000-grit sandpaper so that, when set on glass, "it will spin just by the touch of a finger."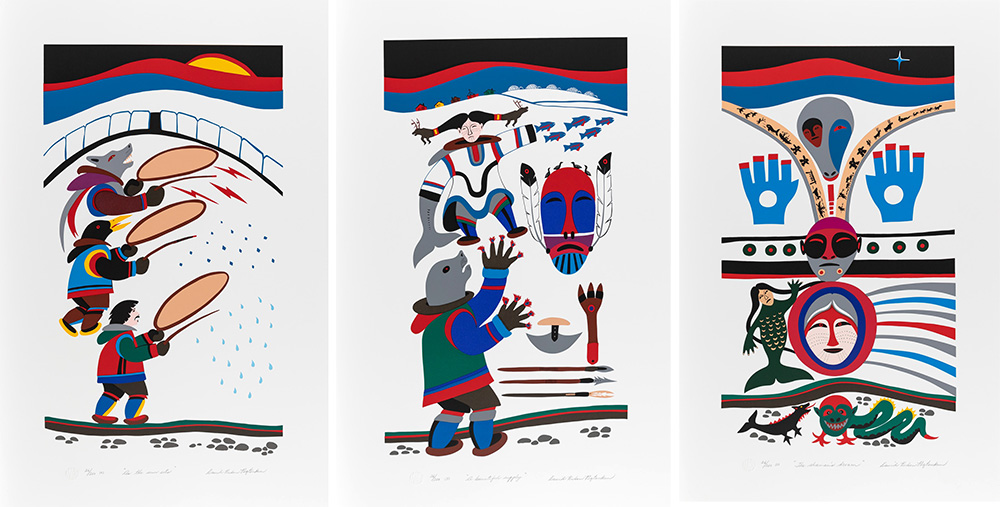 As the Sun Sets, Bountiful Supply and The Shaman's Dream
While the majority of Piqtoukun's career has been about sculpture, he produced this set of prints, meant to be seen as a triptych, over a five-month period in 1987. "It was a very colourful project," he says, explaining proudly that although he produced an edition of 600, they are very difficult to find today, having gone into public and private collections across the country.
What he remembers most about these pieces is how profoundly they disrupted his sculptural work. "I wasn't able to carve for a long time afterwards—I lost the rhythm, the structure." Although Piqtoukun enjoyed the printmaking process, and continues to sketch today, "doodling all over" the stone for his sculptures, "I'd rather stone carve and sculpt, so that was the end of the printmaking project."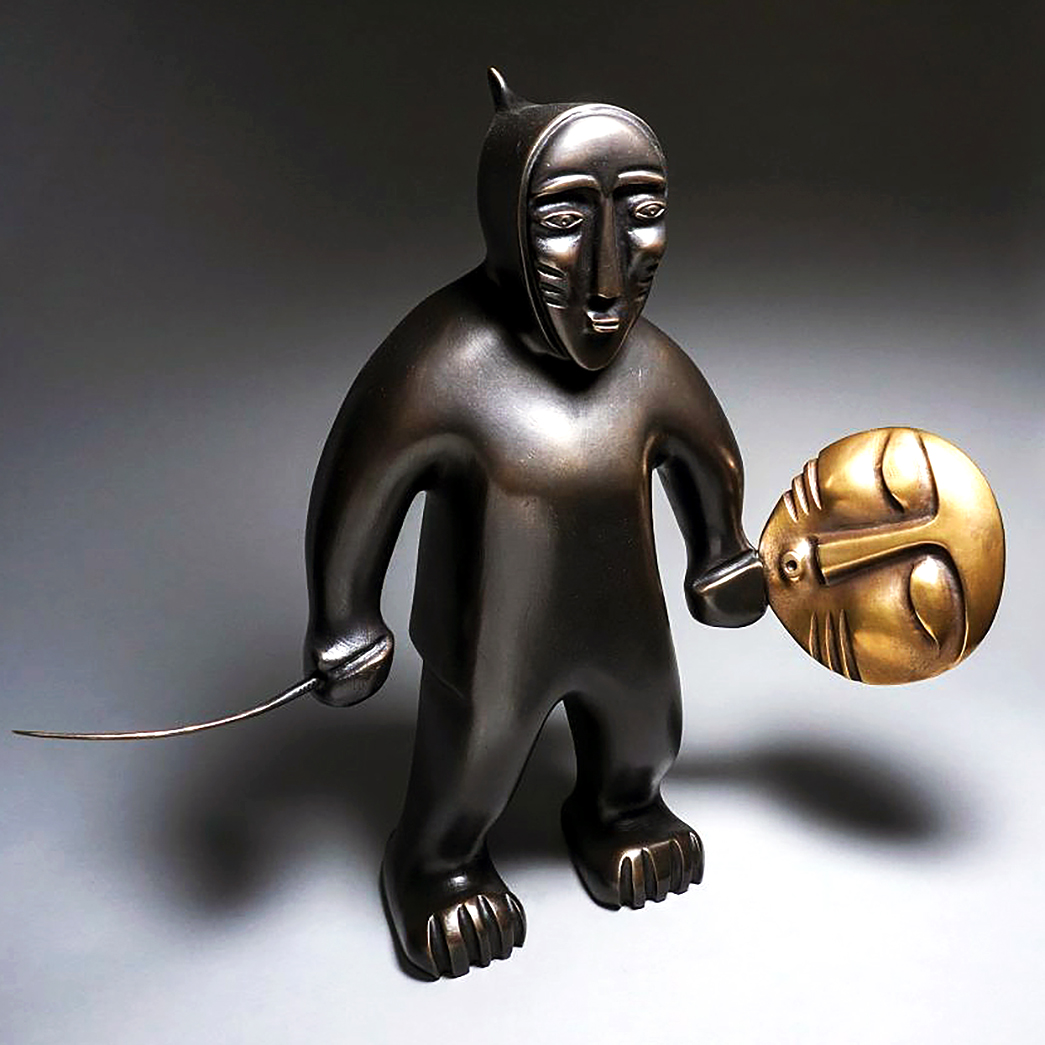 Bear-Man with Drum
Although printmaking wasn't a hit, Piqtoukun did eventually try another material: bronze casting.
"For me, it was unique," he says about the leap to a new medium, but it was also a way to preserve some of his pieces for a longer time. "Brazilian soapstone is brutally delicate," he says, "but the bronze will last many lifetimes."
He was inspired by the material and by the work of Auguste Rodin, his favourite sculptor, whose patina he emulates in bronze. In Bear-Man with Drum (2017) "the drum becomes the sun and the more he drums it, the warmer the weather gets," says Piqtoukun. "The sound of the drum initiates growth on the ground and suddenly sprouts everything: plants, animals and the nature of this sculpture."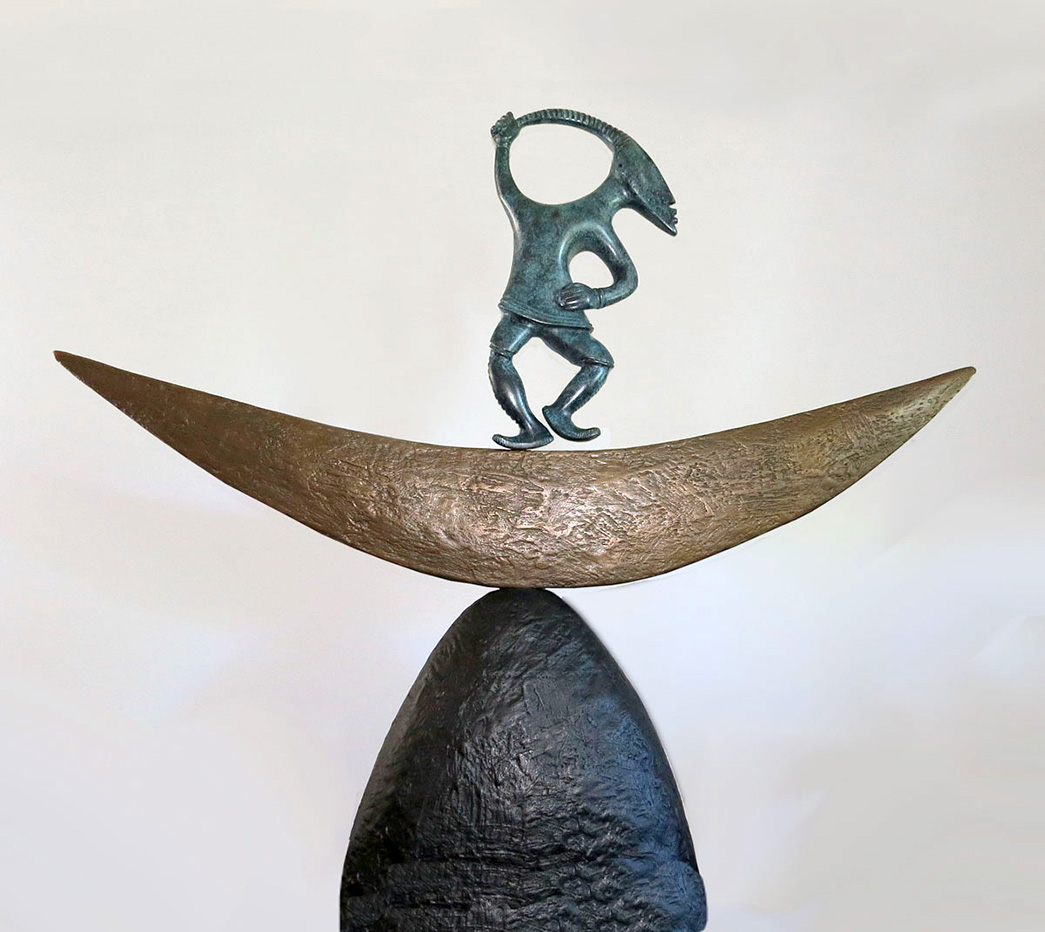 Dancing on the Moon
Dancing on the Moon (2019) is another piece that speaks to Piqtoukun's Moon fascination, but from a much more hopeful perspective. "It's a story about a woman, a shaman, a sha-woman," he jokes. "She wanted to go to the Moon and come back, but she was never able to—she didn't know how to return to the planet." She sought help from older shamans, who coached her on how to return. "This is her feat," says Piqtoukun. "She accomplished the impossible, which is the reason for this piece. Whoever accomplishes anything in this life that's practically impossible deserves to be dancing on the moon."
Piqtoukun has plans to push this concept further, intending to create another piece, twice the size, which will feature a man and a woman dancing on the moon together. "It's my job for the future," he says.