COVID-19 restrictions move Inuit arts workshops online by Jane George
Nunatsiaq News | April 21, 2020
Categories: news
COVID-19 restrictions move Inuit arts workshops online
Jane George / Nunatsiaq News / April 21, 2020

A new project is offering Inuit everywhere a chance to acquire artistic skills and make new friends during this period of social isolation.
The online program, called "De-ice-olation," is offering a free series of workshops until at least the end of May.
"The feeling of calmness and wellness that comes from getting to be together with other Inuit, it's a really lovely thing. Seeing everybody's face, and checking in, it really does give that sense of community that we are all missing," the workshops' host and principal organizer, Heather Igloliorte, told Nunatsiaq News.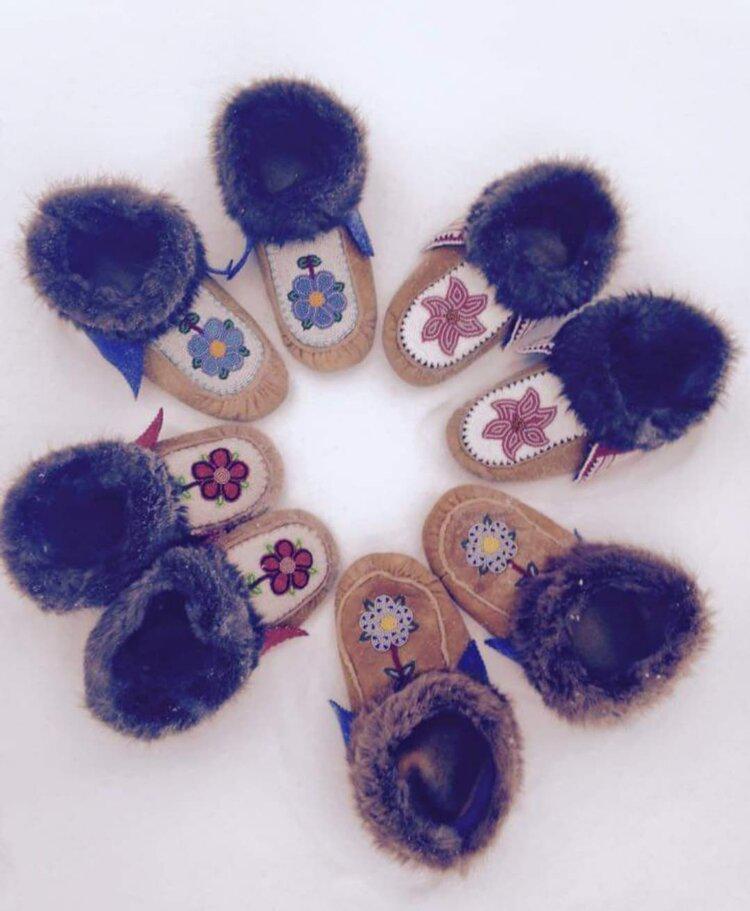 The hour-long workshops are accessible through the videoconferencing application Zoom.
During the workshops you can learn everything from parka making to throat singing, crafts for children, photography techniques, drawing, embroidery, beadwork and carving.
Registration for all workshops, detailed online, is free, but many of these workshops are for Inuit or Indigenous people only, Igloliorte said. That's due to intellectual property issues, she said, and some will have limited registration or require buying supplies beforehand.
Igloliorte, who is originally from Nunatsiavut, is an associate professor of art history at Concordia University in Montreal. She also holds the Concordia Research Chair in Indigenous Art History and Community Engagement and, in 2018, was awarded a grant worth $2.5 million from the Social Sciences and Humanities Research Council of Canada Talent Program.
With this grant, and backed by a committee of Inuit artists from across the Inuit Nunangat, she started up Pilimmaksarniq/Pijariuqsarniq Project: Inuit Futures in Arts Leadership. Its goal is to increase Inuit participation in arts research and arts-based professional practice.
Lots of cross-Canada projects were underway when the COVID-19 pandemic caused them to grind to a halt, Igloliorte said.
This left a pot of travel and other funding that could be directed to online artists' workshops.
So far, the workshops have attracted many, including an Inuk now living in Japan, Igloliorte said.
The first workshop in the De-ice-olation series took place on April 2, led by makeup artist Nauya Vidahl from Kangirsujuaq, who now lives in Montreal, where she is studying professional and theatrical makeup at Inter-Dec/LaSalle College.
You can now watch this workshop, among others that are now on the calendar section of the De-ice-olation webpage.
Another workshop featured designer Victoria Okpik, on parkas and pom-poms.
Originally from Quaqtaq, Nunavik, Okpik, who now lives in Montreal, was the first Inuk to graduate from LaSalle College's fashion design program in 1999. She went on to spearhead Makivik Corp.'s Nunavik Creations.
In 2018, Okpik was commissioned by Canadian astronaut and physician David Saint-Jacques to create a sealskin bracelet to accompany him on his 2019 mission to the International Space Station.
She also designed the outfit worn by singer Elisapie Isaac to the 2019 Polaris Prize award show.
Apart from these speciality commissions, Okpik specializes in parkas, handbags and accessories in traditional materials and Commander fabric, her De-ice-olation biography said.
Future workshops in the De-ice-olation series include the following:
Designing an effective logo with Thomassie Mangiok.
Introduction to caribou tufting with Lisa Michelin of North West River, Labrador.
Stop motion animation: the whimsical magic of paper puppets with Glenn Gear.
Introduction to beaded necklaces with Lydia Adlaluk.
De-ice-olation is looking for artists working in all materials and practices across the arts who are interested in leading hour-long workshops for the next two months, "while we're all staying in our homes and practising physical distancing for the health of our families and communities," Igloliorte said.
You can get in touch on Facebook or by email to [email protected].
The Inuit Siqinirmiut Quebecmi Ilaujut and the Toronto Inuit Association are also promoting artistic workshops.
TIA's "Virtual Tiiturumaviit" series features craft collaborations with urban Inuit organizations from across Canada.
"Put on the kettle and join us in making crafts," says TIA, which has an active Facebook presence. Its workshops include drum dancing led by Sol Semigak, an Inuk and member of the Atelihai Inuit community group in Atlantic Canada.