Capturing the Bond Between Inuit and Caribou
Inuit Art Foundation | January 10, 2022
Categories: news
Exploring the Global Affairs Canada Visual Art Collection
Jan 10, 2022
by Inuksuk Mackay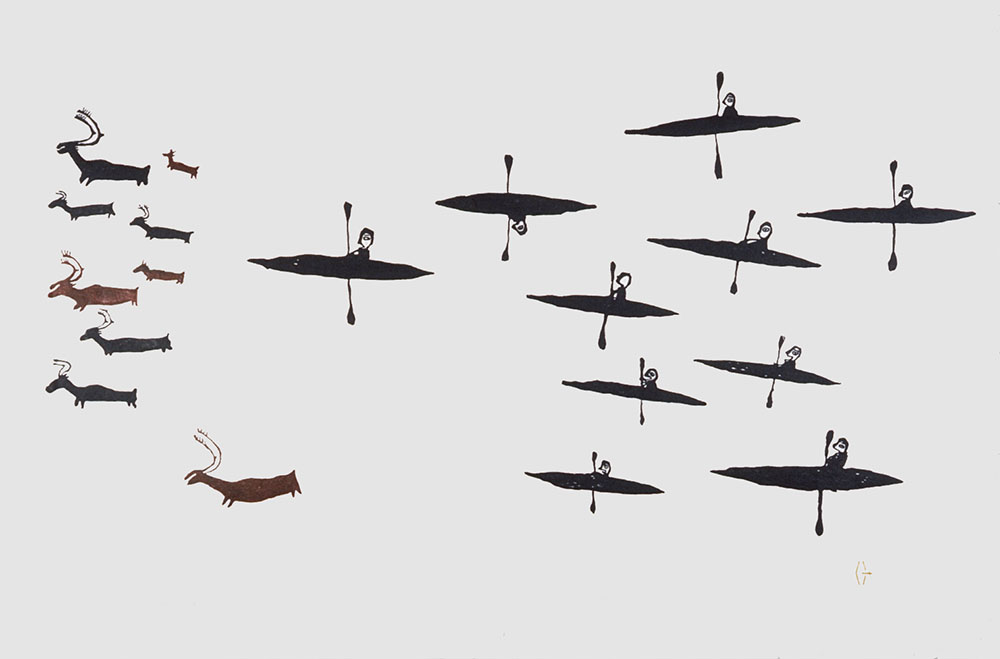 Kayaks and Caribou (1971) is an expression of the bond that exists between Inuit and the food that sustains us. The relationship between Inuit and caribou has been playing out in a delicate dance for millennia, one of balance and necessity. I am struck by Luke Anguhadluq's ode to that balance expressed in the symmetry of this piece. It reflects Inuit concepts of natural harmony.
Caribou were and continue to be an important source of nutrition and clothing for Inuit across the Arctic. Each strand of hair in a caribou's hide is hollow and filled with air, causing the fur to float. This is an incredible adaptation that has been known to save lives on occasions when hunters have accidentally fallen through the sea ice into frigid, arctic waters. Caribou hides are prepared through fleshing, stretching and then tanning the skin with caribou brains. It is a labour-intensive process that is well worth the effort given that the result is the warmest outdoor clothing available, which also doubles as floatation when prepared using the ingenious, Inuit-developed waterproof sewing stitch.
With that knowledge in mind I feel a deep sense of satisfaction as I take in the paradox of simplicity and complication surrounding this print, paying close attention to the significance and cyclical nature of hunters wearing caribou skin while hunting caribou.
It is interesting that Anguhadluq chose to depict several hunters. Perhaps this choice was made to illustrate a time of great abundance. Inuit hunters have always treasured their relationship with caribou and are very sensitive to the natural ebb and flow of herd populations.
The kayak, or qajaq in Inuktut, is a marvelous Inuit design. These single-person boats would have traditionally been fashioned out of driftwood and bone into frames and then have stretched, tanned caribou skins sewn around them. Hunters would scout and look for game using the qajaq out on the ocean.
Hunting parties, as depicted in this stonecut stencil print on Japanese paper, would have had to be extremely well practiced and in sync with both their natural surroundings and one another. Anguhadluq combines both his skill as an artist with an eye for detail and composition, and his knowledge of hunting techniques with expert precision. The Inuit belief that one could not successfully hunt an animal unless it had decided to give its life up ensured that the perspective of remaining grateful and respectful, while constantly understanding the gravity of taking animal life to sustain human life, was well practiced. One might even see these printed scenes as homage to the caribou that sustained Anguhadluq and his community.
Inuit developed a roll maneuver used to turn a qajaq right side up again without having to exit when the qajaq tips over. One of the hunters in this piece can be seen executing this difficult technique, which is sure to have saved the lives of many hunters over the ages. The bird's eye view adopted by Anguhadluq gives the impression that this whole scene is being observed from a choice spot on a clifftop, an excellent place for young onlookers to watch and learn from.
Although much change has descended upon the Arctic over the last hundred years, the relationship between Inuit and caribou continues and Inuit values and practices of sustainability, such as those depicted here, are as strong today as they have been throughout Inuit history.
—Born and raised in Yellowknife, NT, with roots in Nunavut's Kivalliq Region, Inuksuk Mackay grew up both on the land and in the city. Mackay is an Inuk writer, performer, photographer, and filmmaker. She has written, directed and performed in several films, including the short film, Little Man, which won the People's Choice Award at the 2017 Dead North Film Festival. Her writing has been featured in the Inuit Art Quarterly and Uphere Magazine. She has also worked as a performer with the Juno award winning band, Quantum Tangle, and currently performs with new throat singing sensation, PIQSIQ, for whom she wrote a short piece of fiction that featured as an audio book in their most recent album Taaqtuq Ubluriaq: Dark Star.
This piece is part of a collaborative project between Global Affairs Canada (GAC) and the Inuit Art Foundation that brings together Inuk writers and Canadian ambassadors to discuss pieces of Inuit art from the GAC collection, on display at Canadian embassies around the world.
For French and Inuktitut languages please visit Inuit Art Foundation webpage.