10 Artists Longlisted for 2023 Kenojuak Ashevak Memorial Award
Inuit Art Foundation | February 23, 2023
Categories: news
10 Artists Longlisted for 2023 Kenojuak Ashevak Memorial Award
Feb 23, 2023
by IAQ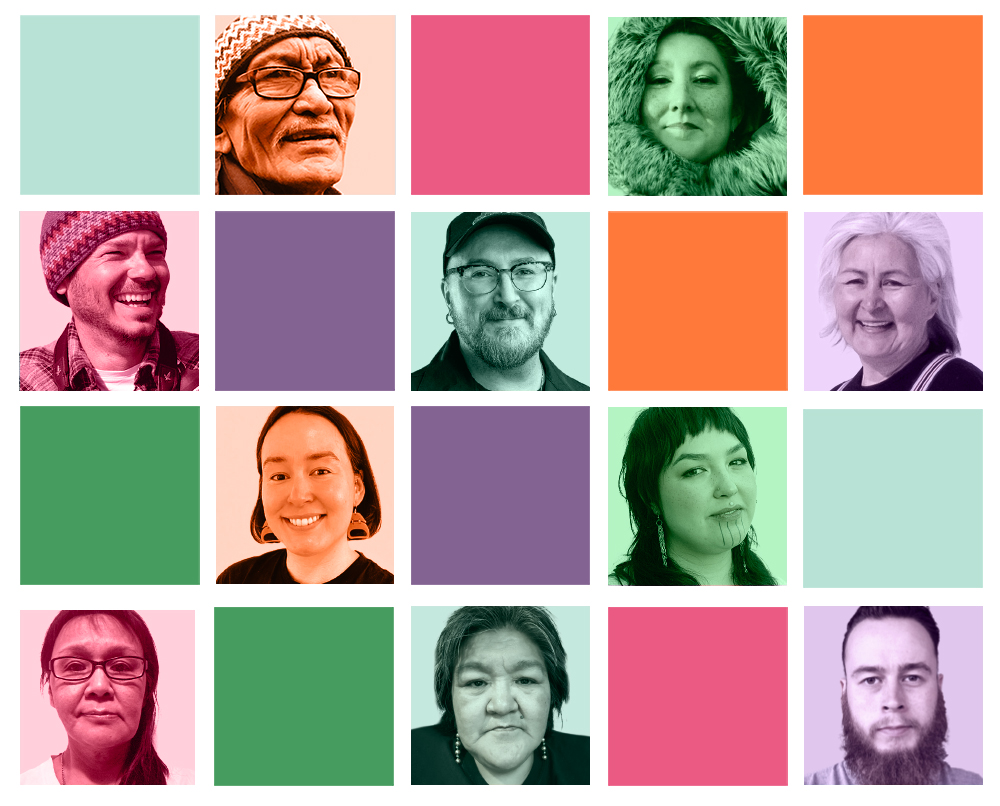 Ten Inuit artists working in diverse media have made the inaugural longlist for the Inuit Art Foundation's (IAF) prestigious Kenojuak Ashevak Memorial Award (KAMA) 2023: Manasie Akpaliapik, Deantha Edmunds, Billy Gauthier, Glenn Gear, Maureen Gruben, Gayle Uyagaqi Kabloona, Kablusiak, Gloria Inugaq Putumiraqtuq, Ningiukulu Teevee and Couzyn van Heuvelen. Each longlisted artist receives $2,500 and will be featured in a limited-edition, archival-quality catalogue sent to all Inuit Art Quarterly subscribers with the Spring issue of the magazine in March.

The winner of KAMA 2023, who will be selected from a shortlist of five artists announced in May, will receive an increased prize this year including a $20,000 cash prize, a fully funded creative residency at the Winnipeg Art Gallery (WAG)-Qaumajuq in Manitoba in 2024 and a solo exhibition with accompanying catalogue and acquisition in partnership with WAG-Qaumajuq in fall 2025. Each shortlisted artist will receive $5,000 and participate in a group exhibition at WAG-Qaumajuq in 2023 following the announcement of the winner.
Established in 2014, the biennial award honours the life and legacy of Kenojuak Ashevak, CC, ONu, RCA, who made significant contributions to the community and culture of Inuit art. The award celebrates contemporary Inuit artists and supports their growth by providing opportunities to expand their careers, reach new audiences and explore their artistic ambitions. "This award would not be possible without both the care of the Inuit art community and all of the doors that Kenojuak Ashevak opened for artists across the world," says Alysa Procida, IAF's Executive Director and Publisher. "KAMA is in honour of her memory, legacy and commitment to supporting the strongest possible future for Inuit art."
Heather Campbell, Strategic Initiatives Director at the IAF and an artist herself, emphasizes the importance of awards like KAMA that directly help artists through financial support and exposure to new audiences—all of which can make a difference in an artist's life and career. "Extra funds from awards like KAMA help artists break through boundaries to achieve their artistic goals," she says. "KAMA will have far-reaching effects for all of the artists on the longlist and I'm excited to see what's to come."
KAMA has expanded significantly since its inception due to the support of donors as well as partnerships with WAG-Qaumajuq and RBC Emerging Artists. Support from RBC Emerging Artists has led to the creation of the longlist and accompanying catalogue, along with a group exhibition for the shortlisted artists to come later this year and increased financial support for all artists recognized. "RBC is delighted to help grow the profile and reach of Kenojuak Ashevak Memorial Award recipients with support from RBC Emerging Artists," says Kim Ulmer, RBC Regional President, in a statement. "Through creative expression, each artist takes us on a unique journey into Inuit life and culture through bold, creative and vibrant forms. We are honoured to join in creating more spaces for Inuit voices and artistry throughout the world."
Procida emphasizes how significant this year is for the award. "This is the biggest year yet for KAMA thanks to RBC Emerging Artists, which means we get to celebrate the tremendous talent of even more Inuit artists working in different media who are pushing the boundaries of what is considered contemporary Inuit art," says Procida. "The longlist is a wonderful opportunity to showcase and provide a platform for ten artists—more than twice the number of artists the award recognized in 2021."
In 2021, the IAF partnered with WAG-Qaumajuq, expanding the award's benefits to include a solo exhibition, catalogue and residency at WAG-Qaumajuq. The winner of KAMA 2021, Tarralik Duffy, will also have one of her works acquired by the museum into its permanent collection.
For Stephen Borys, Director and CEO of WAG-Qaumajuq, the longlist for KAMA 2023 is a huge milestone. "The range of mediums, of expression, of subject matter within the work of the longlisted artists reflects the strength and talent of contemporary Inuit artists. We're thrilled to be part of bringing their work to the world," he says. "As a gallery, it's been wonderful to formally partner with the Inuit Art Foundation and RBC on the Kenojuak Ashevak Memorial Award and we cannot wait to see more of these groundbreaking artists in WAG-Qaumajuq."


KAMA 2023 Longlist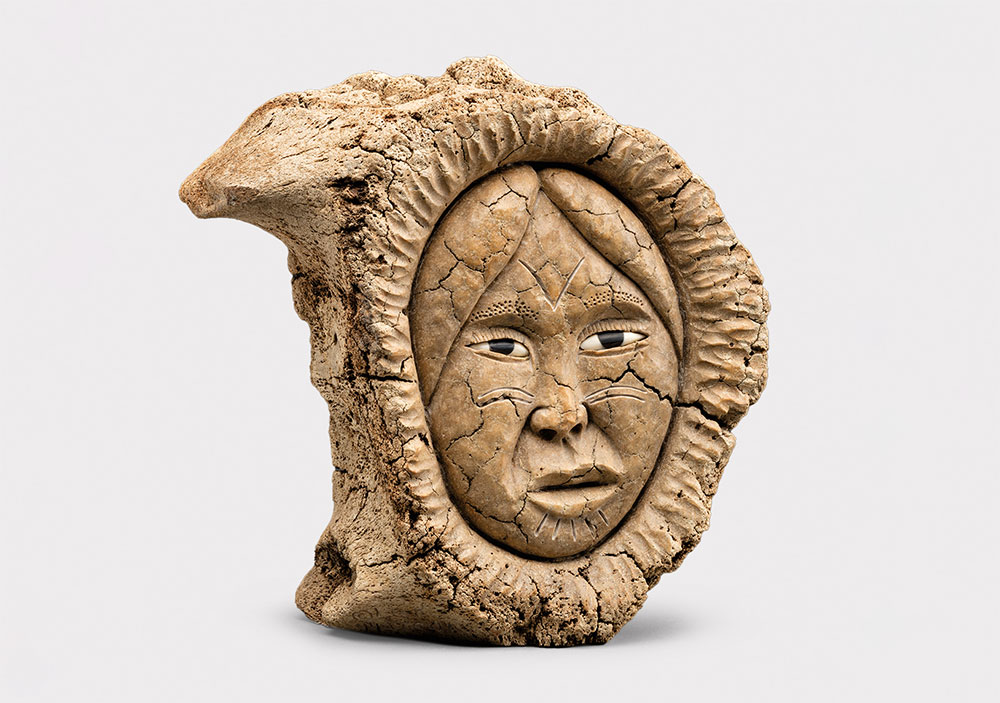 Renowned for his highly detailed and evocative sculptures made of organic materials such as whalebone, Manasie Akpaliapik forges connections between the real and the imaginary. Akpaliapik, who is based between Montreal, QC, and Ottawa, ON, is recognized for his stylistic explorations of Inuit legends as well as contemporary social issues that threaten Inuit communities. From 2021 to early 2023, the Musée national des beaux-arts du Québec held the solo exhibition Manasie Akpaliapik: Inuit Universe. The Raymond Brousseau Collection, displaying 40 sculptures Akpaliapik created between 1997 and 2003.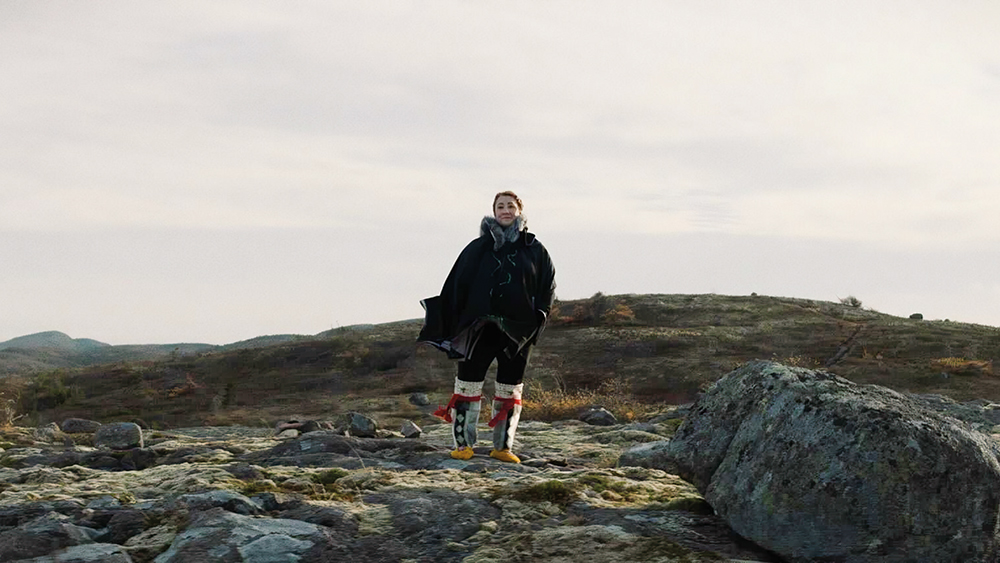 Best known as "Canada's first Inuk classical singer," Deantha Edmunds is an in-demand soloist and recording artist, performing on stages around the world. Edmunds, who is from Corner Brook, NL, is dedicated to finding ways to decolonize classical music, whether it be through performing opera in Inuttitut or through her own compositions. In 2022 she released her third solo album, Connections, her first of all-original songs and was named Music Newfoundland and Labrador's Indigenous Artist of the Year and Classical Artist of the Year. Edmunds was nominated for the 2023 Indigenous Artist of the Year by the East Coast Music Awards and will perform at the broadcast ceremony on May 4.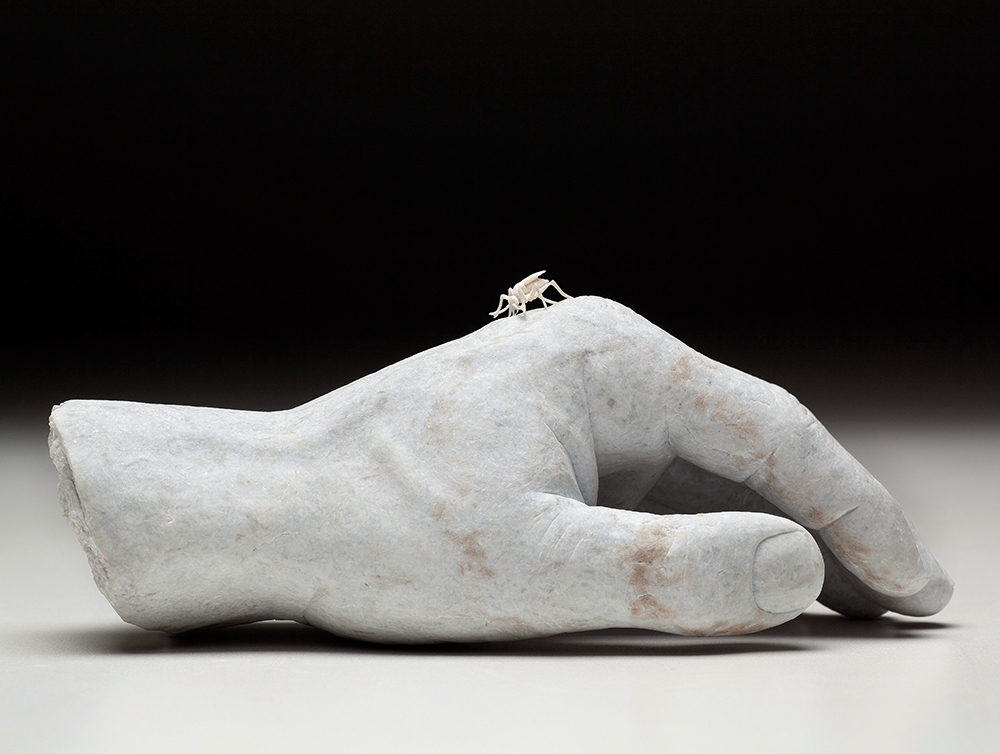 Billy Gauthier, who hails from Happy Valley-Goose Bay, NL, began carving in 1996 at the age of 16 under the very brief tutelage of his cousin, the influential sculptor John Terriak. In 2010 he had his first solo show at Spirit Wrestler Gallery in Vancouver, BC, which sold out within an hour. Nine years later, Gauthier was celebrated with the 2019 mid-career retrospective, Saunituinnaulungitotluni | Beyond Bone, at The Rooms in St. John's, NL. Now based in North West River, NL, the celebrated sculptor and environmental activist creates intricate mixed-media sculptures thematically focused on Inuit cosmologies, contemporary social issues and his intimate relationship with the land.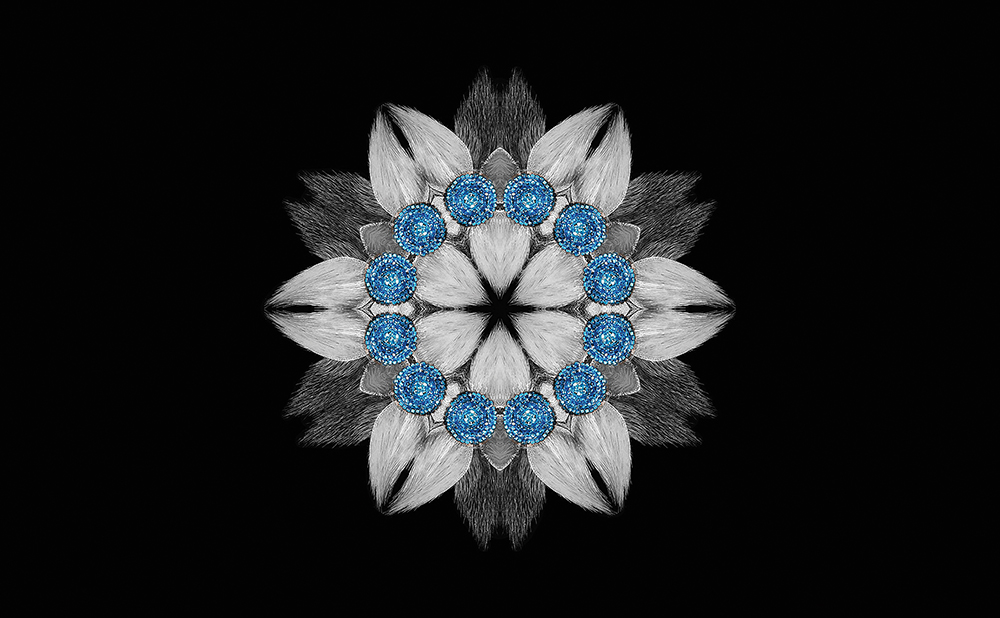 Glenn Gear is an Indigiqueer animator, filmmaker and visual artist from Newfoundland now based in Montreal, QC. Animation, photo archives, painting, beading and traditional materials such as sealskin are common elements in his work. In 2021, Gear was included in INUA, the inaugural show at the WAG-Qaumajuq and that same year was longlisted for the Sobey Art Award. He was an artist-in-residence for Inuit Futures in Arts Leadership: The Pilimmaksarniq / Pijariuqsarniq Project from 2020 to 2021 and in 2022, had a residency at Eastern Edge in St. John's, NL, culminating in the group exhibition Three Way Mirror (2022–2023) at grunt gallery in Vancouver, BC.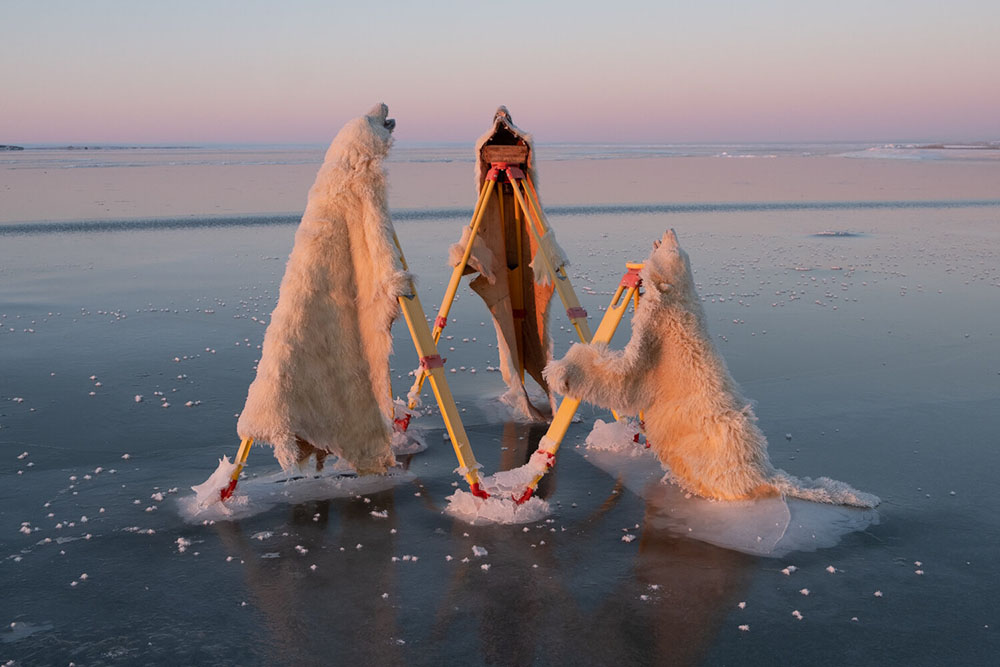 Maureen Gruben is an Inuvialuk artist from Tuktuuyaqtuuq (Tuktoyaktuk), Inuvialuit Settlement Region, NT, whose work sits at the intersection of installation, performance, textile and sculpture. Materials such as polar-bear fur and sealskin merge with steel nails, resin and fishing line to create narrative works that illustrate critical links between communities, the land and pressing environmental and cultural concerns. In 2019 Gruben was longlisted for the Aesthetica Art Prize and in 2021 for the Sobey Art Award. Her work is held in national and private collections and has been included in more than 50 exhibitions since 2015.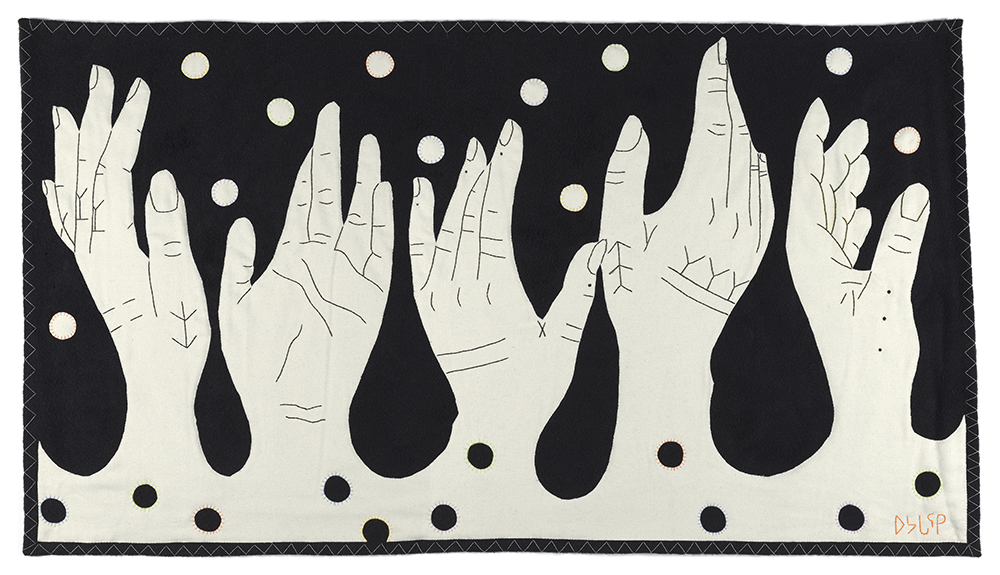 Gayle Uyagaqi Kabloona is a multidisciplinary artist from Ottawa, ON, whose work varies from production knitting and ceramics to major visual art commissions with galleries and corporations. Kabloona's work incorporates everyday objects that have symbolic meanings for Inuit—like Red Rose tea—and traditional Inuit stories, which she retells in her work through a modern, feminist lens. In 2022 Kabloona took part in an artist residency with the Art Gallery of Guelph in Ontario, worked with Google to create three Google Pixel wallpapers to celebrate World Indigenous Peoples' Day, designed the posters for Reneltta Arluk's theatre production The Breathing Hole at the National Arts Centre in Ottawa, and designed a stamp for Canada Post to recognize the National Day for Truth and Reconciliation.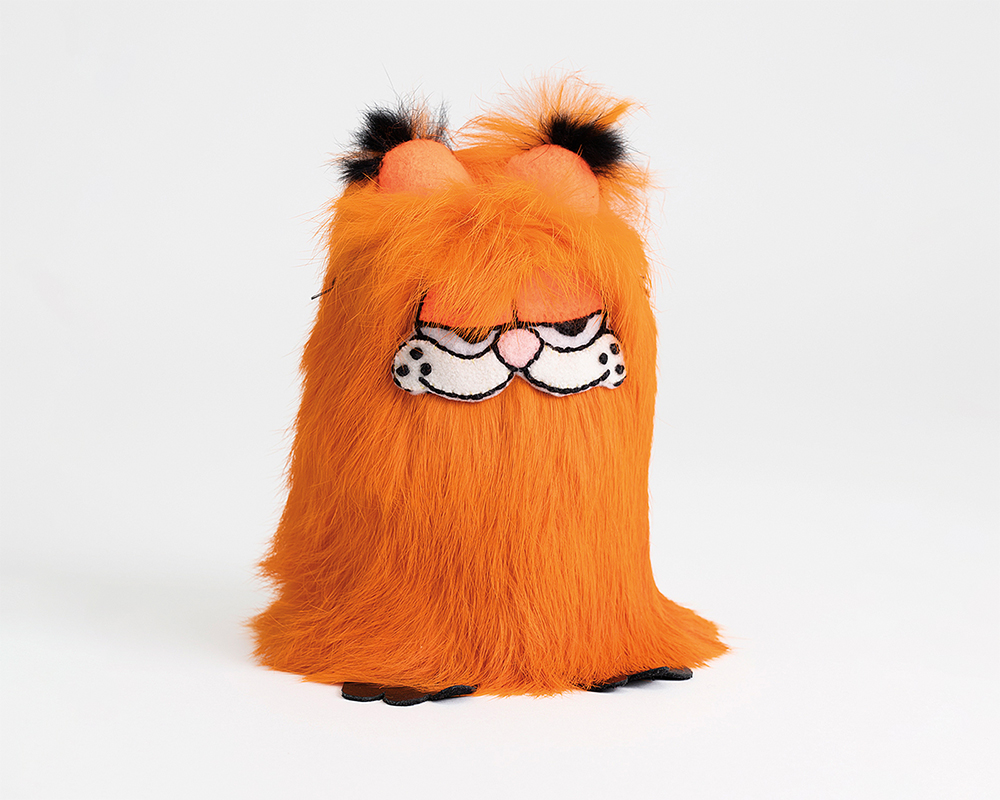 Kablusiak is an Inuvialuk artist based in Calgary, AB, whose work pushes boundaries and celebrates individuality. Kablusiak, who was shortlisted for the 2019 Sobey Art Award and the 2021 Kenojuak Ashevak Memorial Award, had two solo exhibitions in 2022: Party City (where you belong) at Norberg Hall and mitaaqtuaqtunga (no translation provided) at The Bows, both located in Calgary, where the artist lives, as well as a public-art mural at OCAD University's Onsite Gallery in Toronto, ON. Their work also received the Scotiabank CONTACT Photography Festival's 2022 Gattuso Prize.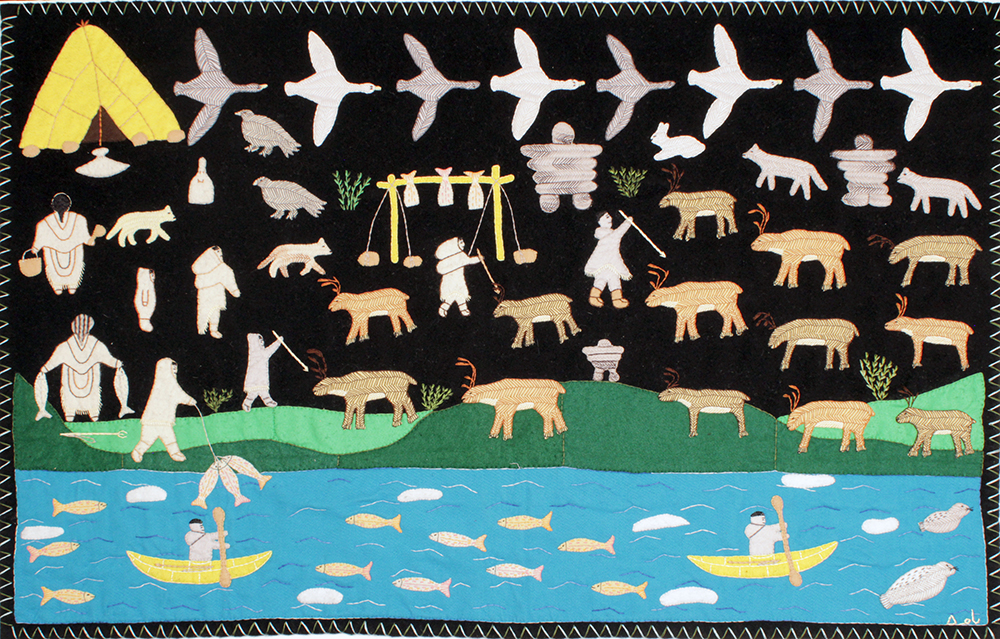 Gloria Inugaq Putumiraqtuq began creating at a young age under the guidance of her mother Winnie Tatja, a well-known wallhanging artist and her lifelong mentor. Putumiraqtuq, who now lives in Ottawa, ON, describes her textiles as a visual history of Inuit land, traditions, resilience and cultural stories, featuring animals, hunters and other aspects of traditional life on the land. She affixes naturalistic felt appliqué forms to wool duffle backs and selects smaller details like feathers or clothing trim in colourful stitchwork techniques learned from her mother. Putumiraqtuq had her eponymous first solo show at Feheley Fine Arts in Toronto, ON, in 2001, and in 2003 two of her works were acquired by the Canada Council Art Bank.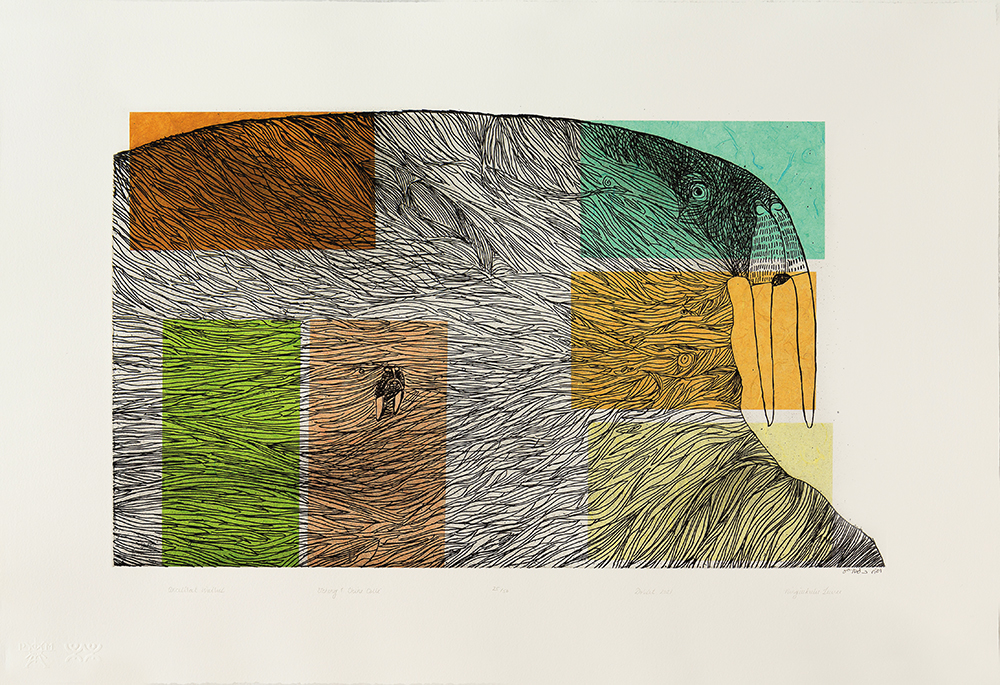 Ningiukulu Teeve is a beloved graphic artist and author from Kinngait (Cape Dorset), NU, with work in more than 40 exhibitions spanning the globe and ten solo shows since 2006. Teevee is known for her bright, modern reimagining of traditional stories featuring playful depictions of arctic animals and Inuit, rendered in vivid colours and striking patterns. In 2009 Teevee's debut children's book, Alego (Groundwood Books), was shortlisted for the Governor General's Literary Award for children's illustration while her prints have been featured in every Cape Dorset Annual Print Collection since 2004, appearing as the catalogue cover art seven times.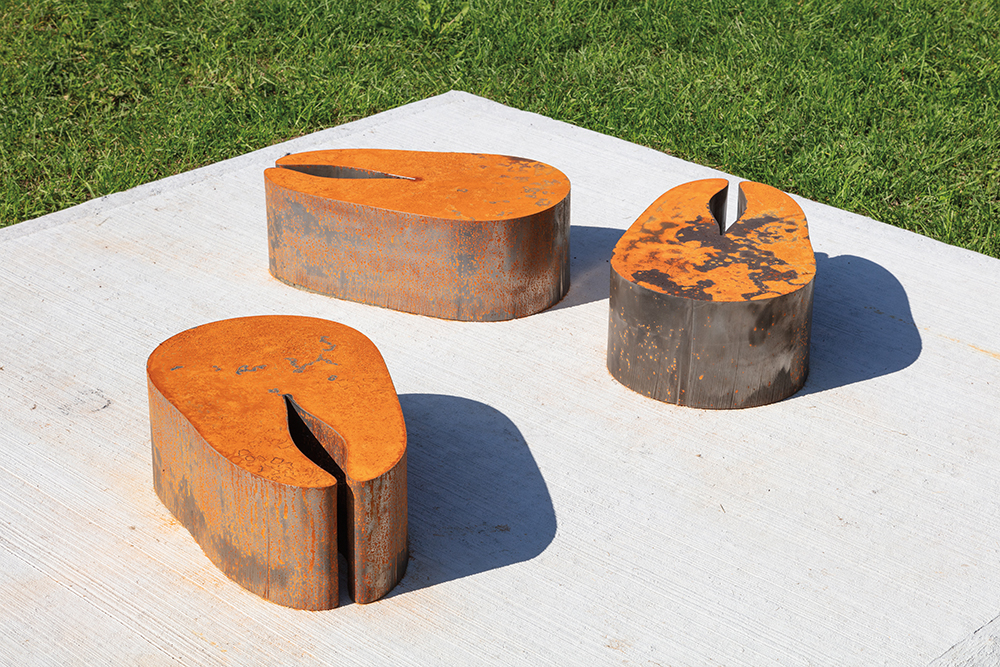 Couzyn van Heuvelen, who is based in Bowmanville, ON, centres his practice around themes of Inuit culture, identity and technologies, as well as personal narratives on food sovereignty, hunting and fishing, kinship and lived experience. Over the past five years, van Heuvelen's public-art projects, and subsequently his public recognition, have steadily increased in scale. Most recently the artist installed a monumental 30-foot floating avataq in downtown Toronto, ON, as part of Nuit Blanche 2022. A graduate of the MFA program at NSCAD University, in 2018 van Heuvelen was longlisted for the Sobey Art Award and was shortlisted for the Kenojuak Ashevak Memorial Award in 2021. His work was also recently featured on the Fall 2022 cover of the Inuit Art Quarterly.
Check back for more coverage on the KAMA 2023 longlist, shortlist and winner!