Two Canadian Screen Awards Go to Inuit Shorts in 2022
Inuit Art Foundation | April 13, 2022
Categories: news

Apr 13, 2022
by IAQ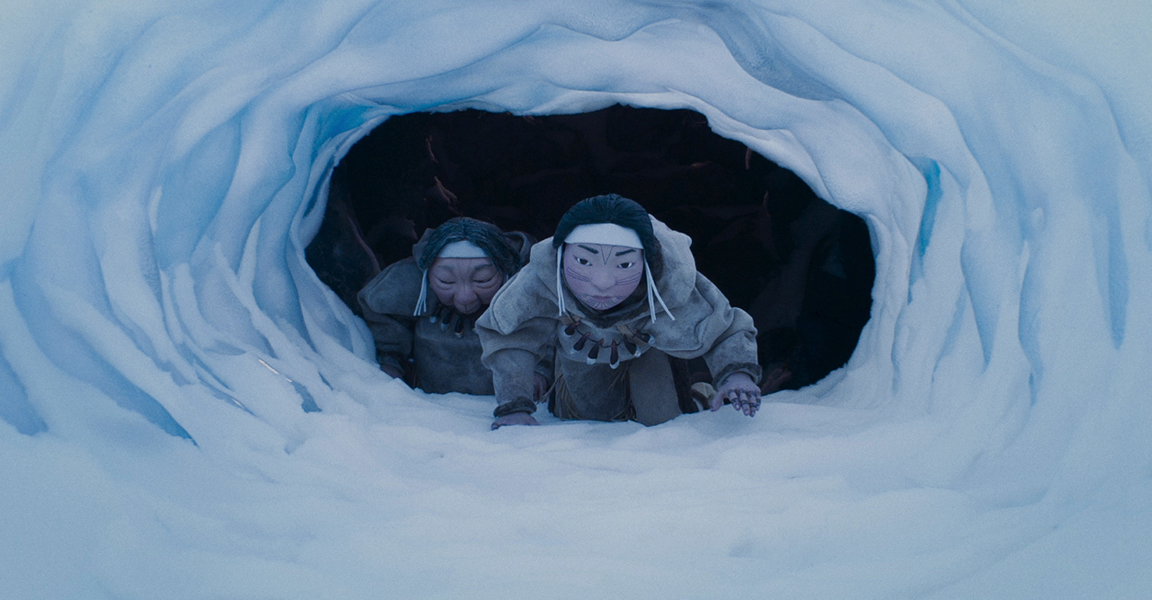 In separate ceremonies last week, the Academy of Canadian Cinema and Television announced that the Canadian Screen Awards for Best Short Documentary and Best Animated Short would go to Inuit filmmakers—Jennie Williams for Nalujuk Night (2021) in the Short Documentary category, and director Zacharias Kunuk, OC, and a large Inuit cast for Angakusajaujuq: The Shaman's Apprentice (2021) in Animated Short.
This year's Canadian Screen Awards were given out in ceremonies spread out over a week-long celebration of film and television between April 4th and April 10th. The Documentary and Factual Awards, which house the Short Documentary Category, were announced on April 4th, and the Children's and Animation Awards, which house the Animated Short category, were announced on April 6th.
Trailer for Nalujuk Night (2021)
COURTESY THE NATIONAL FILM BOARD OF CANADA
The 13-minute documentary Nalujuk Night chronicles the fun and frightening Nunatsiavut tradition of the same name, where people dressed as terrifying creatures come in off the ice. It is the first film for Labrador Inuk artist Jennie Williams, who had previously spent 12 years photographing the night under a series of the same name.
The film had its world premiere in Halifax, NS, at the 2021 FIN Atlantic Film Festival, where it won Best Atlantic Short Documentary.
"I am feeling very overjoyed to have won the Canadian Screen Award for Best Short Documentary," said Williams when reached for comment after her ceremony. "The whole experience has been absolutely amazing and I am so happy to be able to share this very unique Labrador Inuit tradition with the world. This is my very first film and I have plans already for my next one. Documenting Labrador Inuit traditions and stories is something I really love to do, and I am looking forward to making more films to share in the future!"
Still from Angakusajaujuq: The Shaman's Apprentice (2021)
COURTESY ISUMA DISTRIBUTION INTERNATIONAL
Written and directed by Zacharias Kunuk, OC, and produced by Kunuk and Nadia Mike, Angakusajaujuq: The Shaman's Apprentice (2021) follows a young shaman who goes on her first test to learn why a community member has fallen ill. The 21-minute stop-motion animated film features the voices of Lucy Tulugarjuk, Madeline Ivalu and Jacky Qrunngut, alongside the music of Beatrice Deer.
The film has already found success both at home and internationally; it won the prestigious FIPRESCI Award at the Annency International Animation Film Festival in France in July 2021, and took home the award for Best Canadian Short Film at the Toronto International Film Festival in September 2021.
"I want to thank all the talented people [I] worked with," said Kunuk in his acceptance speech. "Trying to work with the stop-motion department down in Toronto all the way from Igloolik was quite challenging and fun…you guys made it happen, and it worked. Qujjannamiik."

Singer/songwriter Tanya Tagaq, CM, in collaboration with producer and musician Jean Martin, was also nominated for the song "Surface Nord" in the 2022 Achievement in Music Original Song category. The track appeared in Caroline Monnet's film Bootlegger (2021).