Indigenous artists shine in 2022 Juno Awards
Indian Country Today | May 21, 2022
Categories: news
Inuit icon Susan Aglukark wins Humanitarian Award for her work with Indigenous youth
MAY 21, 2022
Miles Morrisseau
Special to Indian Country Today
Indigenous artists were seen and heard at this year's Juno Awards, a weeklong celebration of Canadian music culminating in a televised awards ceremony.
For the first time, the Indigenous music category was broken into two separate categories – contemporary and traditional – and the Humanitarian Award was bestowed upon Inuit musical icon Susan Aglukark.
Aglukark is the most decorated Inuit musician/singer/songwriter in Canada, having won four Junos in 11 nominations since the release of her debut album in the early 1990s.
The highlight of the evening was Aglukark's acceptance of the Humanitarian Award from Canada Governor General Mary Simon, Dene. Aglukark was radiant in the traditional clothes of her people and spoke eloquently to the assembled crowd and viewers across the country in her Inuit language of Inuktitut.
SUPPORT INDIGENOUS JOURNALISM. CONTRIBUTE TODAY.
She thanked the Canadian music industry for welcoming her into the fold decades earlier.
"I will be forever grateful to my fellow artists, musicians, in the entire Canadian music industry," she said. "I remember fondly the early years of my career, as much in awe as I was stunned – happenstance, right place, right time, accidental artist. It was and I was truly all of this in those early years, certainly, and always overwhelmed but also discovering place and belonging. This discovery allowed for reconnecting with self.
"Without this community and access to it, I would not be here today," she said. "I would have walked away."
The awards this year were held in Toronto, Ontario – the first live celebration of the awards since the pandemic began more than two years ago.
The ceremony was hosted by Simu Liu, the star of the Marvel movie, "Shang-Chi and the Legend of the Ten Rings." In the week leading up to the awards, Toronto venues hosted events that included an Indigenous music showcase with performances by 2022 nominees Fawn Wood and Adrian Sutherland and past nominees Burnstick and emerging alt-rock band, OMBIIGIZI.
String of successes
Aglukark emerged from the North as the Arctic Rose, the title of her major label debut on EMI records in 1992 with a blend of Inuit folk music, country and pop. She had self-released the album "Dreams for You" in 1990.
She quickly gained national attention, but her next album, "This Child," was considered a breakthrough, with the single, "O Siem," going to number one on the Canadian country and adult contemporary charts in 1995.
She has now released seven albums, including her latest, "The Crossing," released in just the last few weeks.
Before winning the Humanitarian Award this year, she had won Juno Awards for best new solo artist and for best Aboriginal recording for "Arctic Rose" in 1995, and for best Aboriginal recording for the album, "Big Feeling," in 2004.
She was also nominated for five Junos in 1996, for best female vocalist, best album, best single, best Aboriginal recording and best video for "This Child" and "O Siem." She was nominated for best Aboriginal recording in 2001 for the album, "Unsung Heroes," and again in 2007 for the album, "Blood Red Earth."
She has been outspoken about child abuse and has worked with several nonprofit groups serving Aboriginal and Inuit youth. At the awards ceremony, she thanked supporters of the Arctic Rose Foundation for making a commitment to the North that was more than just about money.
"It began with the advisory group formed back in 2013, a small volunteer group who had all spent time in northern environments, all of whom I knew personally and with whom I felt that next level of emotional safety," she said.
"I thank you for that," she continued. "Some of our early financial supporters are here with me tonight. You believed in my vision and goals. You gave me seed money to start, and your continued belief has empowered me to keep moving forward, more than you will ever know."
Twice the winners
Other Indigenous artists were also recognized in the new categories of contemporary and traditional music.
This years' winner in the contemporary category was DJ Shub, Mohawk from the Six Nations of the Grand River, who was stunned by his win for the album, "War Club."
"This is a total surprise," he said, cradling the award in his hands. "I didn't write a single thing. It's a good thing I only have 30 seconds."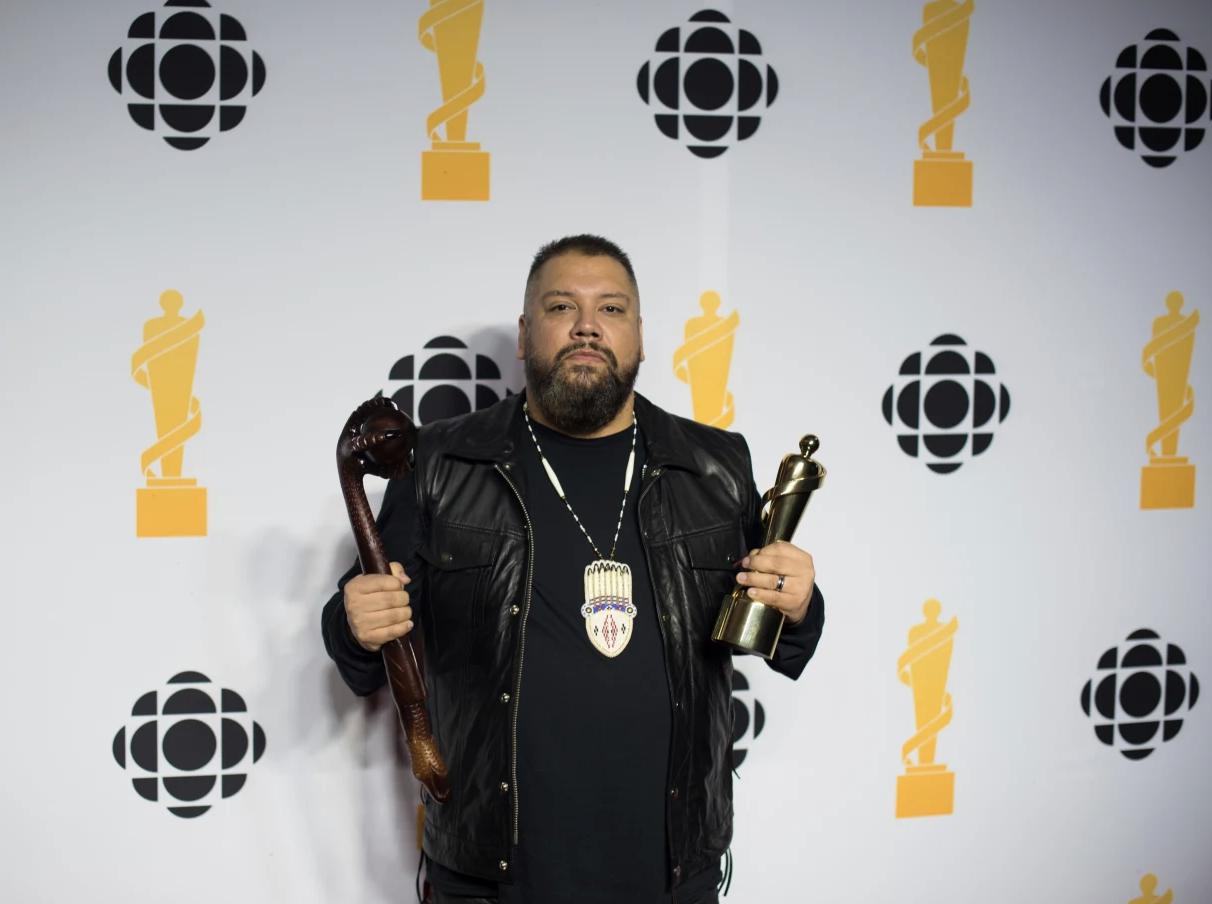 Shub thanked the Juno Awards for having an Indigenous category, and also thanked his management, his family and his wife. Fellow nominees in the category included Adrian Sutherland for his album," When the Magic Hits," Jayli Wolf for "Wild Whisper," Shawnee Kish for her self-titled album, and Snotty Nose Rez Kids for "Life After."
Shub performed live during the televised broadcast the Snotty Nosed Rez Kids on the song "War Club," which references resiliency, survival and the residential school experience.
Assembly of First Nations National Chief Roseanne Archibald introduced the performers, speaking to the power of art to act as a war club in defense of language, culture, territory and identity.
"Tonight, I lift up survivors and intergenerational trauma survivors who have channeled our collective pain and suffering through the medium of music," Archibald said. "They put the truth into truth and reconciliation."
The performance was a mix of traditional and contemporary sounds and images, with traditional dancers and drums joining with hip-hop beats and traditional masks sharing the stage with leather jackets and ripped jeans.
The winner for Traditional Album of the Year went to Fawn Wood, Plains Cree/Salish, for her album, "Kakike." Wood has been a stalwart in keeping traditional songs of her people alive while continuing to evolve those styles into contemporary forms in the round-dance style.
The other album nominees were Manitou Mkwa Singers for "Manitou Mkwa Singers II," Nang Giizhigoong for "Nimkii and the Niniis," Joel Wood for "Singing is Healing," and Young Spirit for "Angel Eagle-Cree Round Dance Songs."
Wood's younger sister, Tia Wood, who is a talented singer on her own with more than two million followers on TikTok, also made an appearance, introducing her idol and the artist she saw at her first live show – Canadian pop star Avril Lavigne.
Praise for live music
The Juno awards ceremony also took time to acknowledge the importance of live music venues for supporting both emerging and established artists, including Indigenous artists.
Multiple Juno winner William Prince from Peguis First Nation spoke about the importance of the West End Cultural Centre in Winnipeg, Manitoba.
"This spot right here, I think, is where I have been most honest," Prince said during the broadcast in a pre-recorded video, standing on the WECC stage. "I sat down here as a young man with nothing but the excitement to do it."