How Sculptor Manasie Akpaliapik Pushes Himself
Inuit Art Foundation | February 27, 2023
Categories: news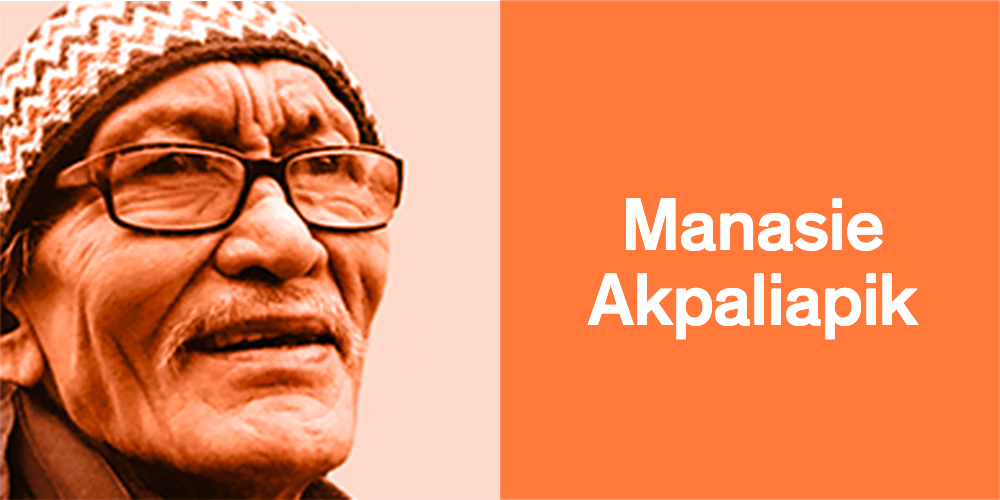 A carver since a young age, Manasie Akpaliapik has become known as a talented and ambitious sculptor since adopting art as his profession. Raised in a hunting camp near Ikpiarjuk (Arctic Bay), NU, he developed his unique sensibility as an artist in the 1980s while living in southern Canada, and now lives and works between Ottawa, ON, and Montreal, QC. We spoke to Akpaliapik about his evocative work in bone, ivory and stone; being longlisted for the 2023 Kenojuak Ashevak Memorial Award and the role of art in connecting to Inuit culture.
Inuit Art Quarterly: Can you tell me about how you got started as an artist?
Manasie Akpaliapik: It was hearing my grandparents and all the people around me. Whenever they had free time, they'd do carving, painting, all that stuff. Instead of not doing anything, if you have time, do something.
IAQ: How old were you when you started carving?
MA: My first carving was when I was about eight or nine years old. I had little fox traps around the outpost camp, and it just so happens I had caught a little weasel. When my dad was away on a hunting trip, he would always leave a couple of dogs behind for us for protection from polar bears. So I asked my stepmother if I could go to Ikpiarjuk, about 12 miles away, on my little sled with two dogs. She agreed and helped me to harness them.
I left with a little carving I had made and my little weasel, and was pretending to be a grown-up. I travelled to Ikpiarjuk and went to the Hudson's Bay Company and I put them on the counter. The person there looked at my carving and said, "It's missing a tail." But he took it anyway and said, "Go get something that you want." So I got a little can of Carnation Milk and also little caps for my toy gun.
About a month later, I went with my dad to get his groceries. I came across a carving and realized it was mine. I was so embarrassed by it. But I remembered what my Grandpa would say, "You might not be good at something at first, but if you pretend long enough, you can get good." So that's how I looked at it.
Now, doing my artwork, it connects me to my culture. Because I've been down south for more than 45 years now, I always have to think about how Inuit have lived. Being an artist gives you a chance to have a voice. Even when you think you are nobody, you can convey something through your art. It feels good to be an artist.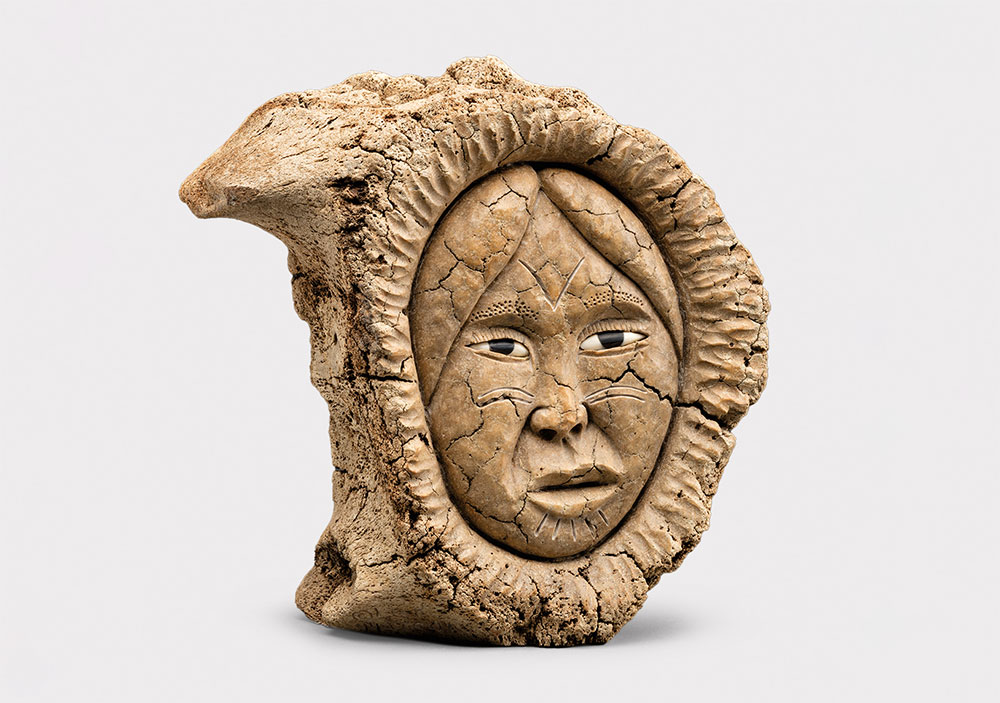 IAQ: Would you say connecting to your culture is what inspires your art?
MA: It gives you a chance to look at what's going on in the North, and you can change something about it. Alcoholism is one of the biggest problems in the North, and that's what I was struggling with for a long time. I've been sober now for seven years. They always say, if you change your life for the better, then good things will come your way. It's true—a lot of good things are going my way.
IAQ: How do you feel about where you are now in your career as an artist?
MA: To be an artist is kind of like dealing with your whole life all together. You know, not too long ago, I was diagnosed with cancer. That was heavy for me. But getting back to my artwork, I'm looking at it now like it's a carving. It's not going to be perfect, but if you keep working on it, it can get to the stage where it's satisfactory. And same thing with my life.
It's like when you're travelling in the North—if you're caught in the bad weather, you can be stuck for a few days, but it's going to go away. So I'm looking at this cancer thing like the bad weather has come my way. It's going to go away.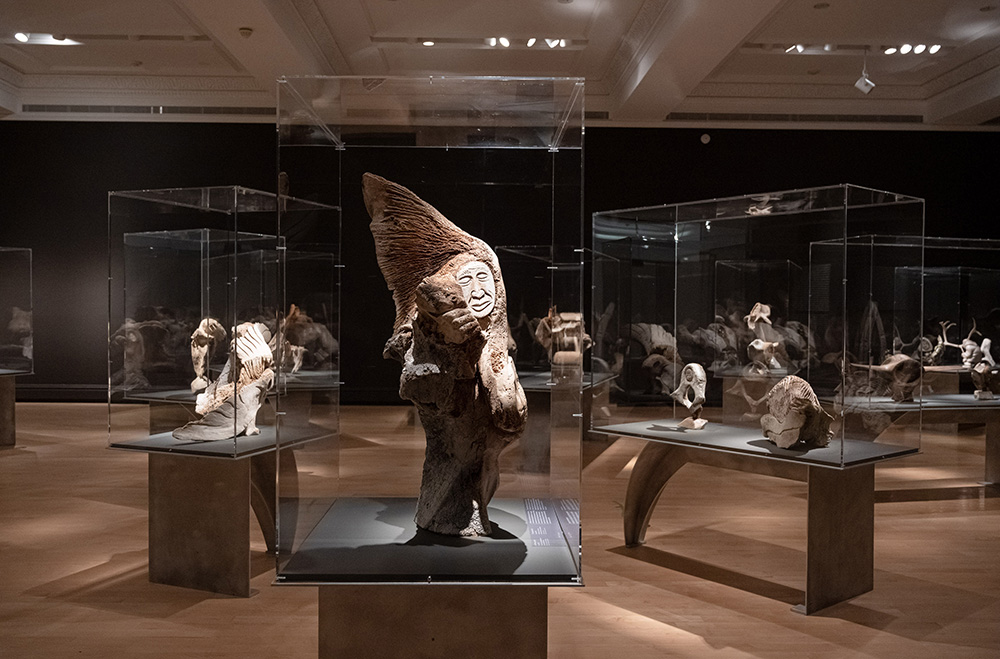 IAQ: Can you tell us about the exhibition you have on right now?
MA: Yes, in Quebec City [at the Musée national des beaux-arts du Québec] there are 47 pieces. It's a solo exhibition [called Manasie Akpaliapik. Inuit Universe. The Raymond Brousseau Collection] and it's going to be travelling across Canada.
IAQ: You've made many sculptures throughout your life. Do you have a favourite?
MA: The way I look at my art is I'm never really satisfied with any of the pieces that I've done yet. This keeps me going in a way. There's always room to improve.
I'm always learning about new tools that you can use. I have confidence that Inuit art is going to survive, because there's wonderful artists coming out now. They have more access to better tools and the technology is way better. But keep fighting, that's the main thing.
IAQ: Have the new tools improved your process?
MA: Looking at Inuit sculptures from decades ago, they were all kind of rounded because of the tools they were using. They only used files and a hacksaw. There was no dremel. But now, with more advanced tools you can make it any way you want. You can go inside, outside, but before, it was just surface work.
IAQ: If you could work with any artist, who would it be?
MA: I guess it would be Looty Pijamini. I think he's a pretty good artist. I always look up to his artwork.
IAQ: How would winning the 2023 Kenojuak Ashevak Memorial Award help you to continue making your art?
MA: It confirms to me that people are paying attention to what I'm doing—that I'm not just creating things that people would put in their houses or something. It's really meaningful.

And, the way I look at it, it will be paving the way for other people. I guess I'm very thankful that people thought about putting this together. It's going to encourage a lot more people—at least—to know where they can end up if they keep trying. It's a motivation.

Read interviews with the other longlisted artists.
This interview was conducted by phone in December 2022. It has been edited and condensed for clarity.
The Kenojuak Ashevak Memorial Award is made possible through the support of individual donors and RBC Emerging Artists.