Get to Know Darcie Bernhardt in 5 Works of Art
Inuit Art Foundation | May 10, 2022
Categories: news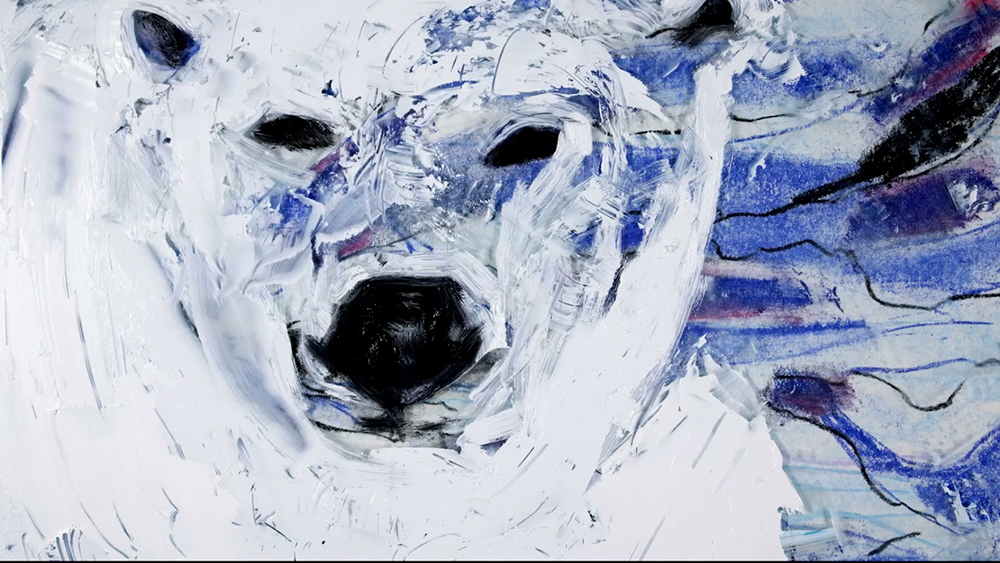 Darcie Bernhardt is a memory keeper. Originally from Tuktuyaaqtuuq, Inuvialuit Settlement Region, NT, the Inuvialuk and Gwich'in multidisciplinary artist and curator's practice explores visual storytelling as a means for what they refer to as decolonial memory preservation. Through painting, printmaking and animation, Bernhardt preserves memories and stories of intergenerational knowledge transfer, the land and domestic Inuvialuk life.
Looking to learn more about some of these memories, I caught up with the artist in a video call, reaching them in their current home base of Halifax, NS. During our conversation, we reminisced on some of the stories, inspiration and process behind these 5 Works:

1. Ciggaq Cuts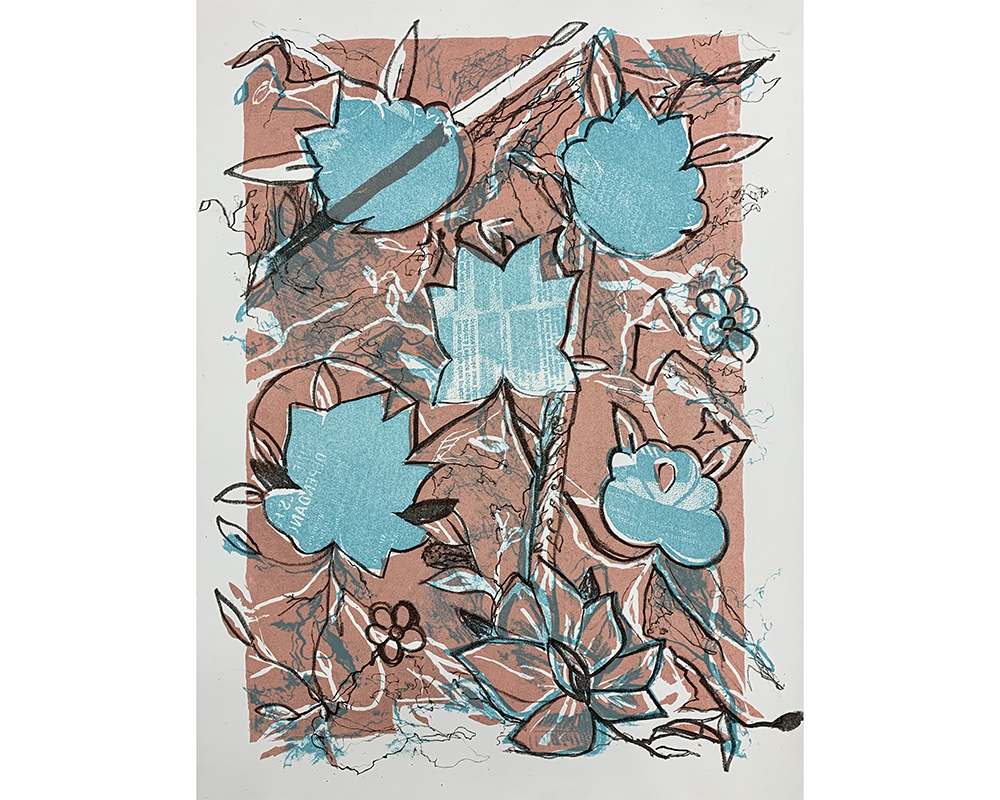 In the lithograph Ciggaq Cuts (2019), teal flowers dance across the page, contrasted against a salmon-pink backdrop and expressive black freehand lines. A closer look into each bloom reveals text and logos you might find on a cigarette carton.
"Most of my work has been about my scenes from home: parka patterns, fabric, people assembling them," explains Bernhardt. "Those elements are important for me, but one of the ideas I had always been obsessed with was actually using cutouts." [1]
The cutouts Bernhardt refers to are the cardboard templates used in pattern-making by Inuit seamstresses. In Ciggaq Cuts, they transferred the image of floral stencils cut from cigarette packs (patterns that also appear in an oil painting from the same year, titled Nungki) into a blossoming lithograph bouquet. Bernhardt's choice of medium, printmaking, perfectly mirrors the way in which clothing patterns and motifs are multiplied, reproduced and shared between extended kinship networks. Ciggaq Cuts highlights and celebrates an important part of design, sewing and knowledge transfer.
2. Picking Akpiks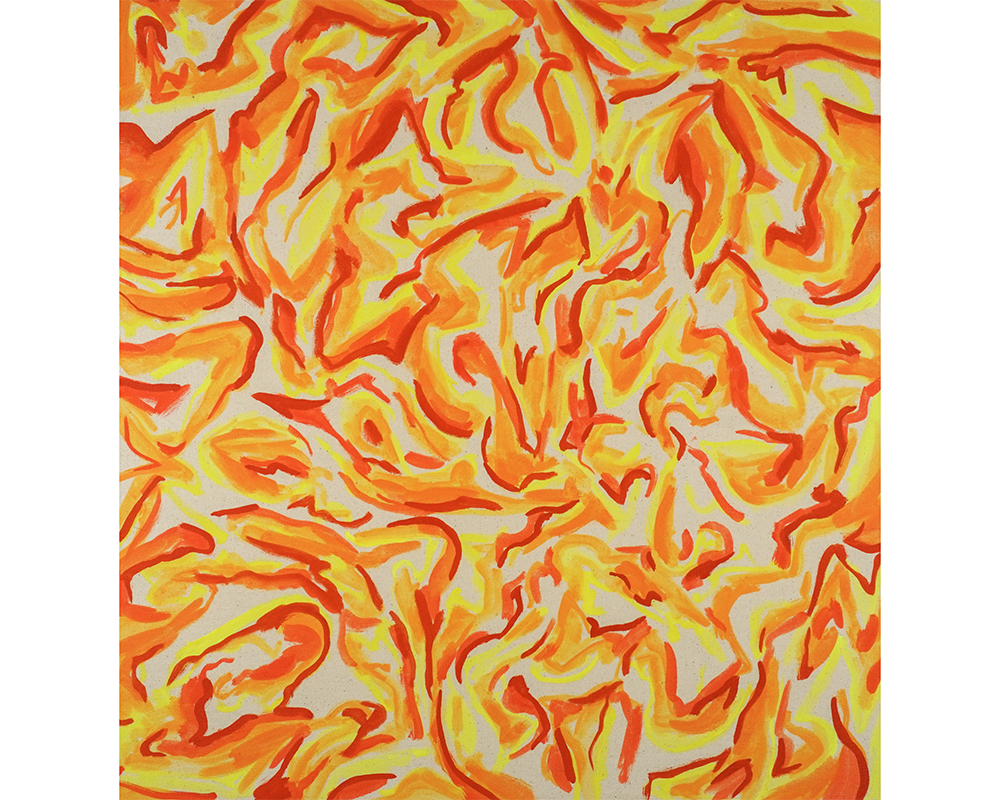 It's the end of summer, the days are getting shorter and the mosquitoes have finally died down. This is the time of year when Bernhardt most longs to be back home in Tuktuyaqtuuq. "These are some of the colours that make me so homesick, the colours of cloudberries when they're just about ripe, right before they get too soft," says Bernhardt about the 2021 oil painting Picking Akpiks.
Almost bursting from the canvas, a bright juicy orange, candy-red and almost-neon yellow come together to create a sensory experience evocative of half-empty buckets, sweet-and-sour berries and windy days in August.
They describe the process for their abstract works as intuitive and almost automatic, recreating a pattern they've been drawing since their teenage years. "It's very gestural, and in the moment," Bernhardt articulates, while demonstrating the motion with their hands. This embodied experience acts as an attempt to capture a feeling or memory, using colour line and pattern.
3. Nanuk & Bibi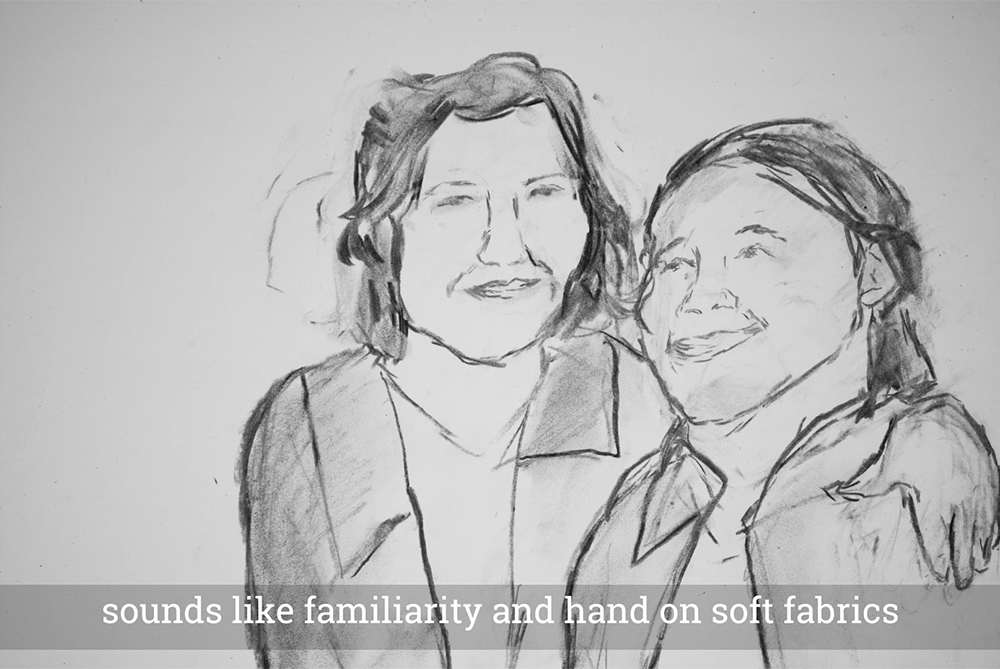 Created in collaboration with Carmel Farahbakhsh, Nanuk & Bibi (2020) was first conceived as a way to grieve the passing and honour the memory of the artists' grandmothers. The short film debuted at Nocturne: Art at Night in Halifax, NS, and was later shown at Toronto Short Film Festival in 2021. It combines hand-drawn, stop-motion animated charcoal drawings by Bernhardt with a soundscape and text captions created by their partner, Farahbakhsh.
Nanuk & Bibi imagines an alternate universe, a world without the limitations of time and distance where the artists' grandmothers explore a healing friendship through cultural and queered ritual. We watch as Nanuk and Bibi travel between Iran and the Northwest Territories, gossiping and sharing meals. "Food was definitely a centre point for many of the scenes, because that's how my Nanuk would show care," says Bernhardt. The sonic landscape accompanying the visuals include layered sounds of a spoon stirring a cup of tea, food sizzling on high heat and the sound of a fishing line breaking water.
Through an exploration of the senses, imagination and shared experience, Bernhardt and Farahbakhsh show the healing nature of memory-keeping.
4. Pandemonium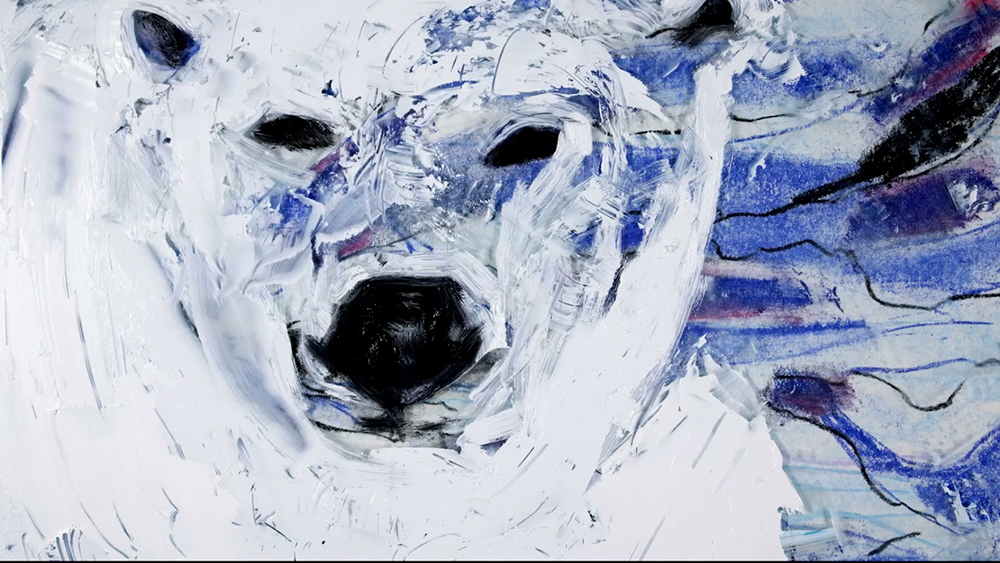 Darcie Bernhardt continues to expand their artistic repertoire with the animated music video for Juno Award-nominated Silla and Rise's "Pandemonium." Originally presented live as part of EVERYSEEKER: Call + Response, a music festival exploring creative collaboration presented in Halifax, NS, Bernhardt was invited to create a visual response to the single that combines traditional throatsinging with electronic dance music.
When they first heard the track, which is an adaptation of two throat songs, "Nirliit" (geese) and "Naujaat" (seagulls), Bernhardt could sense the themes of chaos and upheaval that many were feeling at the beginning of the pandemic.
The process of animating the video included the creation of more than 9,000 still images of oil paint on glass, a medium they chose due to its textural quality. "I had a lot of fun with that. I experimented with more colours, and I liked this idea where you could show movement in a whole different way," says Bernhardt. "The most satisfying part for me was when you see the polar bear walking and then it zooms into the face." The result is a forceful and energetic display of the northern landscape, wildlife and weather interspersed with images of current events and resource extraction.
5. Nanuk's Kamiks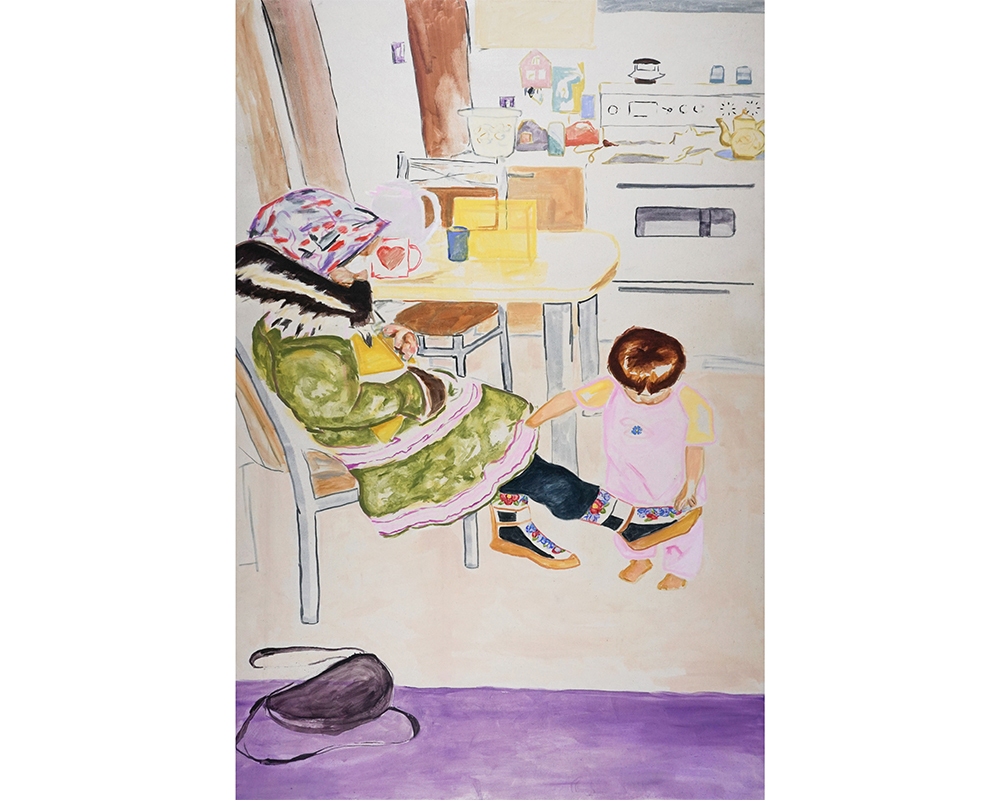 Created in the final year of their studies at NSCAD University in Halifax, NS, Nanuk's Kamiks(2019) is based on an image that Bernhardt felt an urgency to recreate, a significant moment they had to preserve that reminded them of the reason they create art.
"The thing that I look back on is being around Elders at such a young age," explains Bernhardt. "My first memories were of these Elders coming to visit, to have tea and conversations. I remember being very small, and being there in that spot, seeing my sister Blaire touching the patterns and embroidery on Winnie Cockney's kamiks. I remember she would not stop touching them."
This was the first in a series of large oil paintings referenced from memory and Bernhardt's personal photo archive, which were exhibited in a 2021 solo exhibition titled Akisuktuaq at Feheley Fine Arts in Toronto, ON. This was also their first time using rabbit-skin glue as a primer for their paintings, which gives the canvas a reflective quality reminiscent of snow in springtime. The shimmering effect of the bare canvas is also meant to evoke the fleeting and ever-changing qualities of memory, including the fragments that cannot be fully recovered.
Drawing from Bernhardt's lived experience, Nanuk's Kamiks captures an intimate scene of Inuvialuk life, full of intergenerational storytelling, cultural and collective memory and strong ties to family and home.
[1] All quotes from Darcie Bernhardt, interview with Leanne Inuarak-Dall, April 2022.
Read more 5 Works with Inuit Artists: