8 Captivating Caribou Creations in Inuit Art
Inuit Art Foundation | May 20, 2021
Categories: news
May 20, 2021
by Leanne Inuarak-Dall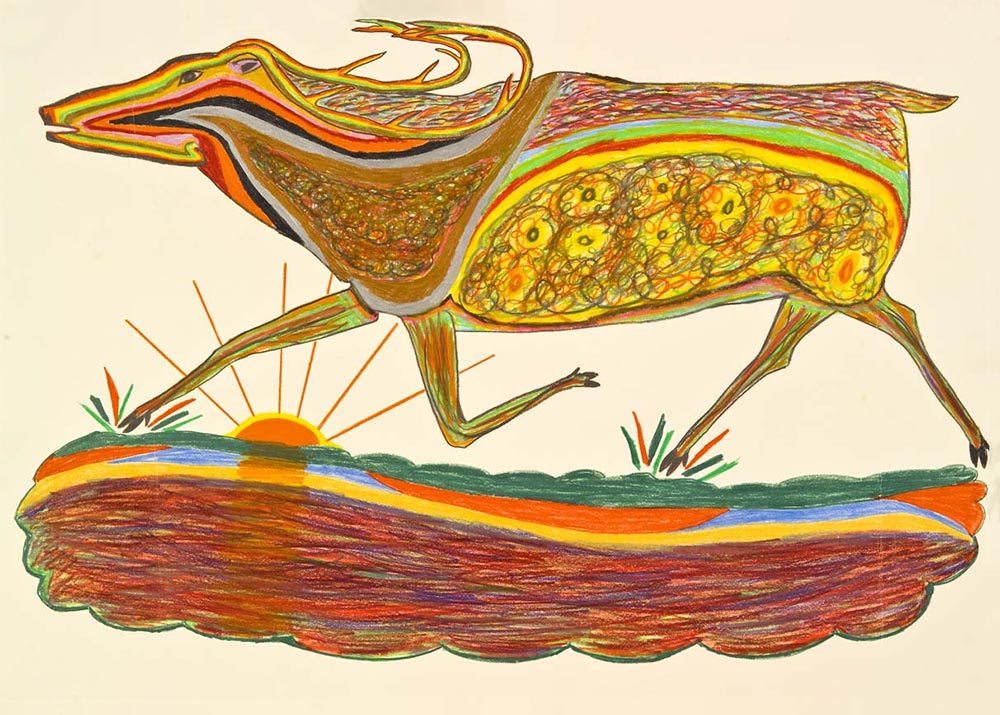 Caribou, like other wildlife, are a fundamental part of life and culture in the North. These rugged reindeer provide warm hides for clothing, sinew for thread and tasty meat for food—whether you like it frozen, dried or stewed. Featuring cloven caribou hooves and bony antlers, we're honouring our deer friends, the caribou, with 8 captivating creations featuring tuktu.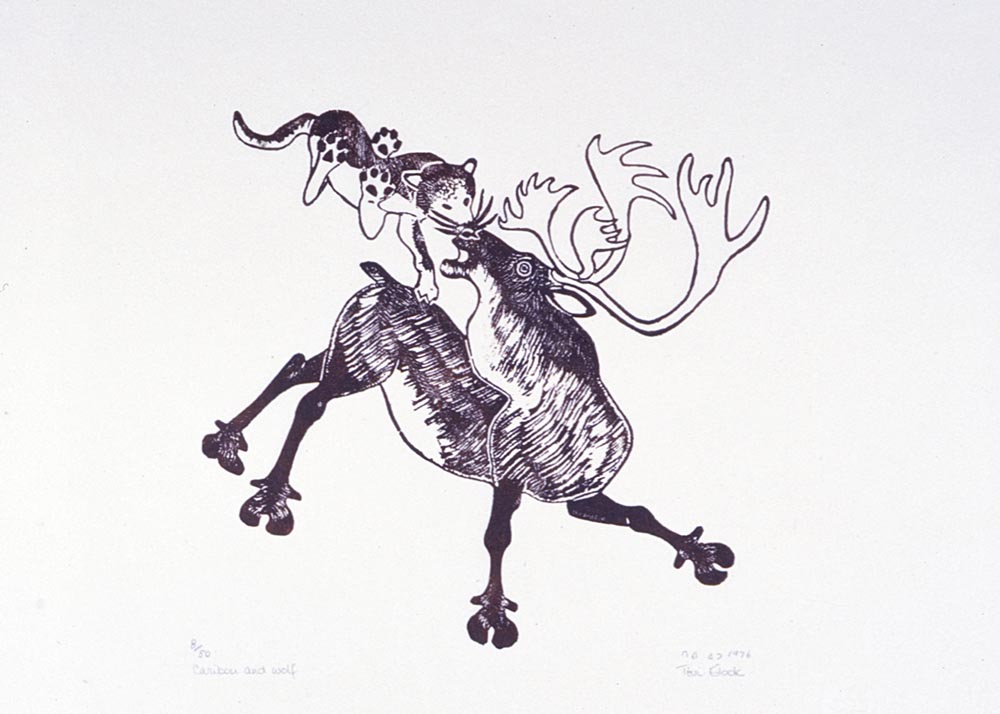 Elder Tivi Etok—the first Inuk artist to have a solo print release—was widely celebrated for his action-filled prints about the hunt, notably for his depictions of caribou. This image conveys the chaos and danger of an injured caribou, with his contorted body and erratic, flailing limbs. The caribou is comically wide-eyed as the wolf seemingly falls from the sky onto his back.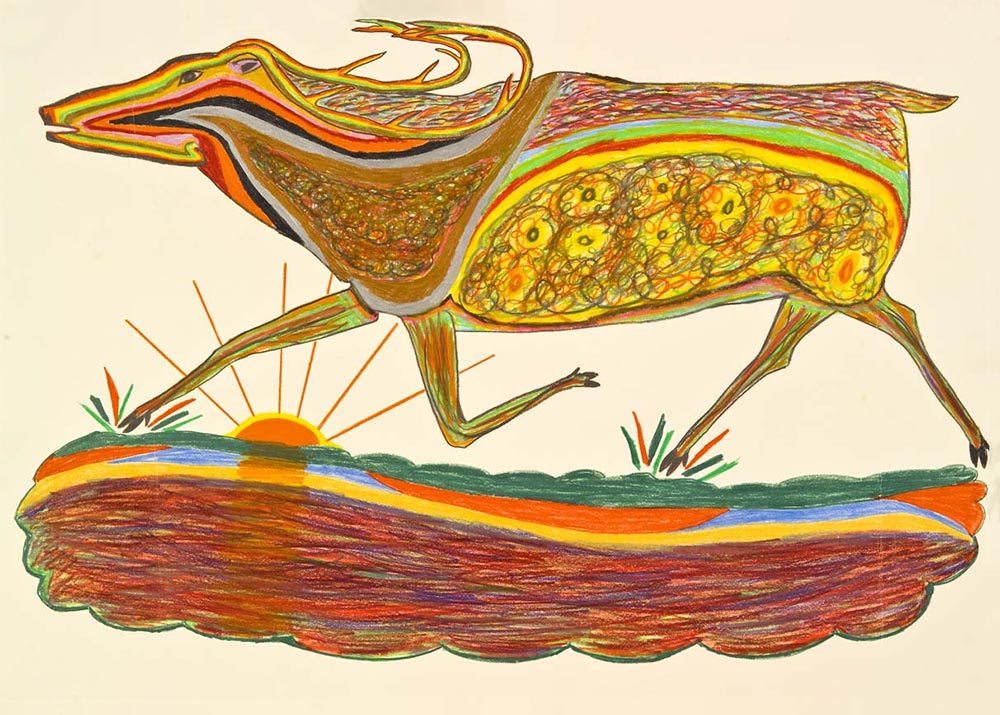 The caribou is a frequent subject for graphic artist William Noah, who often depicts the animal with an x-ray view, a reference to the shaman's ability to shape-shift and reveal his inner workings. Bold bands of pattern and colour fill the body of this caribou, mimicking the greens, reds and yellows of the land his hooves beat against as the sun blooms on the horizon.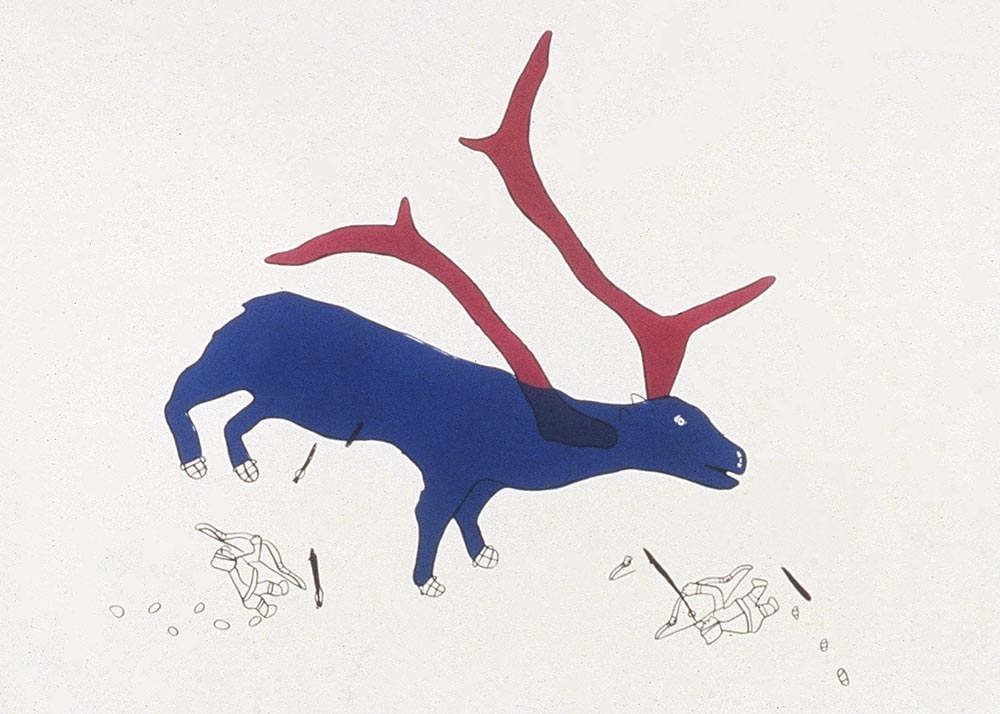 This cobalt-blue bull caribou dominates the page in this piece by Mark Emerak, appearing colossal in comparison to the two minute hunters, outlined in black and armed only with a bow and arrow. Further playing with scale are the two enormous antlers atop the caribou's head, stained blood-red, a reference to the yearly shedding of velvet from his antlers each fall.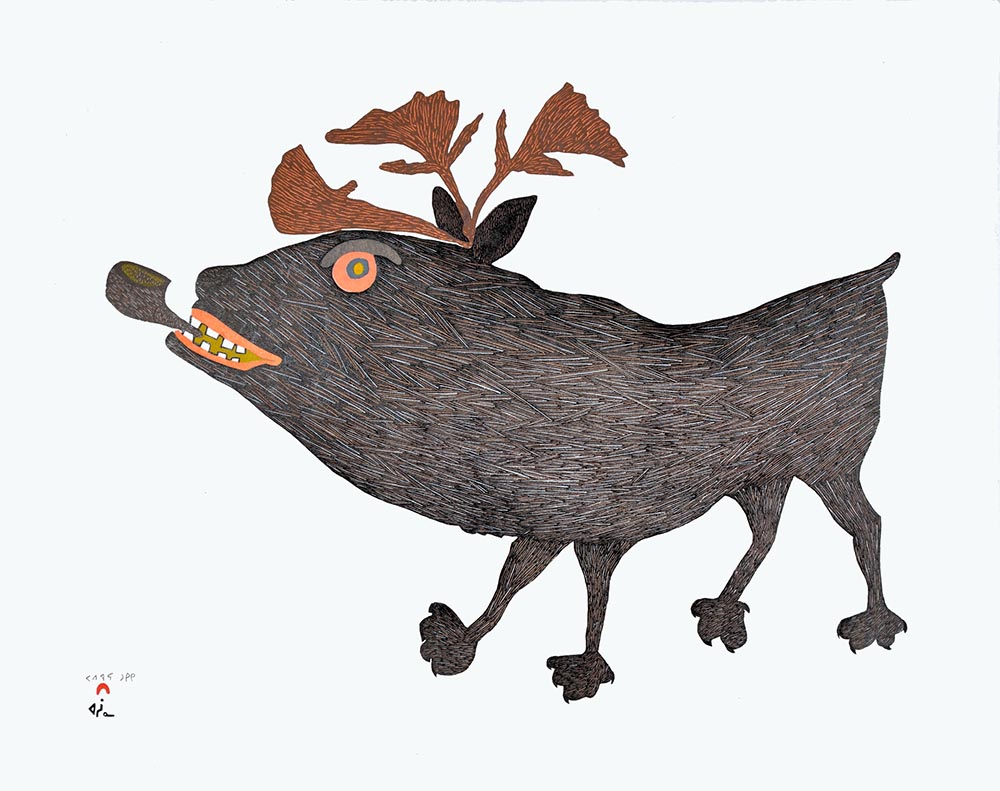 Papiara Tukiki often brings a sense of humour to her depictions of wildlife, just like in this eccentric caribou uncle. Gripped between his salmon-pink lips and chiclet teeth is a tobacco pipe, patterned to match his furry hide. All that smoking must be the cause of the bloodshot eyes that give this cantankerous-looking caribou his unhinged appearance.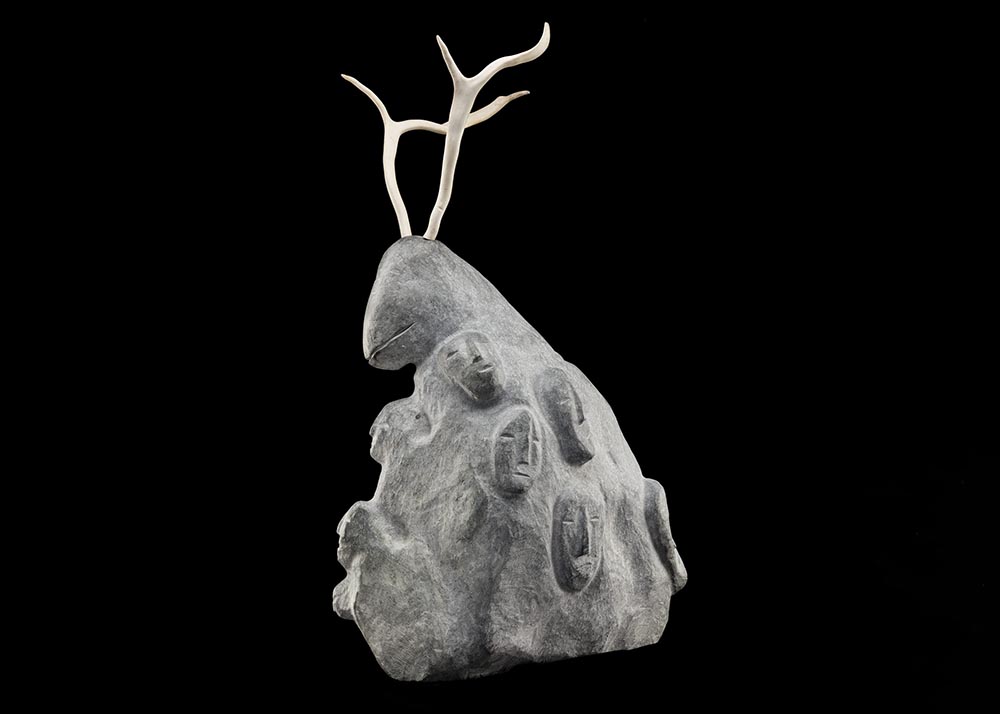 Growing up in an inland Ahiarmiut camp in the Kivalliq Region, Luke Anowtalik relied on the caribou year-round, lacking access to sea mammals like seal and whale. Anowtalik communicates this connection in People of the Caribou, a semi-abstract carving incorporating a community of human faces emerging from the stone caribou body, topped with a set of carved antler.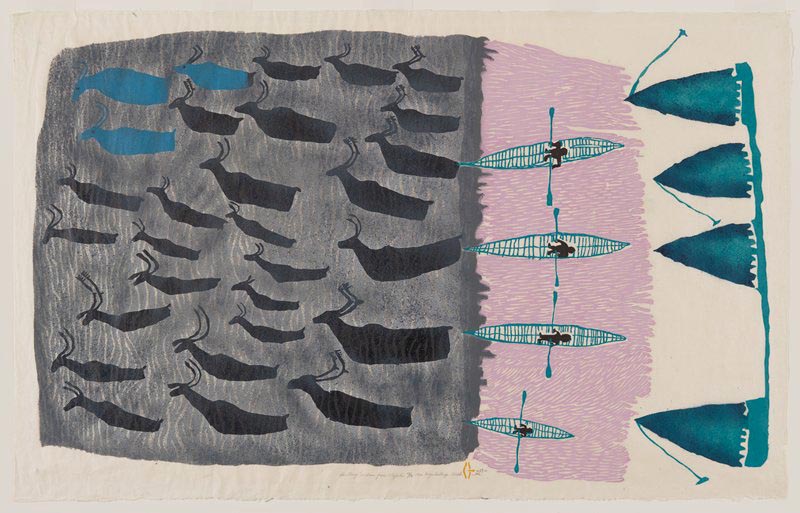 Graphic artist Luke Anguhadluq gives us a birds-eye view of an effective method of hunting caribou in this lively print. When the caribou crossed rivers and lakes on their migratory path, they provided the perfect opportunity to undertake a large-scale hunt by kayak. Four Inuit move from teal tents across the pink shore to hopefully catch a feast of caribou.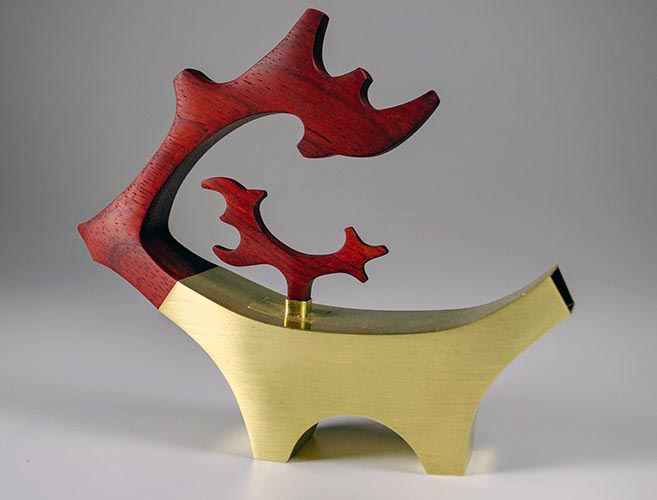 Inspired by memories of drinking tea during visits with his grandmother, Michael Massiebegan creating his remarkable "teapots" with mixed materials like silver, brass and wood. In this iteration, the graceful lines of a caribou's antler, carved from red padauk wood, seem to grow from the brass body, seamlessly flowing just like the tea from this elegant vessel.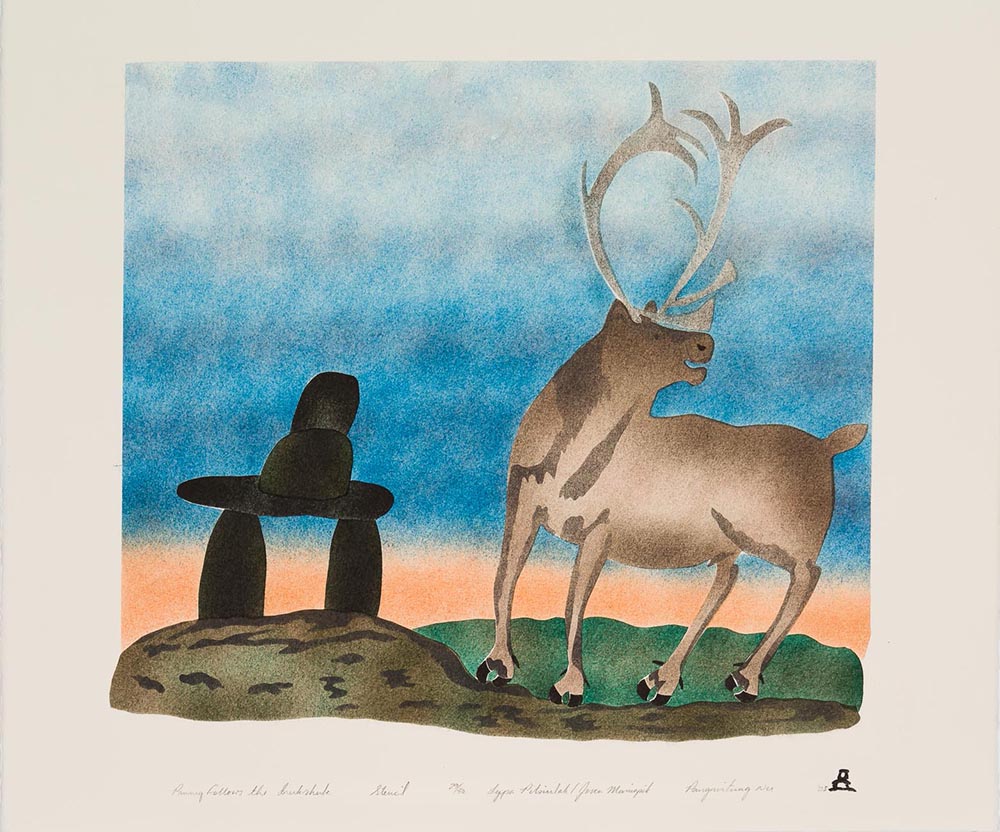 This image by Lipa Pitsiulak uses soft gradients and distinctive motifs to capture the landscape of Pitsiulak's community, Panniqtuuq (Pangnirtung), NU, which translates to "the place of many bull caribou". Set against a twilight sky, this panniq (full-grown caribou bull) heads towards the dark inukshuk as the day fades to night.