10 Inuit Sealskin Designers to Watch
Inuit Art Foundation | May 20, 2021
Categories: news
May 20, 2022
by Leanne Inuarak-Dall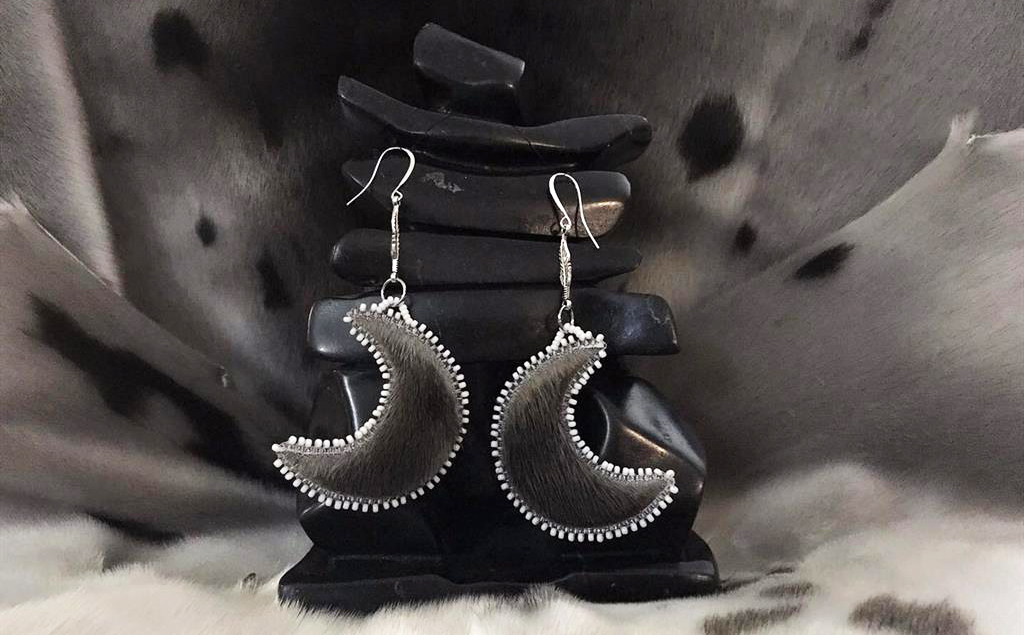 The traditional harvesting of seals has been crucial to Inuit survival for millennia, and it continues to sustain families culturally and economically to this day. Ensuring no part of the animal goes to waste, seal fur and leather is used in many products for its warmth, durability and beauty. To celebrate National Seal Products Day, here are 10 Inuit artists working with this material in innovative ways.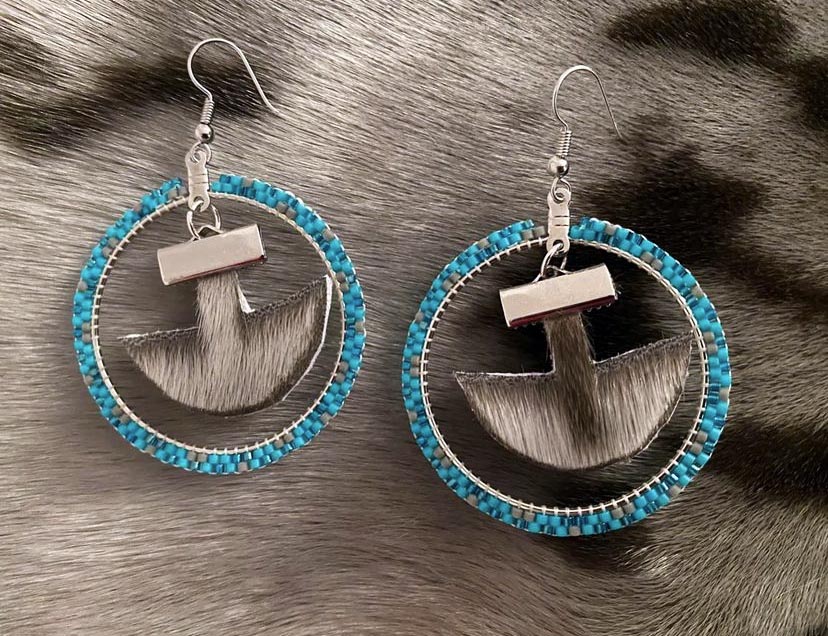 Neevie Simigak
Combining sealskin with materials like beads and quartz, Neevie Simigak sells her original designs online under the name Inutsuapik. Her earrings include shapes like moons, seals and teardrops cut from sealskin. These tiny uluit, dangling within a sparkling teal hoop, are one of Simigak's favourite creations.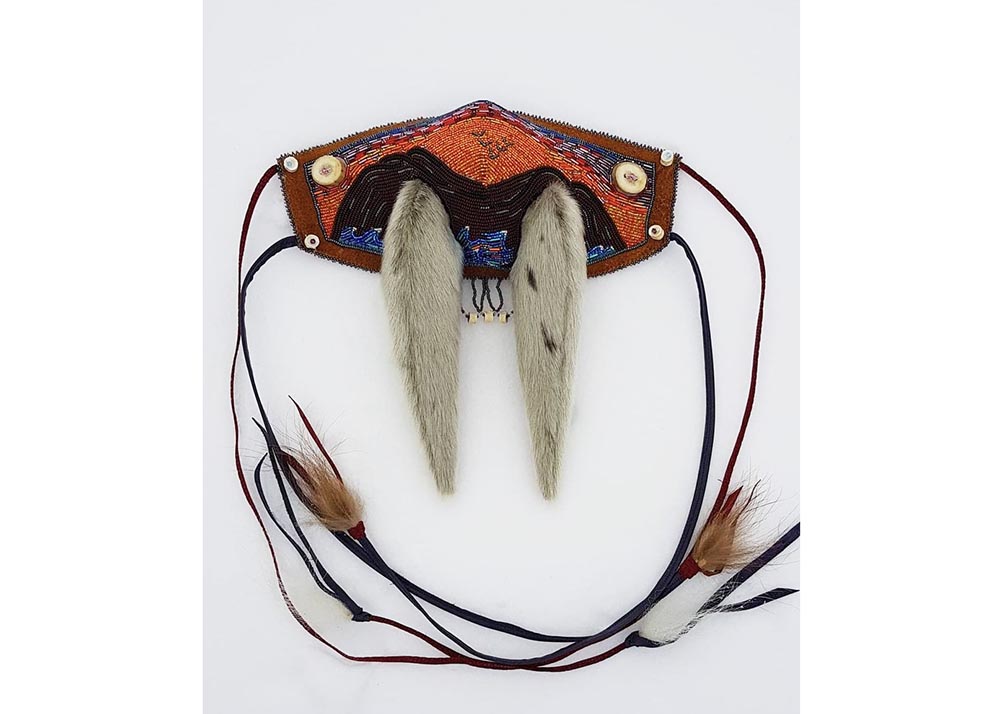 Taalrumiq/Christina King
Inspired by the beauty of her home community, Taalrumiq/Christina King beads the landscape of Tuktuyaaqtuuq (Tuktoyaktuk), Inuvialuit Settlement Region, NT, onto this mask. Incorporating materials from the animals from this land, this wearable art piece contains sealskin, moosehide, reindeer antler, polar bear and wolverine fur.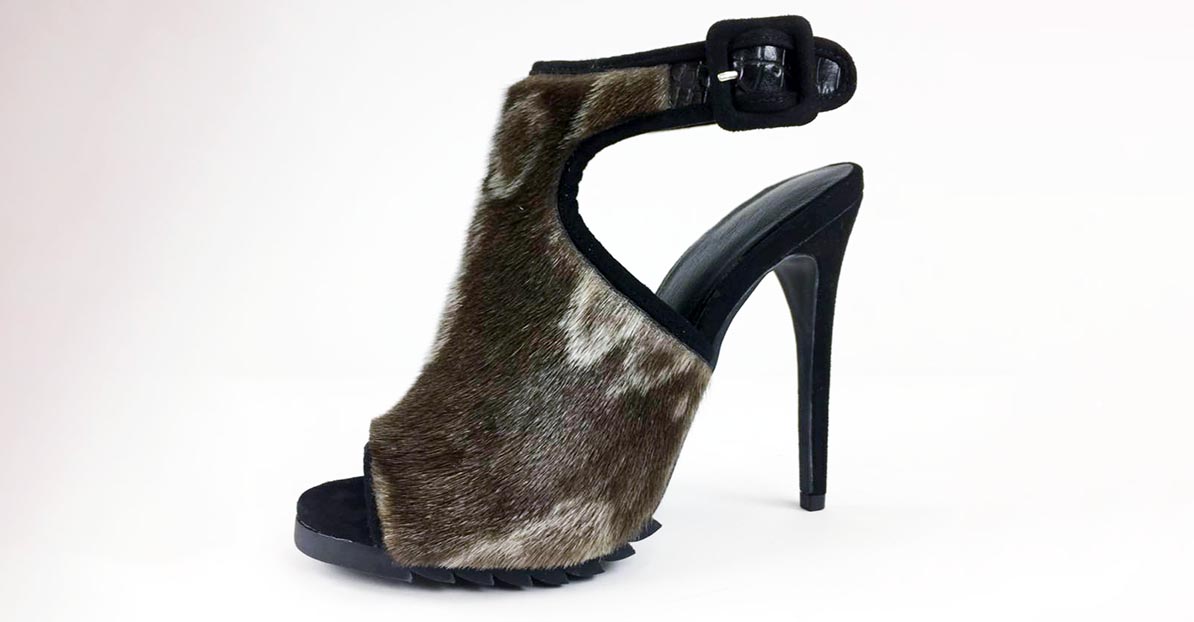 Nicole Camphaug
Nicole Camphaug is the founder of ENB Artisan, which specializes in fine jewellery, footwear and home accessories. Camphaug creates eye-catching products like these high-fashion peep-toe stilettos that show off the natural ringed pattern of the sealskin.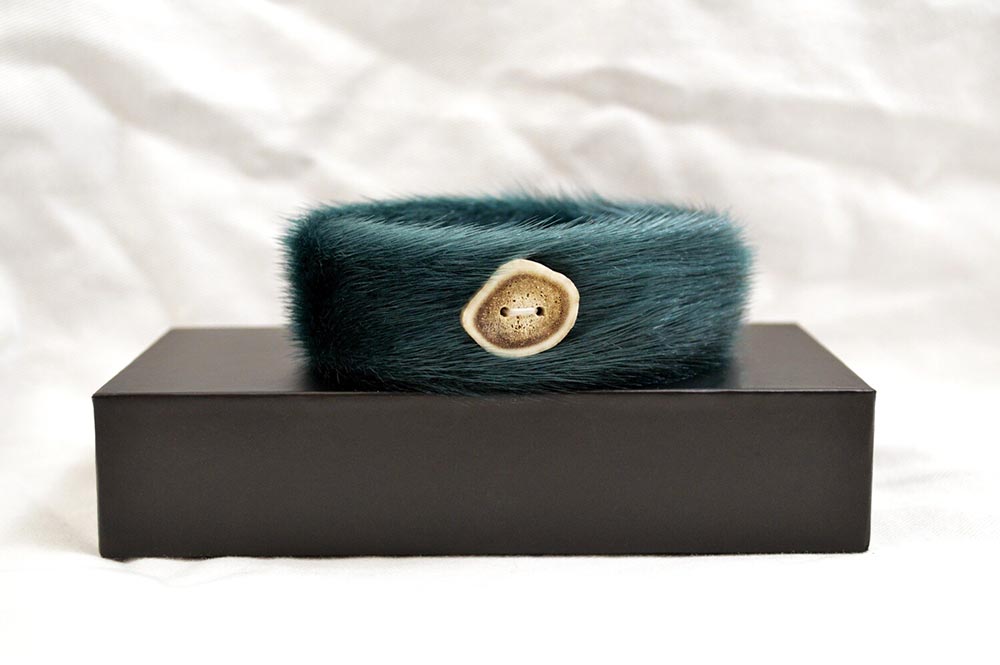 Caitlyn Baikie
After learning how to sew sealskin from fellow artists in her family, Caitlyn Baikie began using the material in a variety of applications. Working with sealskin dyed in luxe jewel-tones, Baikie creates accessories like slippers, mittens, brooches and these simple bracelets with a caribou antler clasp, sold online under the name Caitlyn Baikie.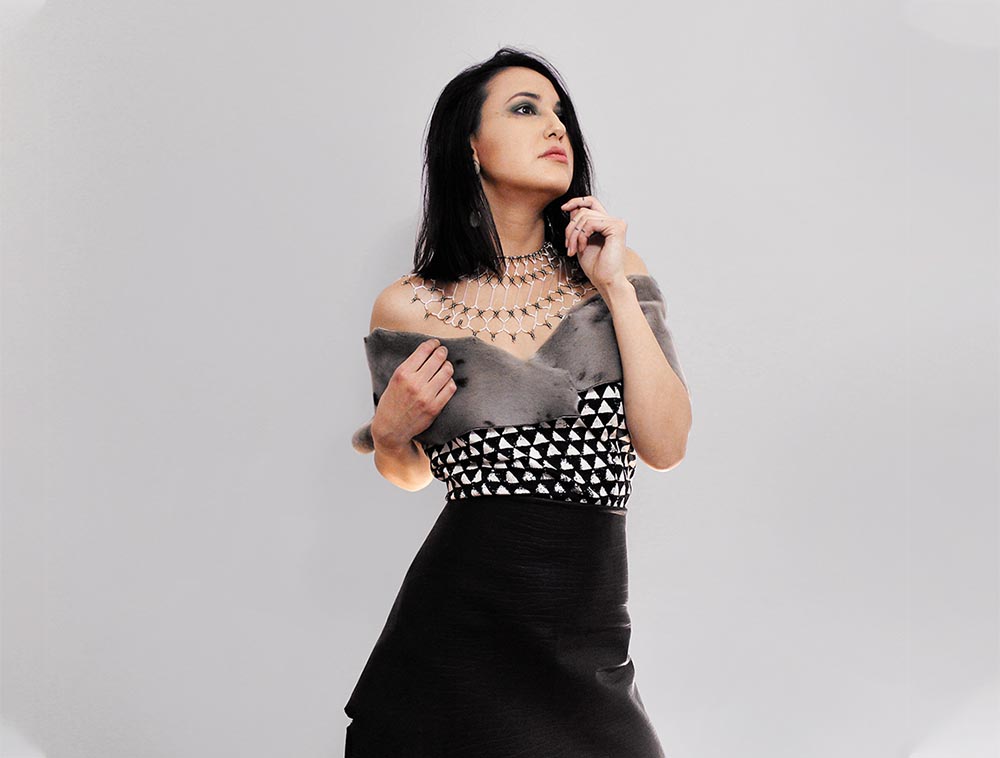 Melissa Attagutsiak
A self-taught multidisciplinary artist and designer, Melissa Attagutsiak is the owner of fashion label Nuvuja9, which translates to Cloud 9 in Inuktitut. In this outfit, Attagutsiak uses seal leather to create a chic high-waisted pencil skirt and elegant seal fur shawl.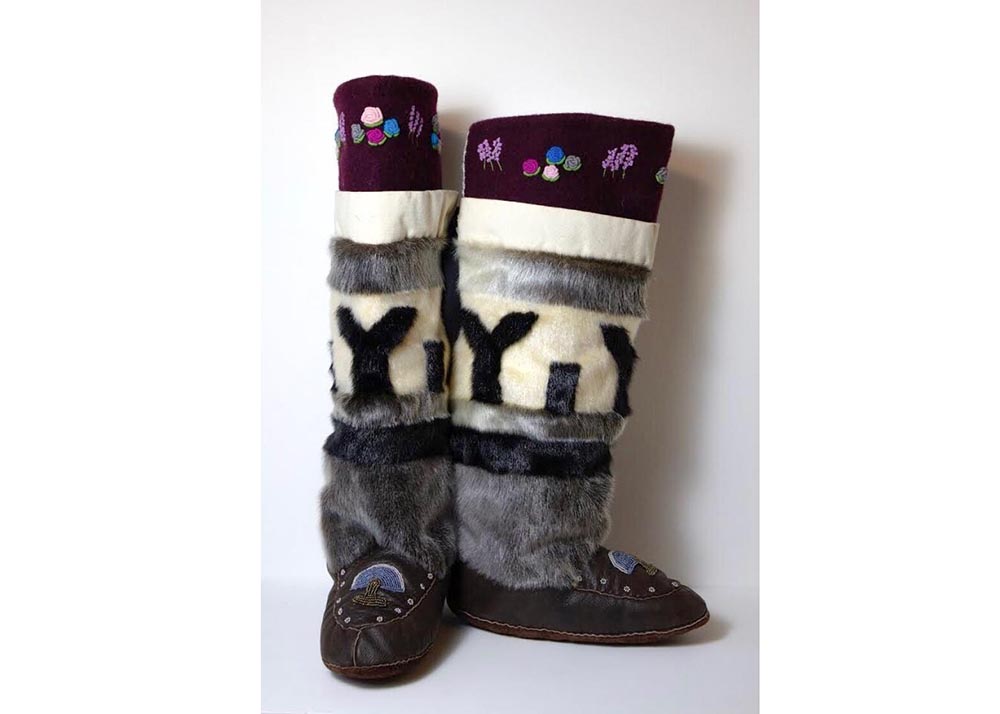 Peggy Andersen
By piecing together different tones of sealskin, Peggy Andersen creates a graphic pattern inspired by tunniit designs. Andersen, who sells her work under the name Ommatikut Designs, adds colour and texture to these beautiful kamiik with expertly embroidered flowers and a beaded ulu.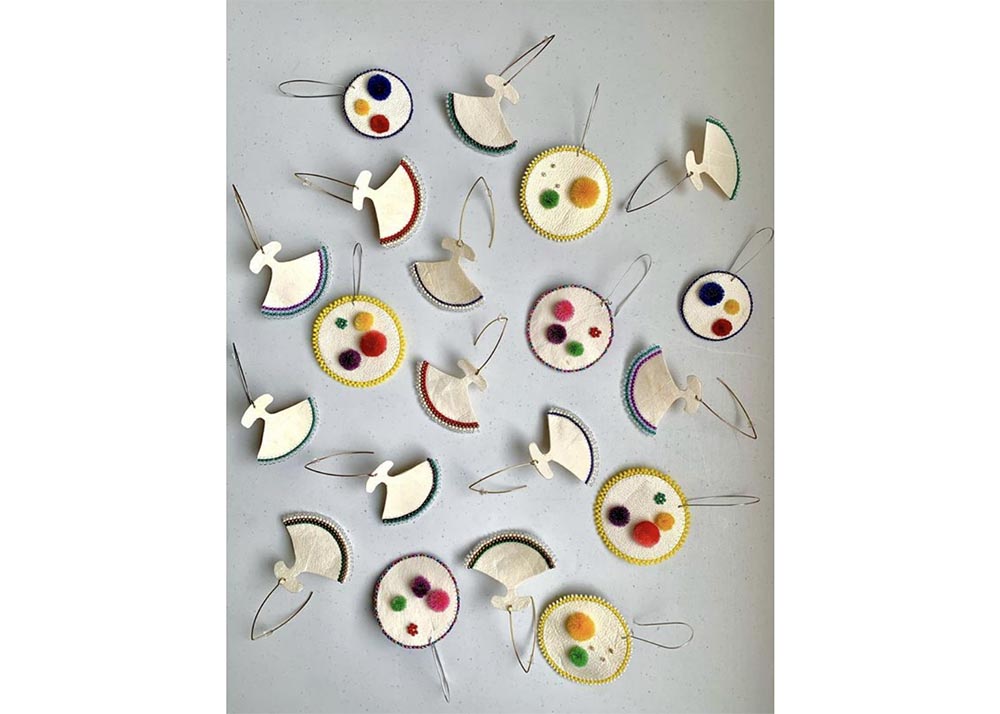 Annie Akulukjuk Kilabuk
These creations are by Annie Akulukjuk Kilabuk, who often uses naluaq in her playful earring designs. Naluaq is bleached and scraped sealskin, which Kilabuk then cuts into shapes like mountains, tea kettles and even ghosts before adding colourful beads and caribou hair tufts.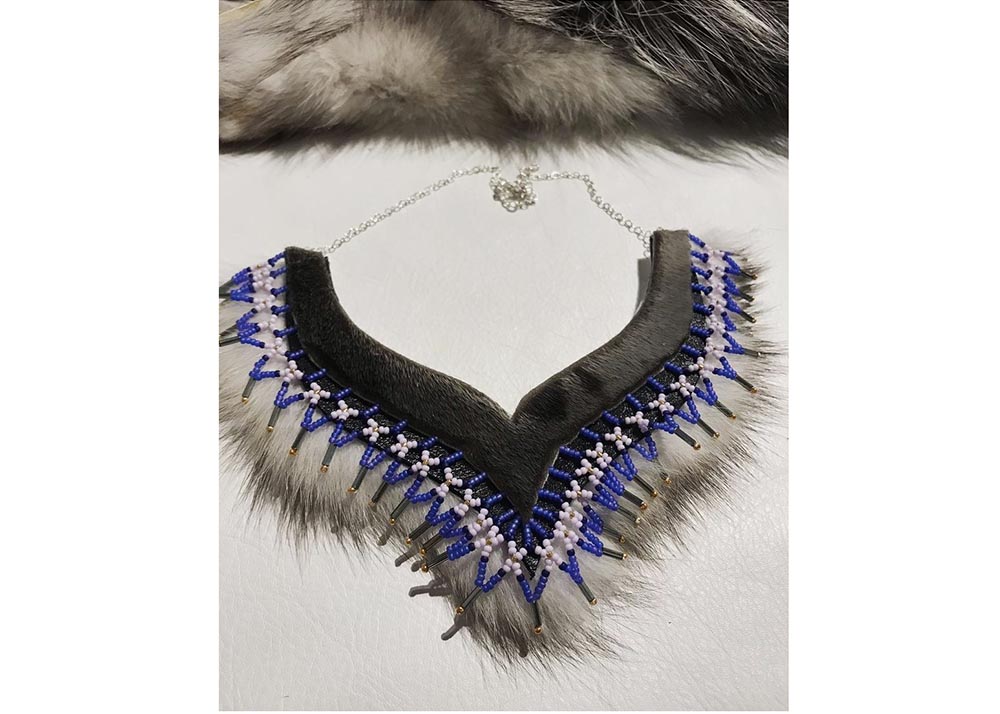 Alookie Korgak
Inspired by the v-shape of a whale's tail, Alookie Korgak layers sealskin, leather and fox fur to create this fierce statement necklace, which she sells under the name Alook Design. A row of beaded fringe adds a touch of sparkle!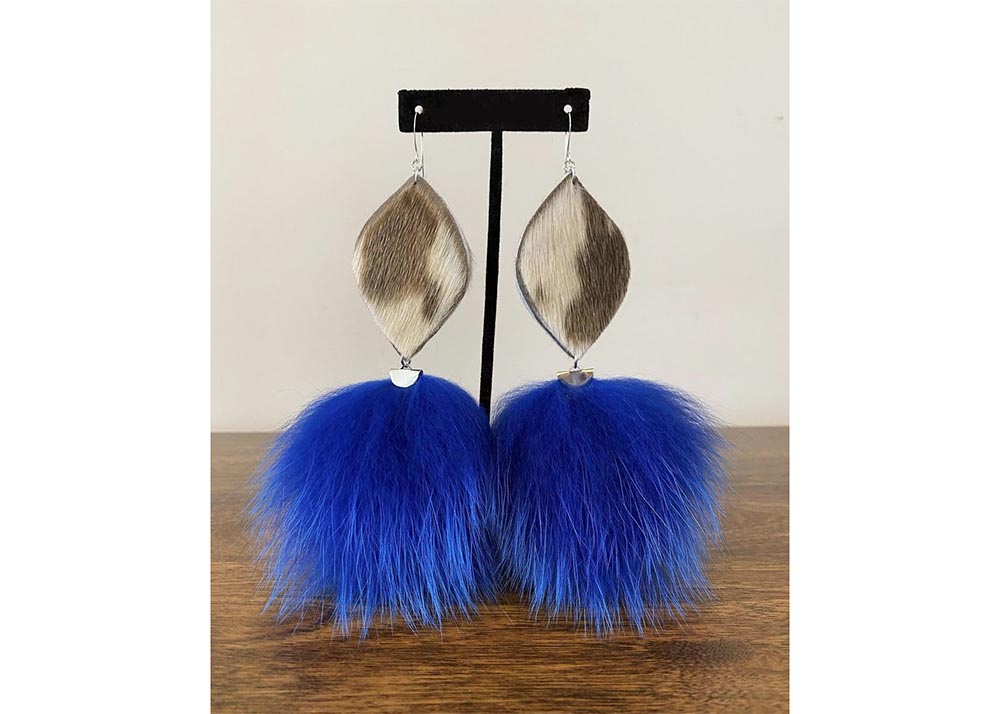 Annie Aningmiuq
Artist and throat singer Annie Aningmiuq is the creative mind behind jewellery line Piujutit, which translates to "You are Beautiful". Aningmiuq uses upcycled sealskin and fur dyed in vivid colours to create stunning earrings sure to bring confidence to any wearer.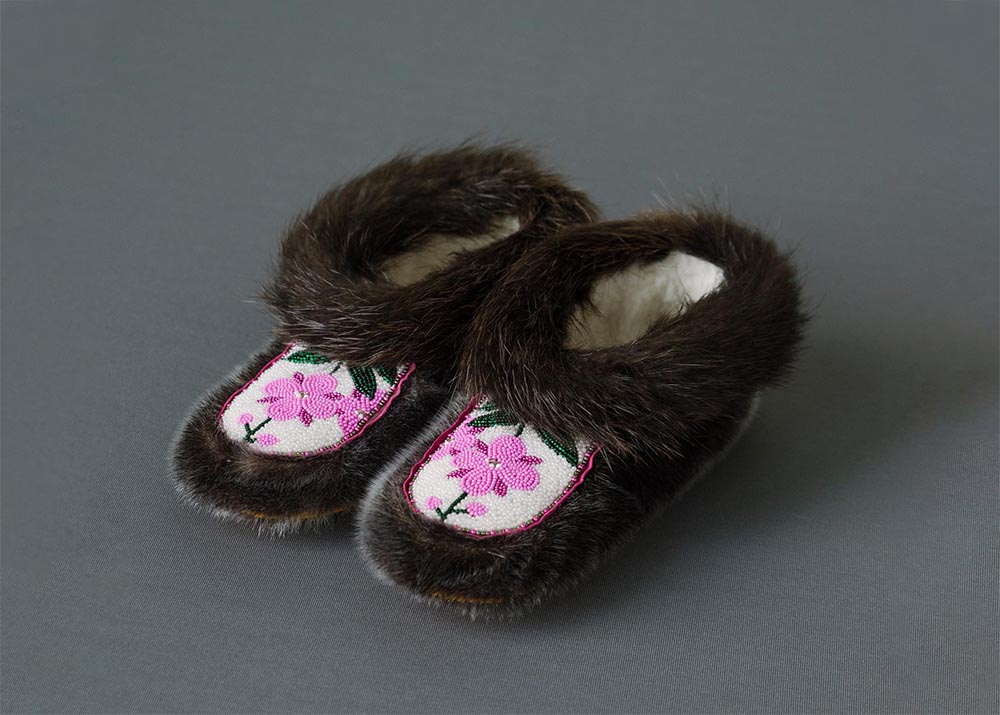 Elizabeth Arey
Intricately embellished uppers are a signature part of Elizabeth Arey's moccasin designs, which she sells under the label Arctic Ocean Mocs. This pair, made of ring seal and beaver fur, feature the arctic flower fireweed, a plant often used for food and medicines.